So you want to be an entrepreneur? Part 1: Course selection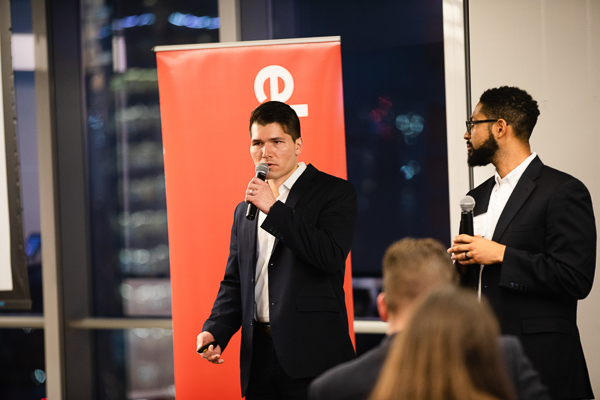 By Donnie Hampton and Earl Roach III, Two-Year MBAs '19
This series is intended to help you maximize your time at Johnson as an aspiring entrepreneur. We came to business school to gain the skills necessary to grow as an entrepreneurs, and we are excited to provide additional insights on the resources and opportunities available at Cornell.

During our first-year at Johnson, we worked on multiple business ideas through two courses, participated in five hackathons, attended more than five entrepreneur-focused networking events in the community, and joined a variety of entrepreneurial clubs at Johnson. Building on our experience, we encourage you to consider the ideas presented in this series to support your Cornell journey as an entrepreneur.

Read more in this series:
Choose courses that empower you to work on an actual business idea
Working on your own business idea in class is a great way to optimize your learning and help you make tangible progress with advisors as you improve your idea.
Johnson offers more than 20 different entrepreneurial courses, with new courses being added every semester. Given the finite amount of time Johnson students have available while completing their graduate studies at Cornell, we have listed some of the more popular courses that allow you to work on a business idea to help put your classroom learning into practice.
The Business Idea Factory
Though we have not personally taken this course, based on our conversations with former classmates who did, they learned approaches for developing new ideas and methods for evaluating existing ideas in a very structured approach.
Our big takeaway in describing the value of this course is that you are taught methods that will help you determine which idea is most worth pursuing, to ensure you invest your time and energies on ideas that have the most promise.
The first section of the course focuses on the places and processes that can be used to find inspiration to come up with many potential business ideas. The course then pivots to walk through a systematic process to evaluate, validate, and quantify the best ideas for each team. Experienced entrepreneurs share the inspirations for their businesses, the methods they used to select those ideas as worthy of pursuit, as well as insights into their careers throughout the semester, providing another perspective to your learning experience.
Digital Technology Immersion practicum
Though it is not obvious, our startup team was able to work on our own business venture with instructor permission in the Digital Technology Immersion (DTI) practicum. Following our same path could be a great way to work on your business idea if it has a technology component tied to the service or product you are developing. For our team, this course provided another structured way to apply classroom learnings to our business idea in real time, while gaining new perspectives from added team members that joined us for the semester.
The DTI practicum course includes students pursuing an MPS from the School of Computing and Information Sciences at Cornell. Most of these students are placed on teams with Johnson students working on consulting projects for a large company throughout the semester. Our founding team gained a lot of value from our team member that joined us. He provided a new technical perspective, which helped us evaluate areas of concern and opportunities we had not thought about before he joined. As we worked through our goal for validating the technical feasibility of our idea, he even helped us make a prototype.
You truly have the power to make your Johnson journey your own and I would encourage you to partner with the DTI faculty to brainstorm how you might be able to work on your business idea as a practicum project.
Entrepreneurship and Business Ownership
This has been by far our favorite course at Johnson as aspiring entrepreneurs because we were able to make a lot of mistakes during this course that helped my team grow as we pivoted our business idea multiple times. In Entrepreneurship and Business Ownership (EBO), we learned the fundamentals for starting a business by following the lean model canvas approach developed by Steve Blank.
As a full-semester course, EBO provides a comprehensive introduction to the key aspects of starting and running a new business. EBO focuses both on concepts and frameworks in entrepreneurship and on "doing" entrepreneurship. If you did not already have a team coming into the course, you will form a team, ideate new businesses, complete customer development, construct business models, and work toward creating minimum viable products.
Topics covered include the definition of a market, sales and distribution, competition, hiring and management of people, cash flow and financial management, making compelling pitches, and raising capital. The course culminates in a capstone project of writing a business plan for your idea and presenting to a group of entrepreneurs and investors. Without taking this course, we do not believe my team would be in eLab, the Cornell student accelerator.
Actualizing Your Startup Parts 1 and 2
To take Actualizing Your Startup Parts 1 and 2, a student-led team must apply to eLab and successfully pitch their ideas to the entrepreneurial staff that teach at Cornell. We feel very fortunate because our team successfully was invited to join eLab, serving as one of 15 teams after more than 50 teams applied. Though there is no secret sauce for being accepted, we believe the key to our success was taking previous entrepreneurship classes like EBO and having prior research to support our business thesis captured from real customer discovery interviews.
For the fall semester, Actualizing Your Startup Part 1 follows the business model canvas in an accelerated fashion, supporting students leading their early stage startups through Cornell's on-campus accelerator called eLab. Continued in the spring, these same startup teams will be enrolled in Actualizing Your Startup Part 2 where they will continue their startup journey.
This set of courses facilitates the class credit portion for eLab. The instructors serve as coaches, guides, mentors, teachers, and assistants to the teams, and will coordinate the involvement of several high-profile mentors from the startup and venture capital community. Students will enhance their business and entrepreneurship learning by putting theoretical concepts into practice in starting and growing their own companies in a team environment.
Students will take this opportunity to "make it real"—eLab is not about starting theoretical companies, or theoretically exploring potential business ideas. Rather, it is about starting real companies that have the potential to grow and provide employment and economic benefit to their founders, and to provide deep experiential learning in starting and growing a business.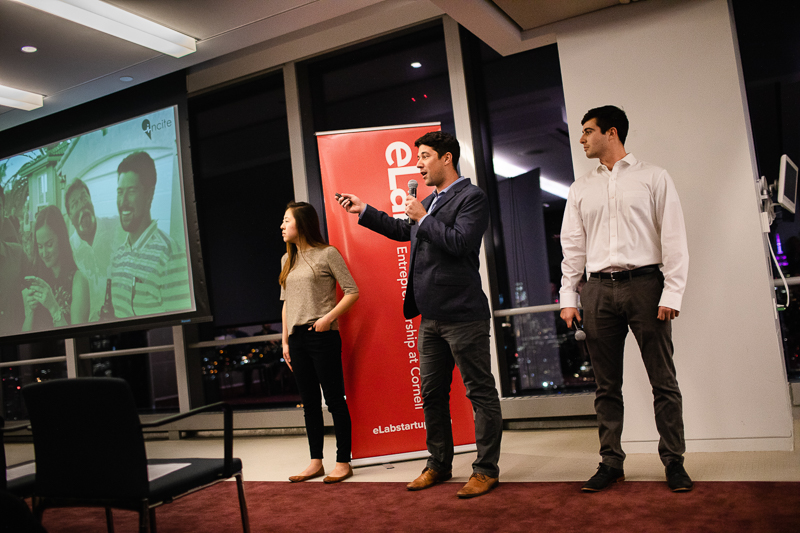 Again, there are more entrepreneurial classes than there is time. We have highlighted just a few of the more popular courses available at Johnson that allow you to work on actual business ideas during the course; however, there are plenty more to choose from across Cornell University's colleges and schools.
To provide additional perspective around what other entrepreneurial courses exist, please look at the Johnson Community Course Catalog. I encourage you to navigate between the fall and spring semesters in this dynamic list, reading additional descriptions and reviewing the practitioners teaching the courses.
Next in the "So you want to be an entrepreneur" series, you can learn about Cornell's co-working spaces and initiatives.
---
About Donnie Hampton, Two-Year MBA '19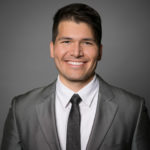 Donnie Hampton is a second-year MBA student and Roy H. Park Leadership Fellow at Johnson. He graduated from Kansas State University with a BS in management information systems and general management in 2010. Prior to Cornell, Donnie was an IT team lead for Phillips 66 in Houston, Texas, and interned with McKinsey & Company in New York City this past summer. With a passion for music, he has played in multiple bands and even performed during SXSW 2014. Donnie's MBA studies are focused on entrepreneurship and product management in technology.
About Earl Roach III, Two-Year MBA '19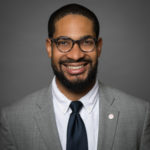 Earl is an MBA student, Class of 2019, from New Jersey. He earned a BS in business management from NYU's Stern School of Business. As an MLK Scholar, he was heavily involved in education initiatives around NYC, which lead him to join Teach for America. Prior to joining Johnson, Earl spent more than three years as a technology consultant at Deloitte, implementing custom software for state government clients. As a Park Leadership Fellow, his MBA program is focused on strategic marketing, digital technology, and his passion for bringing disruptive technology to education.