Exploring a New Age IPO: Beyond Meat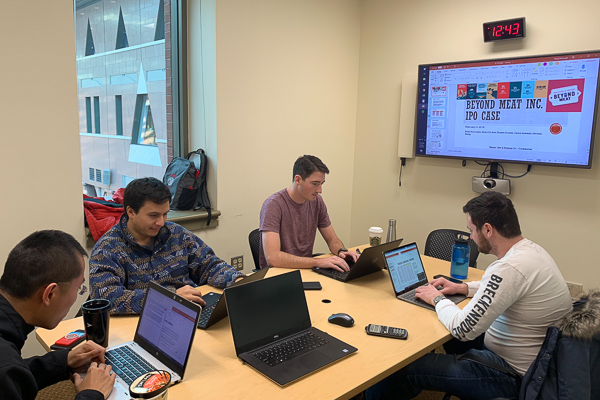 By Alexander Hong, Two-Year MBA '20
When deciding where to go for business school, I weighed which school would give me, personally, the best opportunity to successfully switch my career into investment banking and where I thought that I would receive the most tangible, applicable training for my new desired career path.
After conducting my own research and speaking with numerous Johnson students, I realized that Johnson's Investment Banking Immersion (IBI), coupled with its supportive community, would give me the opportunity to successfully achieve my recruitment goals and ultimately succeed in my summer internship because of the training from investment banking practitioner, Drew Pascarella, senior lecturer of finance and Rempe Wilson Distinguished Lecturer. The IBI also would introduce me and my classmates to other industry leaders, and for our second IBI case on initial public offerings (IPOs), we were fortunate to hear from Alex Ivanov, MBA '00, managing director within equity capital markets at Citi, on his thoughts on our case companies, Beyond Meat and Upwork, as well as his unique career at Citi.
The situation
Having been thrown into the deep end in the first week of the IBI with bonds, we now were tasked by Drew with exploring an IPO filing in the "next-gen food and beverage space" with a focus on the pending IPO of Beyond Meat, a plant-based meat company. One of the many great things about the IBI is how Drew simulates situations that you will experience once you hit the desk, and because I'm going into the consumer retail sector this summer, this case would prove to be particularly applicable to me.
We were tasked with informing internal managing directors, Drew and Alex, about the upcoming Beyond Meat IPO in preparation for an actual meeting with our fictitious, privately held food and beverage supplier client who would likely be filing for their own IPO in the near future. We were asked to come up with:
Beyond Meat's equity investor selling thesis
comparable companies analysis
valuation of Beyond Meat
an overview of an IPO
Because our prospective client had never been through an IPO, we had to add a short wedge at the end of our presentation and walk through a recent IPO by Upwork, a global freelancing platform, and showcase:
the size of the IPO
how many shares were sold and how dilutive the filing was
was the deal to existing shareholders
what was our view on Upwork selling primary vs. secondary shares
While we had experienced some of this work throughout our core classes at Johnson and also in our investment banking recruitment prep through the Old Ezra Finance Club, we knew that the stakes were higher than ever.   
The process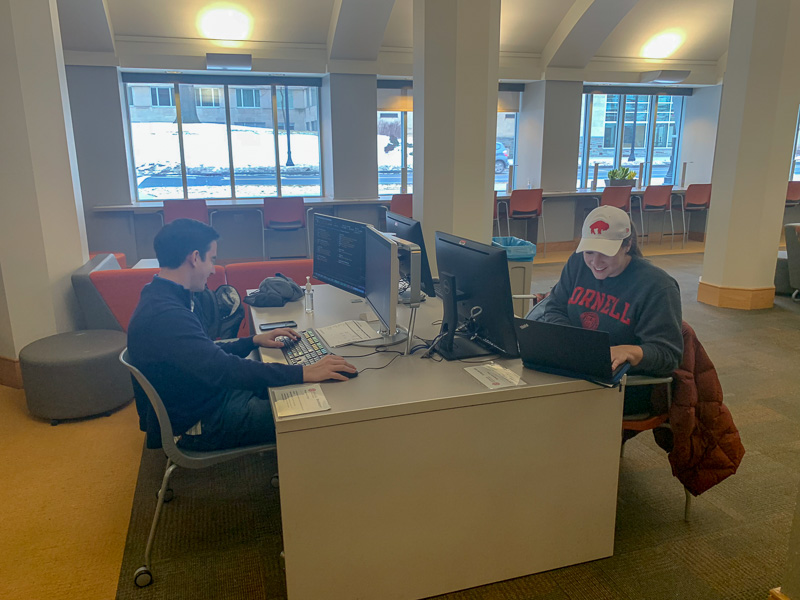 At first, my team didn't know exactly what we were doing, but drawing on the training we received at Johnson was definitely a great start. Additionally, the unparalleled Johnson resources we used to hand-spread our comps, analyze industry research, and ultimately formulate our recommendation were massively helpful in mimicking our upcoming summer experiences. Johnson's Management Library has a plethora of tools, such as Bloomberg, FactSet, and Thomson ONE, which allowed us to confirm the numbers we pulled from various SEC filings and our own deskside research. Ultimately, we came up with a plausible valuation range and learned a lot about the importance of the timing of an IPO as well as what a company has within its pipeline to successfully go public.
Presentation day
Wouldn't you know it, on presentation day, my team was called upon to present to Drew and special guest, Alex Ivanov. Working as the internal MDs, Drew and Alex pushed us on:
how we pulled our comps
why did we choose our valuation range
the strategic rationale behind the Beyond Meat and Upwork IPOs
where the equity markets were today
our overall story
While this was definitely not an easy task, my team of Allison Latham (Barclays), Avery Adams (Morgan Stanley), Christopher Wasson (Moelis & Company), and Ryan Hoffman (Deutsche Bank) did a great job defending our rationale and laying out our strategic vision. One layer of complexity, however, was thrown at us when Drew and Alex asked if we could conceivably come up with a different valuation range than our initial thinking—on the spot!
The takeaway
The presentation was no doubt challenging, but we learned from both Drew and Alex, including during his guest lecture, that the story that we told was just as important as the numbers, as contextualizing the figures was a key part of any IPO. Of course, the numbers needed to be accurate as well!
Additionally, my team found that by presenting to our internal MDs and defending our viewpoints, we solidified what we had done during the IPO case. The moment we were finished presenting is when I knew that I had made the right decision to come to Johnson, because the IBI would be preparing me for what I could see during the summer. Hopefully, I will have the chance to present again during the IBI with another great team by my side.
As a special bonus, Alex Ivanov guest lectured our post-presentation IBI class. He discussed his unique career path to equity capital markets, as he was initially within the media and telecom investment banking team at Citi. He gave his views on the state of the equity capital markets and how we could practically apply what we learned within the IBI to our summer internships. We were lucky to have Alex present to us, and this further solidified how the IBI prepared us for our summer positions.

---
About Alexander Hong, Two-Year MBA '20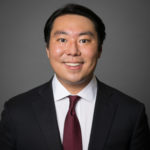 Alexander is an incoming summer investment banking associate at Goldman Sachs. Prior to Johnson, he was a sustainable business and communications associate at Unilever and an account executive and business development project manager at Edelman, where he worked with clients such as Samsung Group and Heineken USA. Originally from New York City, Alexander is a 2013 graduate of Colgate University. At Johnson, Alexander is a merit scholarship recipient and a vice president of the High-Yield & Restructuring Club.