Profile in Leadership: Roy Ashok, MBA '09, CEO of Daqri
Harnessing AR Technology for Smart Factories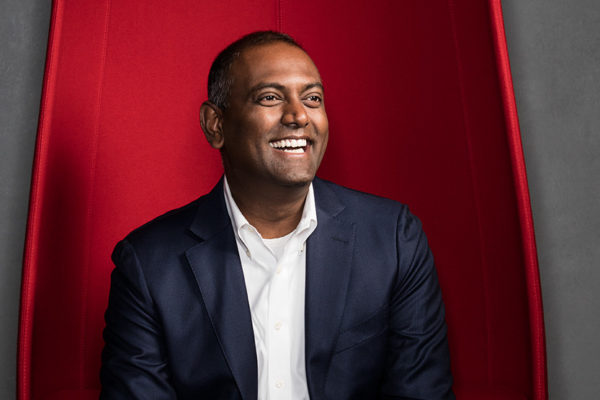 Photos by Max Gerber
When Roy Ashok and Rajat Gupta both worked on Qualcomm's wildly successful augmented reality platform, Vuforia, they didn't always agree with each other. "He was leading product, I was leading cloud business development," says Gupta, now director of business development of Mixed Reality at Microsoft. "We would tell him what we wanted from a market standpoint, then he had to make a decision about what actually went into the product. When you have one single product, you have to make decisions about what features you prioritize."
Those differing priorities sometimes caused disagreements between the two men. Yet Ashok's thoughtful and measured approach to the many challenges and issues that cropped up left Gupta impressed. "What I think he brought to the table was the theory that business and technology work together really well. He was good at distilling the noise from what is a priority," he says. "When you're doing product, there are ten thousand things you can do with the product in the same cycle. But he was able to cut through that and make good decisions."
Gupta ended up following Ashok to Daqri, the AR startup he'd joined as chief product officer after Qualcomm sold Vuforia to Boston-based PTC. "I worked with him for a few months before I left for Microsoft," he says. "I saw that he'd grown as a leader. He had a huge team, he dealt with a lot of politics, and he was delegating the right things."
Ashok himself may not have predicted the success Gupta describes, given the unruly situation he discovered when he arrived at Daqri in 2015. "I came on at a very interesting time," he says, flashing a wide grin. "At my first staff meeting, there was a hiring plan for 600 people. I asked if I could see a road map. They didn't have one. And then I asked if they at least had a product strategy. And they didn't have that either. I was like, wow, what did I get myself into?"
It didn't take long for Ashok to find out what everyone working at the company already seemed to know. "Daqri was a highly excitable company full of engineers brimming with ideas who wanted to explore a broad range of applications of AR," says COO Paul Sweeney, who'd joined Daqri as general manager of the company's small office in Dublin, Ireland, about a year before Ashok came aboard. "We had mobile phone AR apps for young children and high school kids, and a multiplatform AR toolkit that was a free, open-source library of AR tools. We were very interested in a lot of things, but we were more engineering-led than product-led or market-led."
Adds Cassie Li, a product manager based in Los Angeles, "It was very Wild West. There were a lot of initiatives going on, a lot of products and a lot of services, all in different directions."
With his first decision, Roy moved to quell the creative chaos.
"I said, "Guys, let's stop everything. We're going to take a week off, and we're going to work on simple things — strategy, structure, a road map — and then we'll put people to it,'" he remembers. "So I spent that first week literally crafting where Daqri had to be over the next two years, and then we started executing."
A New Path for a Streamlined Focus
Those first few months brought a focus and purpose that the company sorely lacked. Funded very generously by Tarsadia, a family-owned Southern California investment firm, Daqri had been growing like an untended garden, with its creeping branches reaching haphazardly into a variety of sectors, including automotive, 3D printing, and display technologies. "There was all kinds of talent in every discipline spread out across the different offices in the U.S., the U.K., and Ireland," Ashok says. "It was a company that grew by acquisition and had not right-sized, rationalized, or even taken the simple step of assigning different tasks to different offices."
The cleanup fell to him, and he acted quickly. Ashok eliminated obvious redundancies and spun off two separate companies, leaving Daqri with its own streamlined mission and four task-specific offices. He also hired a group of former Qualcomm colleagues who were based in Austria. "In the U.K., we have an office that does just hardware design. In Vienna, we do computer vision technology, the core of what makes augmented reality work. In Dublin, we have a sales and application customer support center. In L.A., we have some core leadership, design, and human resources."
As he assessed his workforce, reassigned or released employees, and filled in gaps, Ashok soon concluded that Daqri's signature product, a "smart helmet" to be used by industrial customers on factory floors and in other complex settings, could never be commercialized successfully. "There was no way we were going to do that," he says. "It was simply too heavy. It weighed almost two kilograms."
Instead, in Ashok's hands the smart helmet became a developmental platform, which Daqri used to test out its visionary AR technology with real customers in the field. "Very quickly, we realized the helmet was not going to work," he says. "But it let us test the tech, and more importantly from my point of view, it really helped us understand the business use cases and the ROI. Up until then, there wasn't any of that."
What they learned was key to moving the business forward. Companies were primarily looking for technologies that would reduce downtime due to malfunctioning equipment. They were willing to spend billions on a product that was practical and worked in the field. And while the heavy helmets were a nonstarter, workers were prepared to use "smart" glasses that weighed less but delivered the same dazzling AR capabilities, like something straight out of the Matrix movies.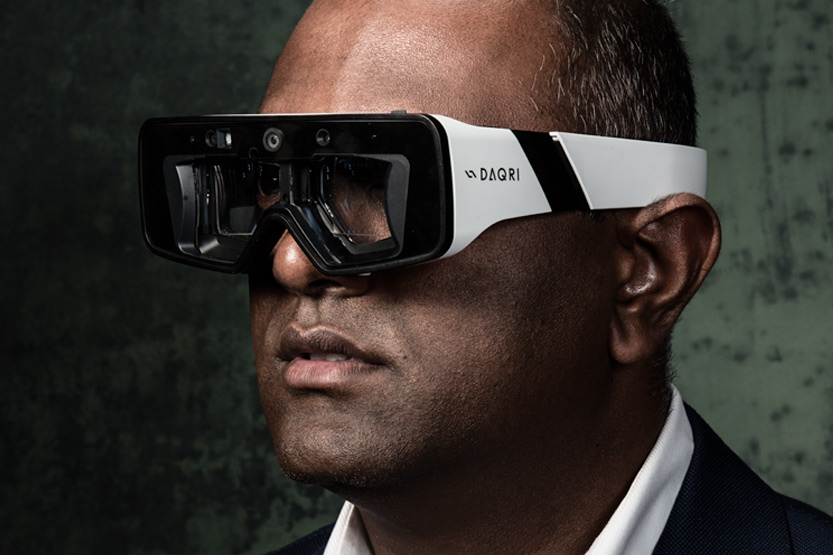 Put very simply, the glasses instantly help the user identify an issue or problem, access an instruction manual with literally a blink of an eye, and, if need be, connect with a technical expert thousands of miles away who can see what the user is seeing in real time, diagnose the problem, and guide them through a repair. "Where we think our products are a good fit is where there are high-value assets and very complex tasks," Ashok says. "A building, an assembly line, a jet engine, paper-processing equipment."
Ashok took over as CEO in September 2017. In October, the glasses were in pilot production with Flextronics, in Ireland. By November, they'd started shipping to early customers, which included Siemens and Rolls Royce. Volume shipping began the following February with the first release of an accompanying software application suite, Worksense, in April 2018. Daqri also pioneered subscription pricing packages on its hardware. The vast majority of its clients have signed on. "We're still in what I call the early stages of deployment," he says. "We define it as three to five sets of glasses, sometimes more. This year is all about that. Next year we'll do several thousand units, and in 2020 we'll do tens of thousands of units." Ultimately, Ashok predicts the hardware will get commoditized, and Worksense will come to dominate the enterprise AR software space.
Making Workforces Smarter
"Increasingly, I don't talk about Daqri as an augmented reality company," he says. "I speak about it as a company that makes workforces and smart factory digital manufacturing much more productive. AR is just a technology. It's how you use it that really matters."
It's that philosophy that defines Ashok's road map — a narrowly targeted approach whose simplicity belies its brilliance. "Right from the beginning, my strategy was you lower the barriers to entry when it comes to content creation. And the only way to do that is you have to be able to reuse content that already exists in enterprise," he explains. "For example, if you're Volkswagen, you probably have an ERP system from SAP or an IBM Maximo system. With it, there are very complex CAD models that everyone in the industry uses. Those are ideal for AR, because if you're trying to repair a jet engine, you want to see the CAD model of that engine. Our team built a system that could reuse that content. And that's how you scale: Because that content exists, you don't need to start from scratch."
The glasses, which only weigh about 300 grams (or about two-thirds of a pound), are designed to handle those massive industrial payloads, giving the product an ease of use and efficiency that other AR companies have struggled to match. "We have done all the hard work, the pain of actually connecting to the myriad enterprise software providers, so that you as a customer can use it out of the box," Ashok says. "You can get started in less than a day as opposed to months."
Daqri further broadened its product's appeal by whittling its uses down to five basic tasks, applicable across the widest range of industries:
Show: Enable the worker to visualize the problem
Guide: Provide access to training material
Tag: Place a virtual Post-it note anywhere in the factory
Model: View the data in 3D
Scan: Create a real-time 3D scan that can be visualized by a technical expert anywhere in the world.
"Beyond those tasks, nobody really does anything else," Ashok says. "And I think for us that was a breakthrough moment. We just encapsulated all these things into Worksense, and we said this is the Office suite for augmented reality."
So far, the strategy seems to be working. With more than 150 customers spanning three continents and including industries as diverse as pharma, paper products, automotive, and the U.S. Navy, Ashok's imprint on Daqri is already deep.
"Roy is an incredibly clear thinker. He's very smart, and he has a unique ability to migrate from the abstract to get the nuts and bolts and pieces in place flawlessly, so you can actually get the product out the door," says Greg Casserly '85 (SHA), president of Tarsadia Investments and Daqri's board chair. "He's helped us develop the first two versions of the smart glasses, and we're working on the third. We've got clients in Europe, Asia, and the U.S., and I'll tell you categorically that's because Roy knew how to do it."
Inspired and Authentic
Ashok also figured out how to wrangle the talented but unwieldy crew he'd inherited. "I think he's very good at recognizing the strengths of people who work for him," says Li. "He's put people in the right places and made sure they feel good in the jobs they're doing. There's definitely a lot more focus and activity toward building a real product that delivers solutions."
"We've transitioned to a culture of openness, where everyone knows where they stand and what is expected," adds Drew Minock, who originally joined the company to head up its education initiatives and became manager of people operations under Ashok's leadership. "He's very transparent. We all really appreciate his honesty. He's authentic."
Authentic is a word that comes up often among those who work with Ashok. Focused, committed, thoughtful, collaborative, strategic, and decisive come up too. And tireless, apparently. "The guy is indefatigable," says Casserly. "He leads by example. He works really hard, and if he wants people focused on something, he will show them the way. He's an extremely good steward of our money."
"I think they'd say I probably am way more technical than I should be, and that I don't sleep," Ashok laughs. "They've taken bets. They'll send an email from Europe, and they'll take bets as to how long it would take either for me to call them back or to respond to the email."
It never takes long. Which wouldn't surprise Rajat Gupta, who remembers Ashok as a colleague who was always thinking ahead. "When we were at Vuforia, we were transitioning from a free product to a paid product. Roy was cognizant of the fact that there might be a market reaction that we weren't expecting," he says. "Lo and behold, when we launched the new pricing, the fallout was really bad. But Roy had prepared for it. He had a rollback plan ready. Within a very short span of time, we did the product pricing changes and the press releases. We were able to contain the fallout because of the preparation done by him."
At Daqri, employees describe a similarly steady and forward-thinking approach.
"Roy empowers people he trusts to a great degree," Paul Sweeney says. "You know anything he asks you to do is something he'd do himself. He's the sort of guy who leads from the front but is willing to stand beside you when you need it."
It's an ethic that clearly inspires the company's workforce, instilling a crucial sense of commitment and optimism. "I can tell you one thing," says Minock. "If Roy hadn't assumed the CEO role when he did, we might not be positioned to be as successful as we are today."