Noteworthy: Dean Walsh says SHA selects students who exemplify "the essence of service"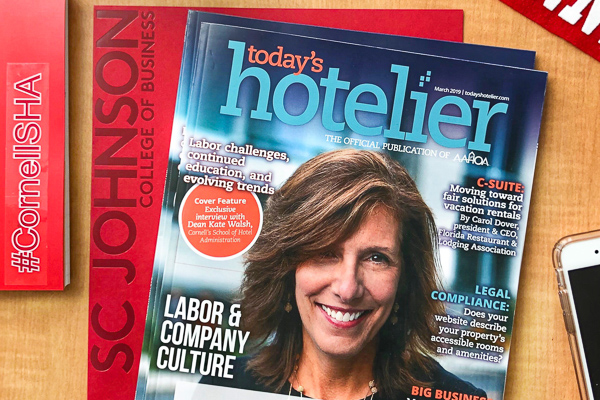 Cornell's dean of the School of Hotel Administration, Kate Walsh, has a keen understanding of where the hospitality industry is today and, more importantly, where trends will likely take it tomorrow. In an interview with Today's Hotelier, she comments on the skills that the hotel industry will need to have on hand for success a decade from now—and how an SHA education prepares students to drive that success in all aspects of hospitality.
Key takeaways from Kate Walsh's interview
The hospitality industry is undergoing rapid change.
"The hospitality industry is on fire right now and is responding to changes in the ways we work, live, and travel in all sorts of impactful ways," Walsh told Today's Hotelier. For example, the industry is making use of robotics and incorporating communal work spaces into hotel design. "What skill sets will we need 10 years from now for our industry to continue to be successful?"
Wherever they go in the industry, Hotelies hit the ground running.
"Our students are so well trained, and they go into all different aspects of hospitality," said Walsh. "Some go into operations, some are in real estate, and others go into data analytics and start-ups for hospitality." The breadth of hospitality careers that Hotelies pursue, she said, is a testament to the level of preparedness that SHA students take with them when they graduate.
 "We amplify and develop an experience-based education."
Preparing future industry leaders in what SHA is all about, says Dean Walsh. To ensure that students will excel post-grad, the school exposes them to such subjects as emotional intelligence, cultural understanding, conceptual and strategic thinking, and data analytics. "This combination is powerful in preparing students and contributing to their marketability and future success," said Walsh.
Aiming for a degree in hospitality? Get work exposure first.
How can you pick out a future Hotelie from the crowd? Start by looking for evidence of service-based work experience, Walsh said. "We want to see the essence of service in our future students."

Walsh has this advice for anyone considering a hospitality education: "Obtain work experience. As much as you can and in different ways. Then, look at the various hospitality educational programs, as they are very different. Evaluate the strengths of one another against your passion and strengths."
Read the full article, "Labor challenges, continued education, and evolving hospitality trends," from Today's Hotelier.