Helping family businesses thrive: SFBI turns five years old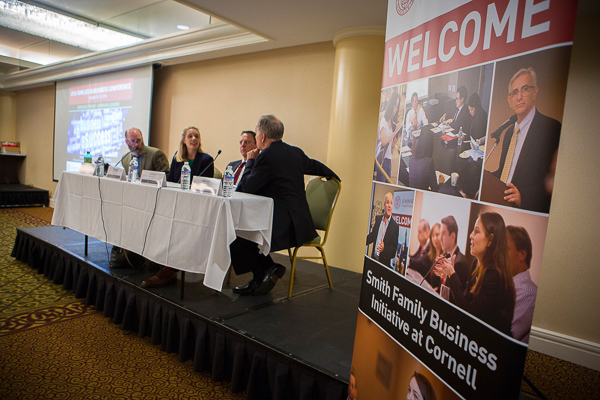 Sabrina Fung Co, MBA '18, serves as procurement officer for Manly Plastics, a Philippines-based OEM plastics manufacturer with more than 1,000 employees and five factories around greater Manila. For five years before enrolling in business school, Co worked mainly in accounting roles at Manly, the family company her grandparents started, which manufactures car and appliance parts, and also PET bottles for Pepsi and Coke. Since earning her MBA at Johnson, she has taken on a much more operational and strategic role.
On top of the typical challenges of running procurement for a large multinational manufacturer, Co also works with a total of 17 family members. That includes six of the seven siblings in her parents' generation (plus three in-laws), along with eight of the 16 in her generation.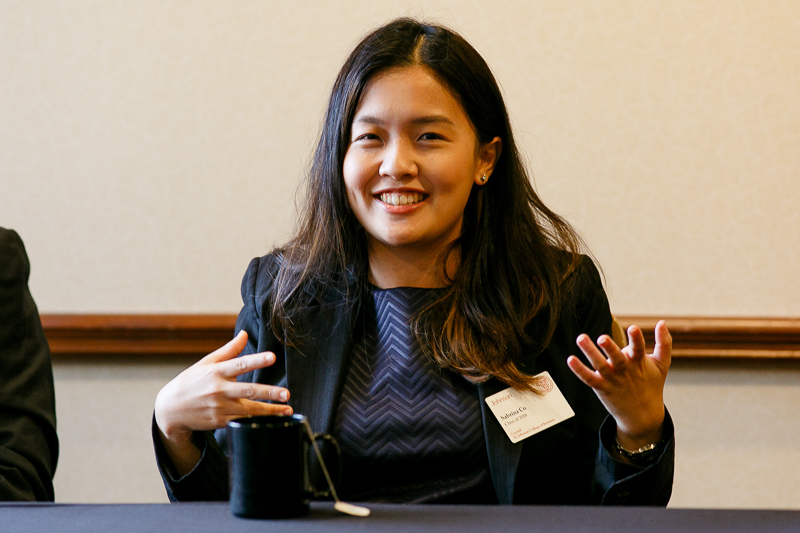 As Co strives to help her company grow, she knows that Manly is bound to face challenges around succession planning, among other issues. But she feels entirely confident in her ability to address them. That's because she's armed with something rare and valuable—a family business-focused MBA experience, thanks to Cornell's Smith Family Business Initiative (SFBI). Co not only beefed up her strategic operations chops through Johnson's immersion program; she also supplemented it with coursework, lectures, and extracurricular activities focused on family business.
A Cornell-wide program centered at Johnson, the Smith Family Business Initiative was founded in 2014 with a $10 million donation from John Smith, MBA '74, and his wife, Dyan, to "provide education, networking, and new knowledge for family business owners, successors, and students from across the globe." Since then, it has put Cornell squarely on the family business map through its innovative coursework, research, and events. Co is just one of many MBA students who choose Cornell for its focus on family business. As many as 75 residential MBA students choose the school, at least in part, for its focus on family business issues, says Daniel Van Der Vliet, who has served as SFBI's executive director since September 2014.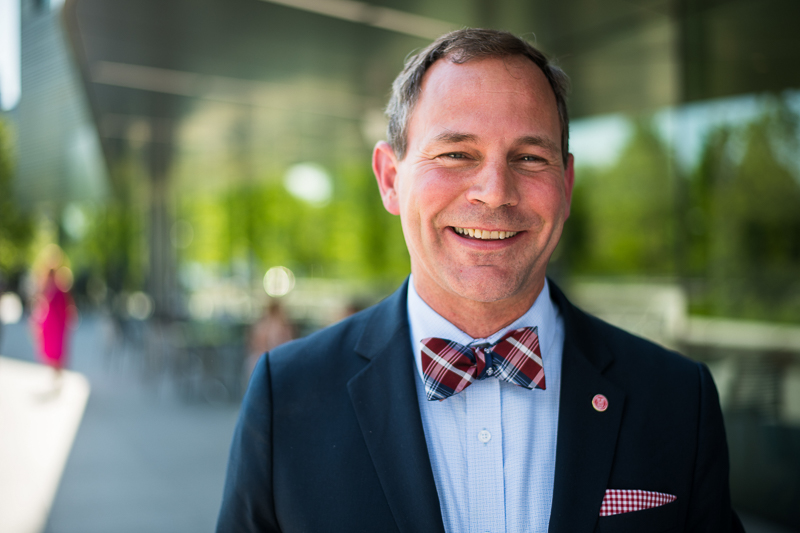 Research: What makes family businesses tick?
While many family businesses are small, their total impact on the U.S. and global economy is massive. Altogether, about 5.5 million family-owned businesses generate 64 percent of the $19 trillion in U.S. gross domestic product (GDP), according to SCORE, a volunteer business mentoring organization supported by the U.S. Small Business Administration. Family businesses—defined as businesses operated by two or more family members, with majority ownership held within the family—employ 60 percent of the U.S. workforce and create 78 percent of all new jobs.
While family-owned enterprises clearly carry significant economic clout, they function differently from other firms. Identifying, isolating, and promoting what sets family businesses apart, and what can best help them grow, is at the core of SFBI's focus and mandate.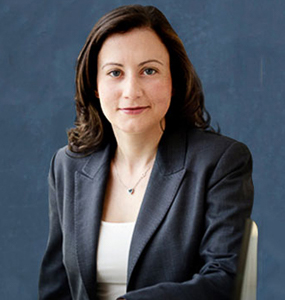 Research suggests that family businesses have attributes that help them persevere through difficult economic times, have stronger brand trust and are friendlier to women leaders than non-family businesses, notes Van Der Vliet. Expanding formal research focused on family businesses will help to strengthen those businesses and also provide valuable information for the broader business world.
That's why research is so important to SFBI's mission—and to that end, in 2017, SFBI recruited and hired Margarita Tsoutsoura to become the inaugural John and Dyan Smith Professor of Management and Family Business and to head SFBI's research arm. The SFBI also disperses up to $30,000 per year in grants to Cornell faculty and PhD students who conduct research focused on family business.
While the family business research environment is challenging because of its lack of available data, it's also "rich and complex, because it combines family dynamics with the financial decisions of the firm," says Tsoutsoura, who is also an associate professor of finance at Johnson. A recent study she co-authored with colleagues from Columbia University and INSEAD found that employees of family firms experience a lower rate of absenteeism than employees of non-family firms. The study, "Drivers of Effort: Evidence from Employee Absenteeism," is slated to be published in the Journal of Financial Economics in 2019. Tsoutsoura is planning a follow-up study to better understand factors that are impacting family firms' low absenteeism.
In another study, "Do Firms Respond to Gender Pay Gap Disclosure?," issued by the National Bureau of Economic Research in January 2019, Tsoutsoura and her co-authors show that pay transparency has a positive impact on closing the gender wage gap. You can read more about this study in our Research Recap, "Wage transparency reduces gender pay gap by 7%," and in this Harvard Business Review article based on the study: "Gender Pay Gaps Shrink When Companies Are Required to Disclose Them."
Research findings like Tsoutsoura's make their way into new courses at Cornell along with real-world lessons from the family business trenches. Van Der Vliet's Leaders in Family Enterprise course brings family business leaders into the classroom as guest speakers to complement academic classroom learning. Tsoutsoura's course, Managing Family and Privately Held Firms, is primarily case-based and focuses on financial and corporate governance in family firms.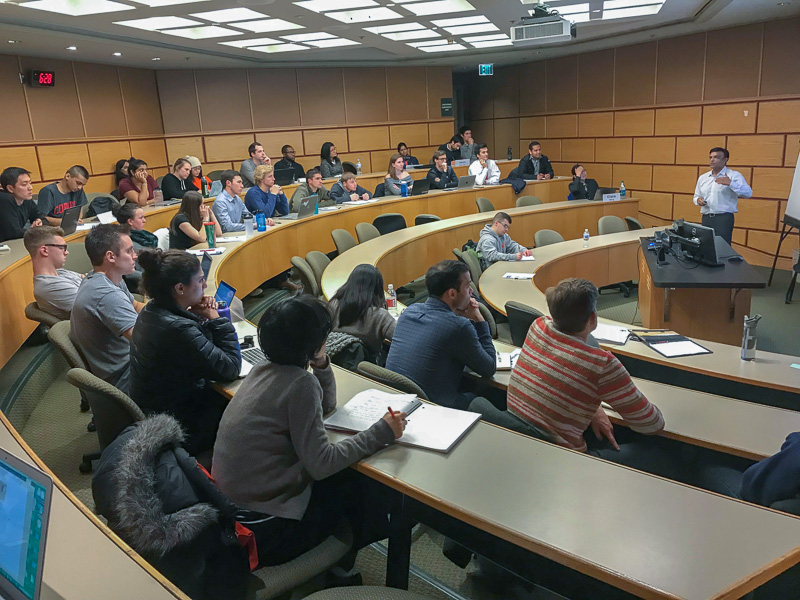 SFBI events clearly resonate with family business leaders, attracting 60 family business members to the day-long Family Innovations Summit, held in New York City on the Cornell Tech campus in May 2018.  SFBI also hosted a series of well-attended, invitation-only roundtables across the United States that explored topics such as Family Business Conflict and "Women, Leadership, and their Family's Business." In October 2018, SFBI hosted its fourth annual Families in Business conference, Generations and Innovations, an event that brought prominent alumni back to campus, as this event does each year.
2018 Smith Family Business Initiative event highlights
Family Business Roundtable
Women, Leadership, and Their Family's Business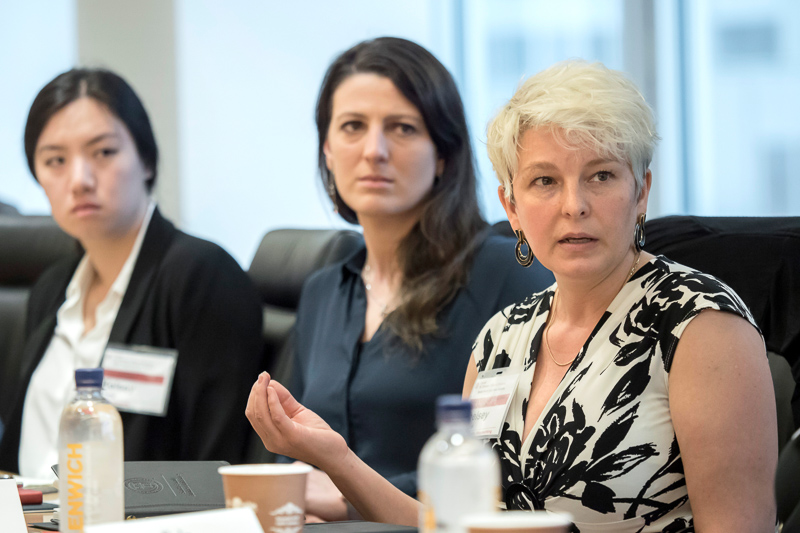 2018 Families in Business Conference
Generations, Innovations
The 2018 Families in Business Conference, held Oct. 24–25, featured panelists who shared their personal family business experience and addressed the opportunities and challenges they face as the next generation in their families' businesses. An annual favorite, the Taste of Family Business Reception, kicked off the conference and featured family-owned producers of foods and beverages.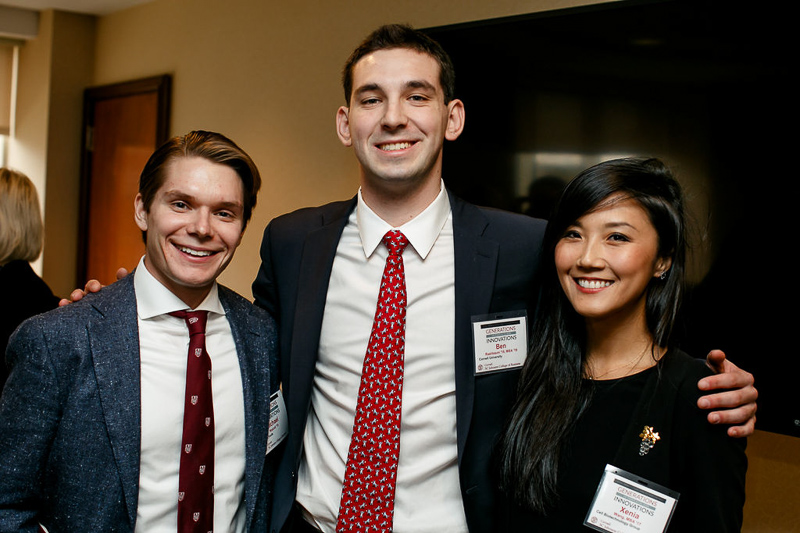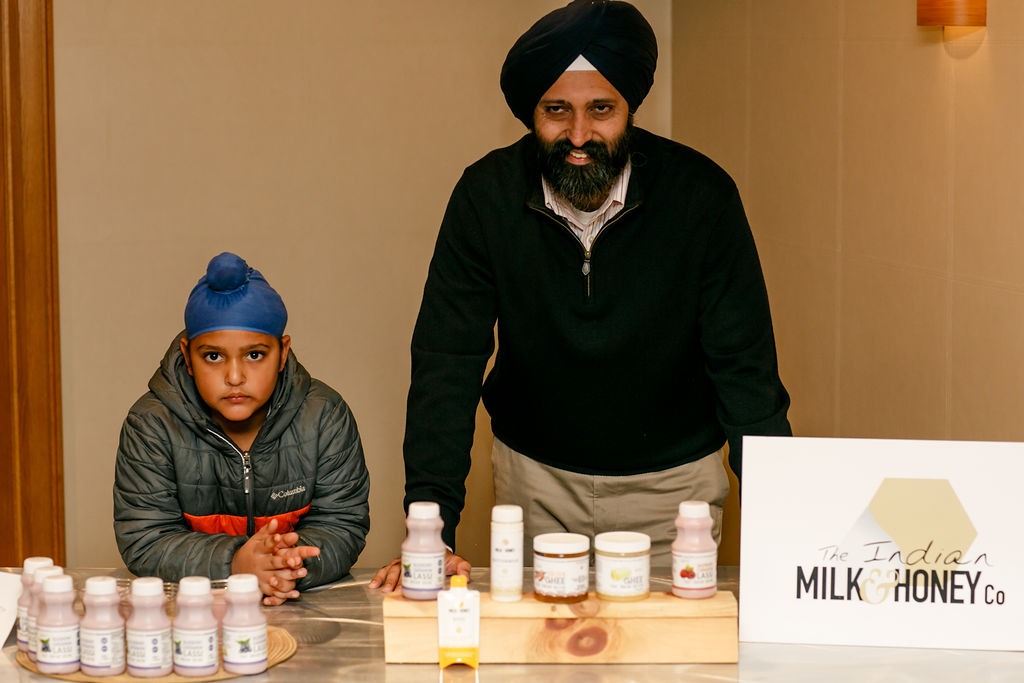 2018 Friends and Family Gathering
The Borscht Belt Revisited: From Cornell to the Catskills and Back
Hosted in partnership with the Cornell Jewish Studies Program, the 2018 Friends and Family Gathering took a nostalgic look at the Catskills region of New York State. Speakers included Bob Katz '69, Eric Roth '74, Laurie Roth '75, Sam Seltzer '48, and Andrew Tisch '71, who shared their family stories about the many family-owned resorts of the Catskills.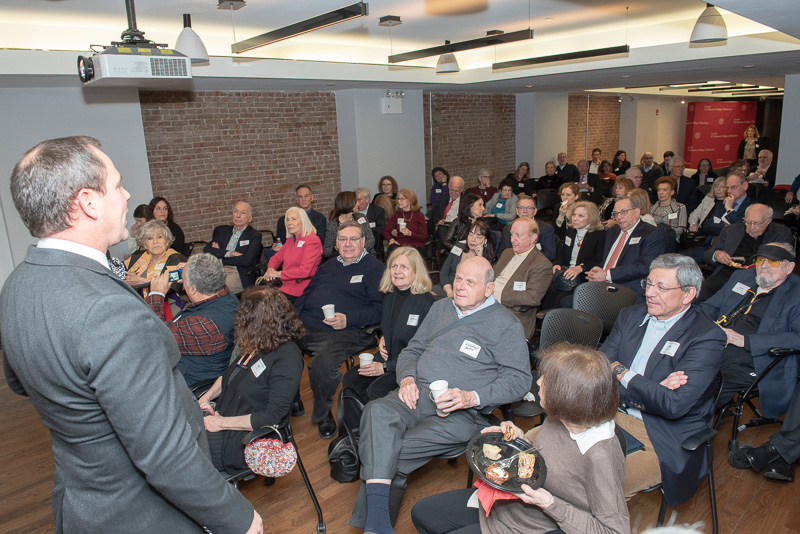 2018 Family Innovations Summit
Navigating Growth, Transitions, and Exits
The inaugural Family Innovations Summit, now an annual event, brought together family business owners and leaders to explore growth, succession, and exits in a private and confidential setting. Notable speakers included School of Hotel Administration alumnus Alan Rosen '91, co-owner of Junior's Restaurants and Bakery and maker of the eponymous, widely celebrated cheesecake, who spoke to more than 60 family business owners about the history of Junior's.
Speakers on the Next Gen Perspectives and Challenges panel at the 2018 summit included Jessica Gerson '15 (CALS), vice president of innovation at Gerson & Gerson, a manufacturer and distributor of dresses for girls based in New York City; Ashley Fina, CEO and president of Michael C. Fina, longtime Manhattan retailer of fine tableware and home décor gifts; and Michael Stanat, MBA '19, director of global operations at SIS International Research, a global market research and strategy consulting firm. The panel was moderated by Russell Shinsky, a partner at accounting firm Anchin, the Innovation Summit's supporting partner.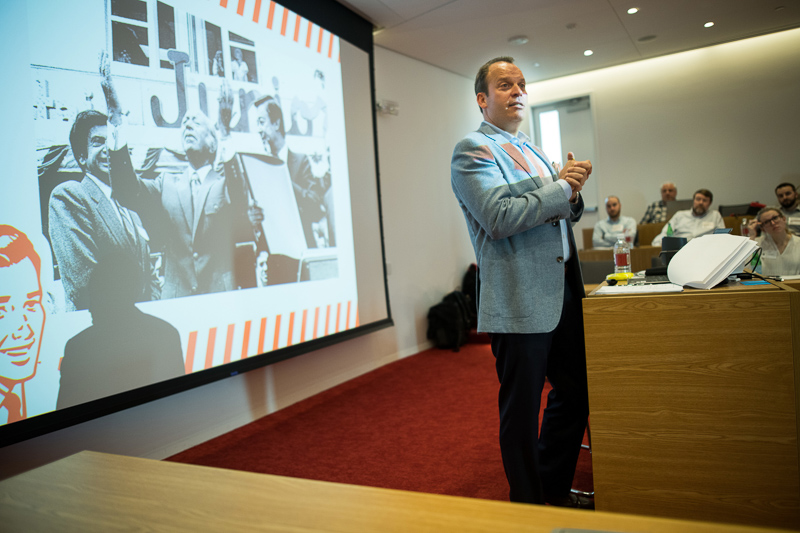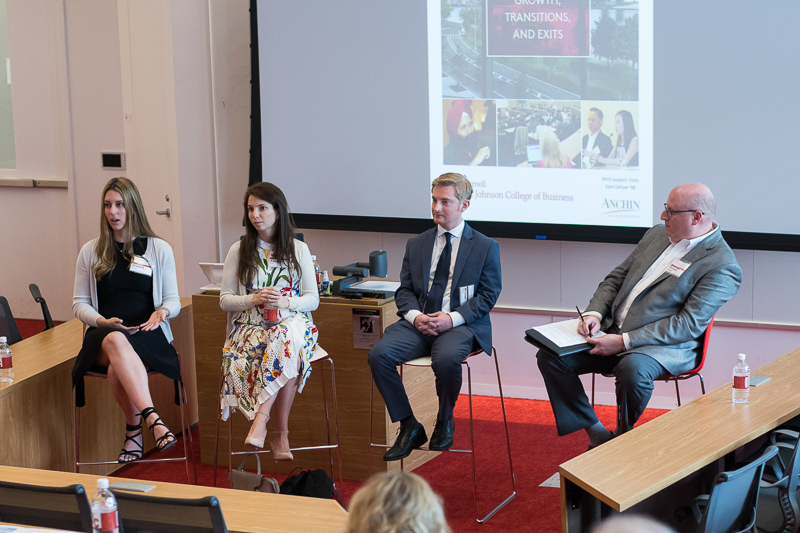 A hub for family business leaders
Chris Pletcher, MBA '16, is three years into leading his family business as vice president of family-owned Allegheny Coatings, based in Pennsylvania. As a student, Pletcher helped professionalize and improve the Johnson Family Business Club as its first official president (the club was initially founded by Ian Michael Smith, MBA '14, the son of SFBI benefactor John Smith). Pletcher was inspired to lead the club when he learned that many classmates at Johnson faced family-related business challenges similar to his own. His goal was to find expert voices and research-driven frameworks that would help him and his classmates navigate these challenges. Through actively networking and helping to host events like the Families in Business Conference, student members started conversations and projects that they could apply to their own unique situations.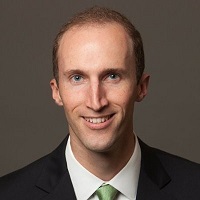 Now, Pletcher says, he shares the knowledge he's gained with his own customers and suppliers, many of whom run family businesses but have never benefited from training in succession planning, legal issues, or conflict resolution. He's finding that he's able to build business relationships by helping vendors and suppliers with their own family business issues. Pletcher even won a seat on his city council, running on his mix of business experience and family values.
Alumni like Pletcher are overjoyed about Cornell's family business conferences, summits and other events, Van Der Vliet says, because that family element is such an important bond among those working in family-run enterprises. "Whether they brew beer, make paint rollers, or print business books, they can all relate to each other, because they all have this same family dynamic going on in their business," Van Der Vliet says. "It's less about industry and more about identity."
SFBI's plans to expand its reach and impact
SFBI's next growth goals include rounding out the curriculum with more coursework and developing an immersion—a performance-learning semester of family business-focused coursework and fieldwork. Next year, Tsoutsoura will expand on SFBI's global portfolio with the addition of a new course for the Cornell-Tsinghua Finance MBA program. In addition, Van Der Vliet says, "We envision a portfolio of executive education programs that will allow us to work with family businesses wrestling with innovation, succession, leadership, and longer-term strategies like exit planning."
To build that broader portfolio, the SFBI is actively cultivating connections with colleges and schools across Cornell, including in the School of Hotel Administration, Cornell Engineering, the School of Industrial and Labor Relations, and Cornell Tech. As it creates and disseminates new family business research, the SFBI is well positioned to build on its first five years of success and to impact the practice of family business the world over.
—Written by Jeff Gangemi, MBA '09