"Finding Synergy" at the 94th Annual Hotel Ezra Cornell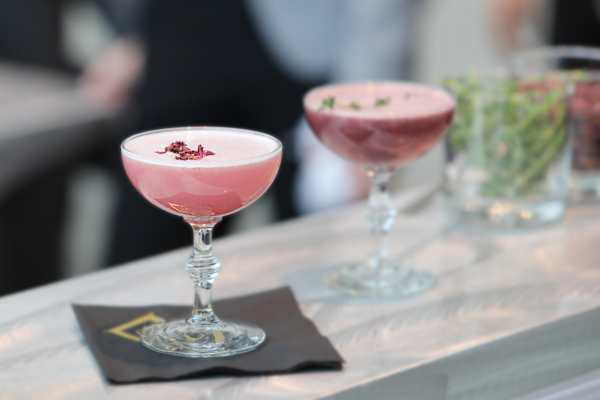 Students and guests wrapped up an incredible 94th Annual Hotel Ezra Cornell (HEC) this March. As an icon at the School of Hotel Administration (SHA), Giuseppe Pezzotti '84, MPS '96, senior lecturer, always says: "Hotel Ezra Cornell, a tradition older than the Academy Awards, is a self-perpetuating entity of the School of Hotel Administration where the cast may change but the purpose always remains the same." He also will remind you it is a tradition older than the Academy Awards.
Hotel Ezra Cornell is a three-day, student-run hospitality conference that brings together hospitality industry leaders, Cornell alumni, and the entire Cornell community to discuss changes in the industry and trends for the following year. HEC gives students the opportunity to serve in leadership roles ranging from food and beverage to program management while enjoying the educational and networking opportunities presented throughout the weekend. Conference attendees enjoy a weekend of leisure and educational events complete with innovative cocktails and cuisine, all prepared by the undergraduate and MMH students at SHA.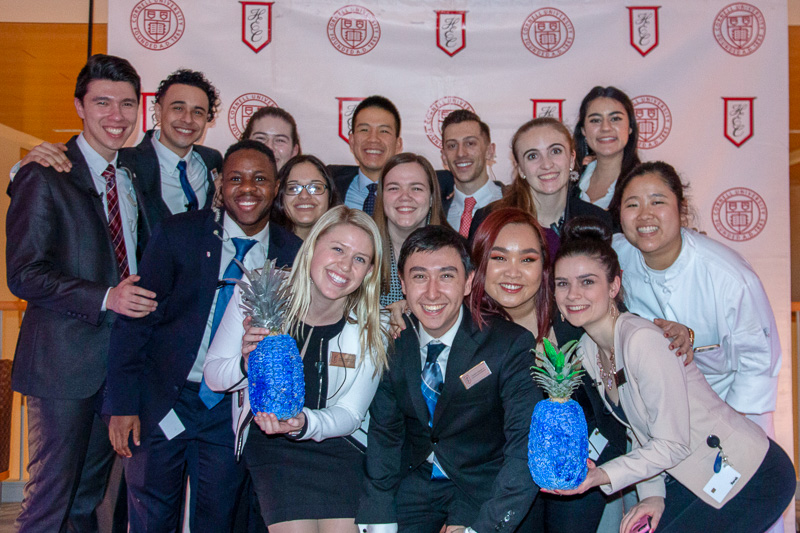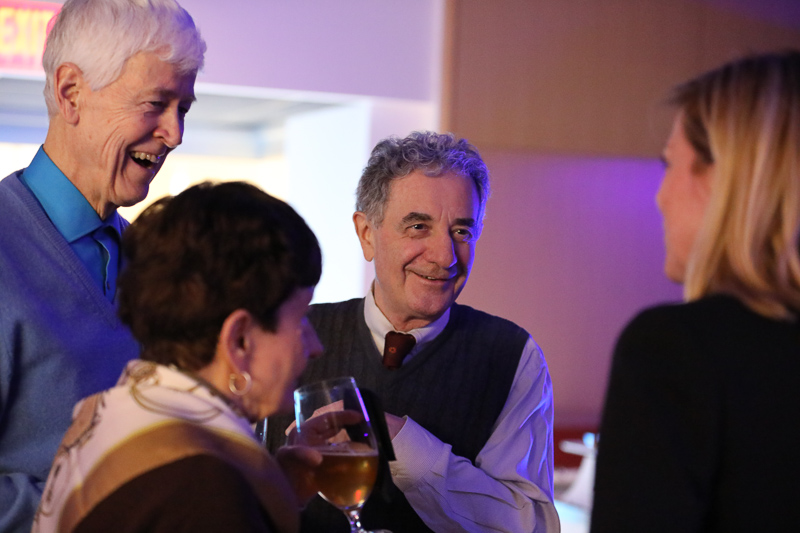 The 2019 conference theme was Finding Synergy, where speakers, alumni, and industry leaders discussed how hospitality is infusing itself into other industries and breaking the boundaries of what is considered "traditional." This year's theme was interpreted by speakers in talks such as Using Emerging Technologies to Empower Hospitality with Shane O'Flaherty, global director of travel and transportation at Microsoft; and From Fine Dining to Food as Medicine with Michael Anthony, executive chef at Gramercy Tavern.
The Statler Auditorium was packed for the HEC 94 keynote speaker, Valerie Ann Wilson, the founder, owner, chairman, and CEO of Valerie Wilson Travel. This year's keynote was exciting for several reasons, most notably for the fact that Valerie Wilson was HEC's first-ever female keynote speaker.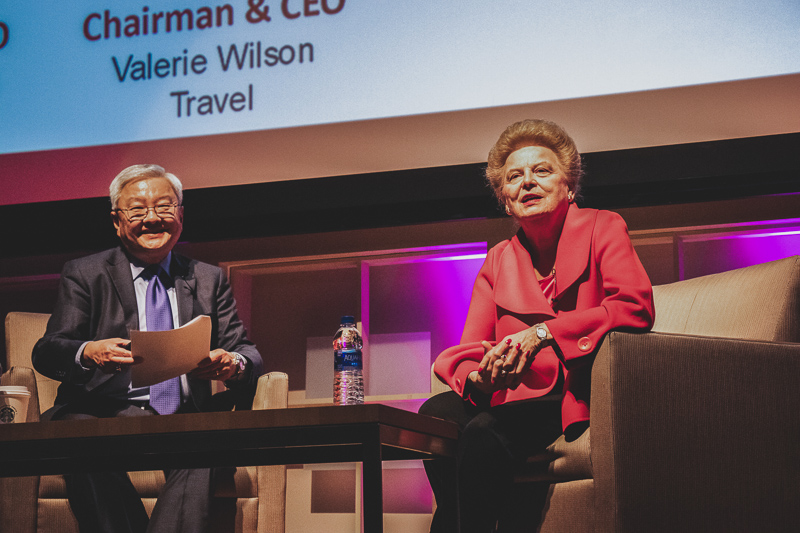 HEC 94 student leaders reflect on memories from the weekend and discuss their experiences.
Megan Guefen '19, Managing Director
"HEC is an incredible practical learning experience. By being involved in HEC for the past four years, I have grown into the leader and hospitality professional that I am today, and my Cornell experience would not have been complete without HEC. Being a part of this long-standing tradition in SHA truly exemplifies being a 'Hotelie for life' and E. M. Statler's words, 'Life is Service.' I am so proud of what we accomplished this weekend and of all the students who have worked tirelessly to showcase their skills and abilities. Their hard work, passion, and dedication made HEC 94 'the best ever!'"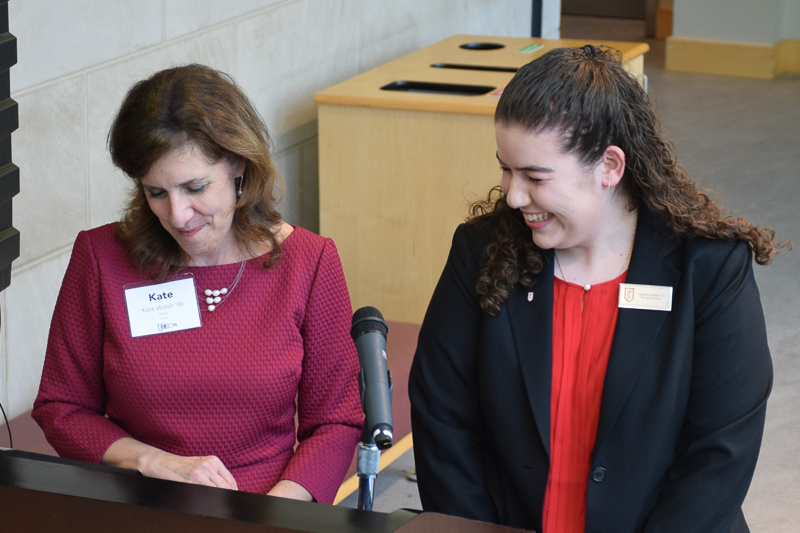 ---
Izzy Mayer '19, Programs Director
"Taking part in three HECs and getting to serve on the Board of Directors for HEC 94 has been the ultimate culmination of my time at SHA. It has taught me to be a better leader, a better team player, and a better hospitality professional. As an organization, we accomplished what has been the 'best ever' version that I have personally experienced, and I am so proud of everything we created for the weekend. The freshmen, sophomores, juniors, and even the prospective students who served as ADs, managers, and volunteers are the reason why HEC 94 was so successful, and I am so excited to see what they create for HEC 95!"
---
Julia Li '20, Executive Chef
"HEC is the ultimate Hotelie experience. For current students, it is an opportunity to showcase their incredible talent. For staff and faculty, it's an opportunity to support the legacy of the school and the students' growth as leaders, and for alumni and industry professionals the opportunity to see the future of the industry, to have a great time, and to be at home again. HEC 94 was the pinnacle of my college career, and I cannot wait to see the tradition continued for years to come."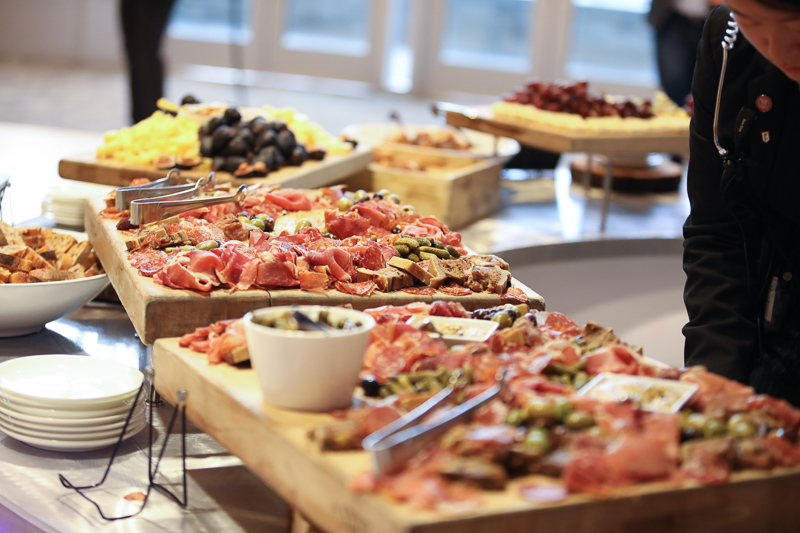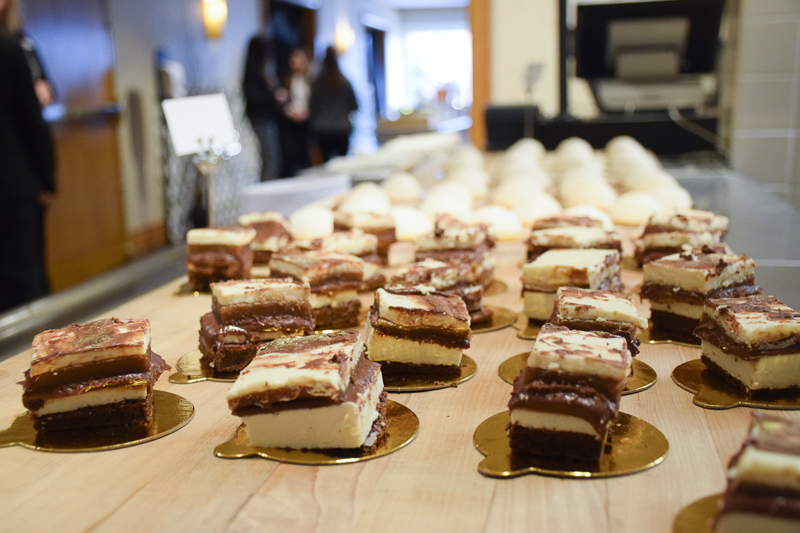 ---
Rani Bernstein '19, Human Resources Director
"HEC 94 will be one of the most prominent memories of my undergraduate career, professionally and personally. Not only have I gained 14 close friends through my fellow directors, but I've had the opportunity to fully run a human resources department. It's truly amazing to see the passion and effort that more than 500 assistant directors, managers, and student volunteers give to HEC, and organizing these students has been my greatest pleasure throughout the year. During the weekend, I saw many students take the lead and put their class concepts into practice. HEC truly is the foundation of SHA, and I'm excited to see this year's assistant directors, managers, and volunteers rise to higher leadership roles in the future."
---
Shaina Arsenault '19, Marketing & Communications Director
"As the marketing & communications director, I wanted to try a new initiative at this year's conference to involve my team in the weekend's events and add value for students and attendees. During previous conferences, I had heard feedback from a handful of HEC guests that there were not enough opportunities to network with the current students in SHA, and those looking to find interns or mentees while here on campus struggled to forge the connections that they were hoping to make between the jam-packed programming schedule and the students' volunteer shifts.

To attempt to solve this problem, I created the first-ever HEC Networking Board: a tool utilized by both conference attendees and students to facilitate interaction and create connections. The goal of this new initiative was to elevate the level of networking that occurs between guests and students during the conference and create mutually beneficial connections. To my surprise, the first iteration of the Networking Board was a huge success! We received more than100 total submissions, and my team has been working hard all week to sort through our many networking requests and create meaningful matches between them. It is my hope that the introductions made possible by the Networking Board lead to positive, worthwhile connections for everyone that participated!"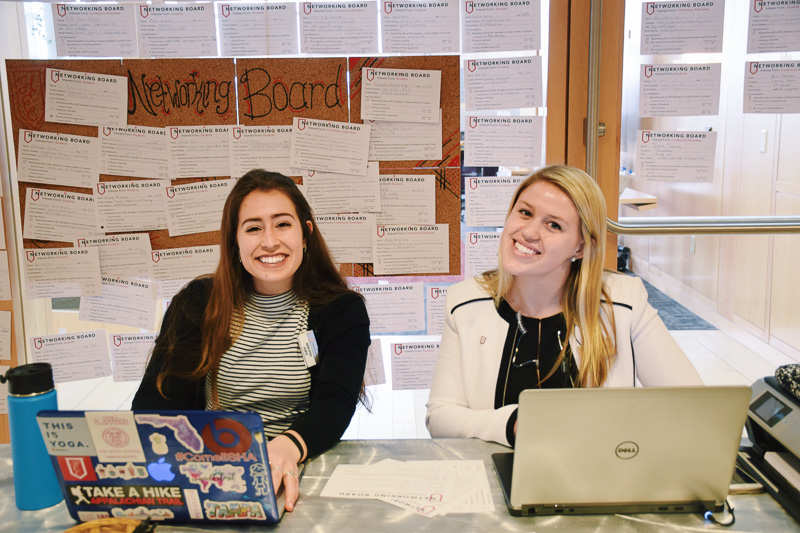 ---
Nathan Harkins '20, Finance & Procurement Director
"HEC was an amazing experience that I will never forget. During the weekend, I was blown away by the passion and dedication of my team. Working together, we were able to solve all the various issues that came up, and grew closer as a result. Experiences like this set SHA apart from other hospitality or business programs and set us up for success in the real world. Joining and continuing with HEC has been one of the best decisions that I made, and I urge everyone to take part in this celebrated tradition."
---
Quyen Do Nguyen '20, Rooms Director
"This HEC was undoubtedly my most favorite HEC so far. The conference went so smoothly on the weekend despite the obstacles we had during the year. As rooms director, it was incredibly rewarding for me to hear guests' feedback on their personalized amenities and how helpful the concierge team was to navigate the weekend. My favorite moment was when the rooms team surprised Valerie Ann Wilson with Coca-Cola bottles and a handwritten note! It goes to show how talented my assistant directors and managers are and I am so grateful for all their hard work for HEC."
---
Amanda Lacher '20, Food & Beverage Director
"Getting to plan an entire conference with my best friends, and executing one of the 'best ever' has been an amazing experience. That's not to say it wasn't stressful—we knew the Statler Ballroom was going to be under construction, which of course got delayed, and we didn't find out until Thursday morning if we could use the space that Friday. The delays led us to brainstorm and create backup plans and practice real challenges we will face in our futures. Luckily, we had the honor of showcasing the beautiful space to alumni and industry leaders. We definitely shed some tears of joy when we found out."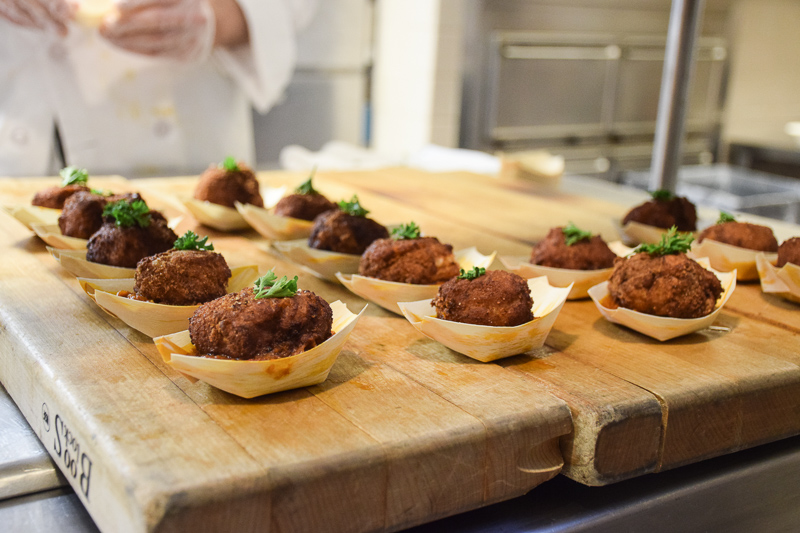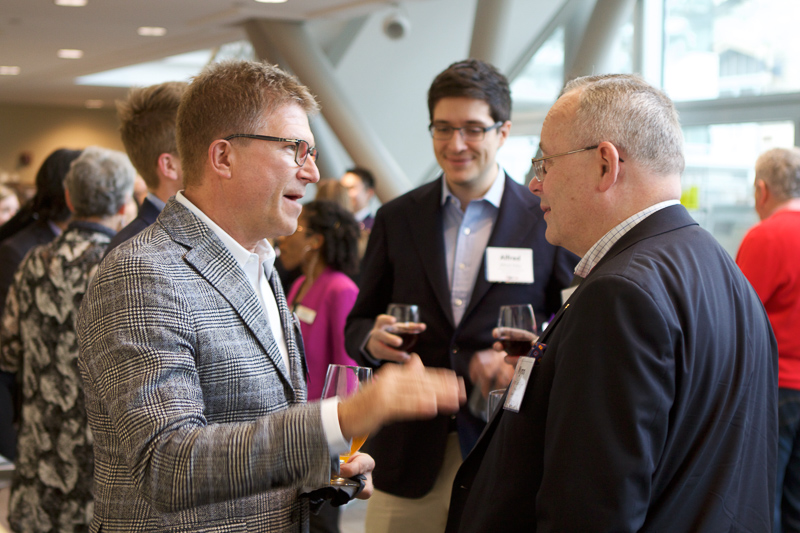 ---
Jeremy Yan '19, Sales & Donor Relations Director
"Hotel Ezra Cornell offers a unique opportunity for a student to take on a personal project of substantial size and scope, and the weekend serves as the culmination of more than 500 hard-working individuals' year-long efforts to plan, design, and execute a memorable guest experience. I feel immensely grateful and fortunate to have served as a small part of this SHA tradition, and I am even more thankful for teammates, faculty, staff, and guests who made this year's HEC the most special one yet. Exciting programming, innovative experiences, unparalleled food and beverage, and intimate networking… what's not to love?"
---
Sarah Monahan '19, Design Director
"Being on the Board of Directors for the second year has been a wonderful experience. For HEC 94, I was exposed to a whole new team and was able to watch the vision of our student designers come to life. It was very special to see the designs that these students have been working on all year finally be on display and appreciated by guests. It was incredible to receive compliments from guests on how much they enjoyed the way we were able to transform the spaces for HEC 94, and I cannot wait to see the creativity that will arise for next year's conference!"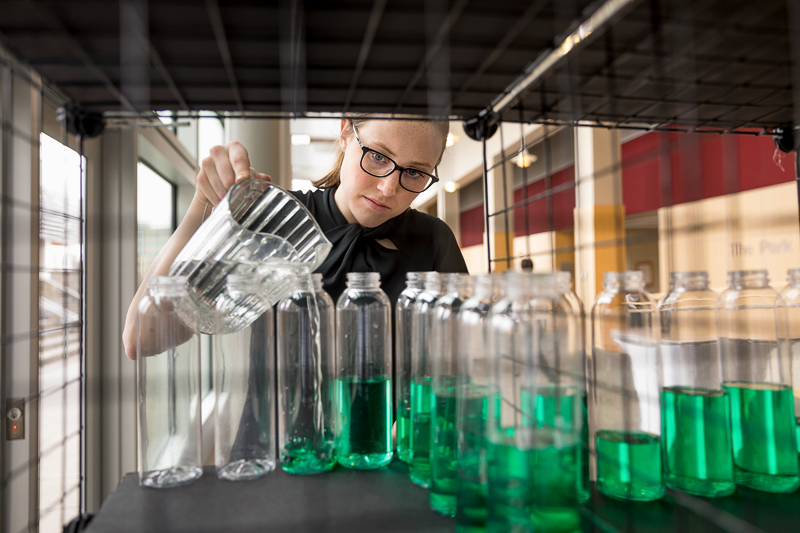 ---
Gemma Richardson, MMH '19, MMH Luncheon Event Chair
"HEC is a great opportunity not only to demonstrate our hospitality to alumni and industry professionals who come from all over the world for this special weekend, but also to demonstrate hospitality to our classmates, faculty, and staff at SHA. This is an invaluable experience to bring together all of our unique and individual backgrounds and talents into one collective vision. It's one thing to have talent in the kitchen, it's another to orchestrate a grand banquet. Our MMH class personified synergy in action."
—Compiled and written by Morgan Train '19, Media & IT Director for the 94th Annual Hotel Ezra Cornell; all photos provided by the HEC 94 Media & IT team