Cornell's 'positive energy' is just what Myron Spikes '22 was looking for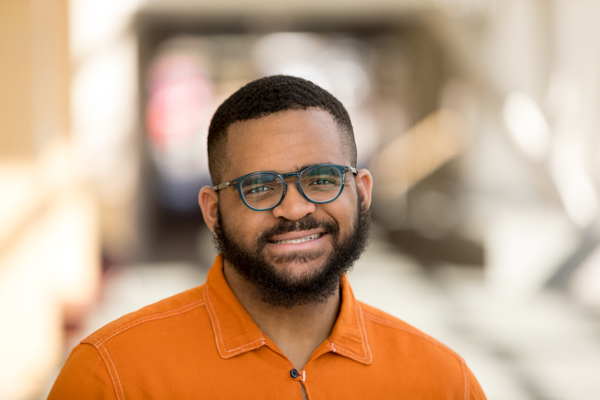 At home in Cleveland, Ohio, Myron Spikes '22 is known as a workaholic. The first in his family to attend college directly after high school, he has always held onto an unyielding determination to excel in his academics and earn a degree.
"Growing up in my hometown and in my immediate surroundings, no one was motivated. I didn't like that negative aspect of my environment, so I wanted to work hard to get out," he says. His mother had dropped out of high school to support her family. His siblings both graduated from high school, but only his older sister decided to attend college part-time. His community, he said, views college as an opportunity only for the wealthy and the intellectual elites. Spikes saw going to college as an opportunity to reform the way his community perceived higher education by setting a new example of what it means to be a college student.
Spikes was only 12 when he began challenging the local mindset. In middle school, a relative approached him with the concept of building an online boutique to increase community access to women's fashions. But the project soon ran into technical complications that led the relative to abandon the project, leaving Spikes alone with a half-developed website. Before he had the chance to quit, his mother urged him to continue the project on his own. After considering the idea carefully, Spikes traded in his video games for a solo stint in e-commerce.
After several months, Spikes realized that he could not commit, at such a young age, to scaling up his business, and so he closed down the site. But those few months of exposure strengthened his fascination with business and project management, inspiring him to study hard and seek out opportunities in entrepreneurship. Spikes, who was valedictorian of his high-school class, decided to look outside his comfort zone for his next educational opportunity.
Spikes chose to attend Cornell for its hospitality program, which he found to offer the energetic, dynamic environment he had longed for in his old neighborhood.
"I was surrounded by so much negative energy in my community, and when I came here, I was surrounded by an abundance of positive energy," he says. Entering Cornell, Spikes was slightly taken aback by the unfamiliar, diverse student body. "Here, I've sat down with people from all kinds of backgrounds and had conversations about topics I've never thought I would have," he says.
Involved in the Students Activities Funding Commission, the National Society of Minorities in Hospitality, and The Statler Hotel office, Spikes can testify to Cornell's inclusivity and how it embraces diversity. He finds comfort among his friends at Cornell, who all come from distinctly different backgrounds while sharing the same motivation to challenge themselves by grasping new knowledge and experiences.
"I would say I am definitely not the 'typical Hotelie,' but that's the fun in it. I find friends and joy from people who may not be like me, but we offer different perspectives and different ideas."
When Spikes returned home for the first time since starting school, he felt re-affirmed in his decision to attend Cornell. Realizing the growth he has achieved as a college student reignited his desire to complete his education. Although Spikes is undecided on his future plans, he hopes to combine his passion for entrepreneurship with his education at Cornell to establish himself in a career his community back home would be proud of.
—Written by Ashley Win, a student writer for the Cornell SC Johnson College of Business