Roger Hill '87 and Andrew Fay '87 named Cornell Hospitality Innovators for 2019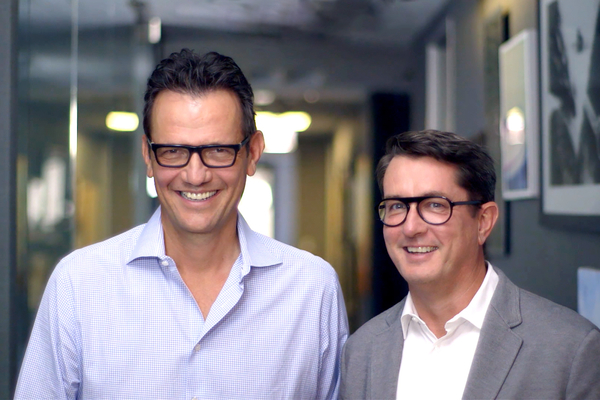 Roger Hill '87 and Andrew Fay '87, cofounders of the Gettys Group, have been named the 2019 Cornell Hospitality Innovators by the Leland C. and Mary M. Pillsbury Institute for Hospitality Entrepreneurship at the Cornell University School of Hotel Administration (SHA). Hill and Fay will receive their awards at the 11th annual Cornell Hospitality Icon and Innovator Awards gala, Tuesday, June 4, at the Pierre Hotel in New York City.
Fay, Hill, and two of their SHA classmates founded the Gettys Group in 1988 with the goal of delivering world-class hospitality design and procurement services across the United States. Today, the Gettys Group has evolved into an award-winning design and development firm working with clients around the world from offices in the Americas, Asia Pacific, and Middle East. Widely regarded as a hospitality industry leader in the design, branding, procurement and development space, the firm collaborates with the world's foremost hospitality brands and has completed more than 1,500 projects in 32 countries. In 2018, the Gettys Group was recognized by Hospitality Design magazine as a Platinum Circle honoree for 30 years of design excellence.
Hill and Fay have become highly regarded members of the hospitality industry and are both frequently featured in top-tier media and industry publications sharing their innovations and insights. They are sought-after speakers at industry conferences across the globe, including SHA's legendary student-run event, Hotel Ezra Cornell.
Hill is actively involved with a number of professional and civic groups in Chicago and across the United States, including YPO Gold Hospitality Network, the International Society of Hotel Consultants, the Hotel Council of the Urban Land Institute, and the American Hotel and Lodging Association's Hospitality Investment Roundtable. He is also involved in several civic organizations, including the Lincoln Park Zoo Board of Trustees and the Art Institute of Chicago Auxiliary Board.
Fay has championed innovations such as the Gettys Group's Hotel of Tomorrow Project and the exclusive Fast Forward Symposium, a think tank driving futurism and thought leadership in the hospitality industry. He is a member of the prestigious Design Leadership Network and is actively involved in a number of professional and civic groups in Chicago and across the United States.
With its inception in 2009, the Cornell Hospitality Icon and Innovator Awards became the largest event on the School of Hotel Administration's calendar, attracting more than 600 influential leaders and innovators in the hospitality and travel industries from more than a dozen countries each year. The event is a key fundraiser for the school's annual fund, which provides critical need-based scholarships for students.
For details about the 11th Annual Cornell Icon and Innovator Awards, please visit the event webpage or contact Meg Keilbach (mhb7@cornell.edu).