Johnson MBAs explore New Orleans on an "unofficial trek"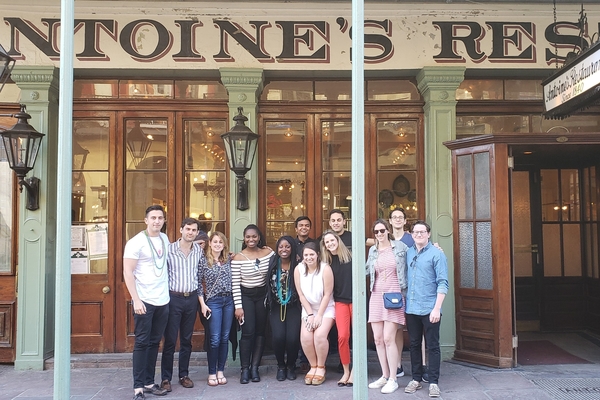 By Clementina Ojie, Two-Year MBA '20 and Consortium Member
The international treks at Johnson are a true highlight of the program. They provide an opportunity to learn about the corporate world while being immersed in a different culture for several days. Equally as rewarding are the trips taken with classmates. During this past February winter break, I had the opportunity to experience my first trek (unofficially) in New Orleans.
A long time in the making
The fall semester was a whirlwind that involved balancing my recruiting process with my academics; as a result, socializing with classmates often took a backseat. I remember when a classmate told me that I should join her and a number of our classmates on the New Orleans trip during February break. I barely gave it a thought: It was toward the tail end of the fall semester, and I was laser-focused on landing an internship in investment banking.
When the same classmate reminded me about the trip at the start of the new semester, after I had landed my internship, I gave it more consideration, realizing that I needed to start getting to know my classmates again and taking full advantage of the fun opportunities available at business school offers. I found out that they already had Airbnbs booked, itineraries planned for the four days, and flights booked since November. Though I had some catching up to do, I couldn't pass up what was in front of me: the chance to embark on a quest for some good old-fashioned fun.
Old friends become better friends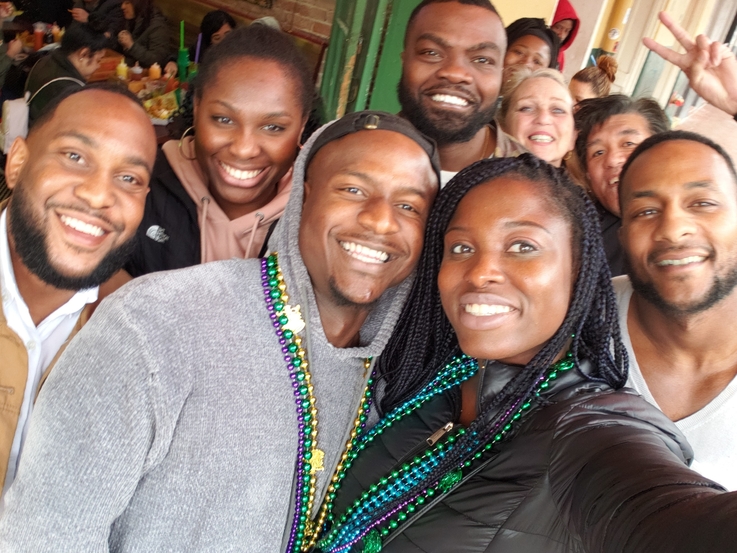 With almost 75 Johnson students on this trip, the fun had already begun. Over the next few days, we enjoyed the pre-Mardi Gras celebrations. I joined several classmates on Bourbon Street, and we even launched the festivities at several locations. We ate—A LOT.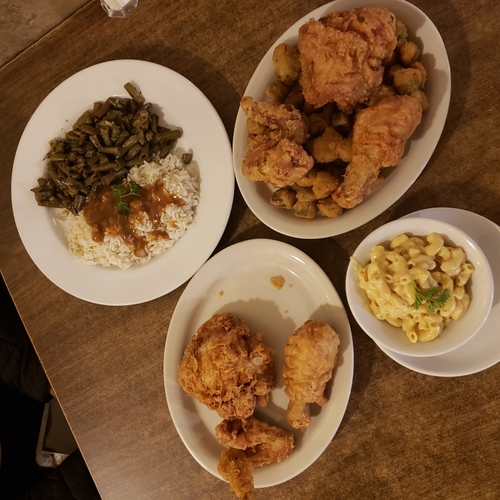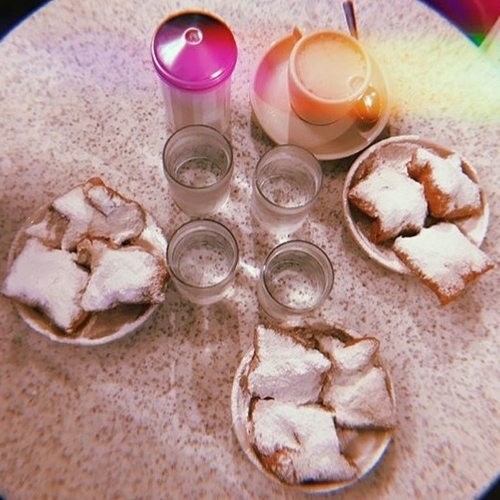 But we also bonded over simple pleasures during those few days. Myself, along with a few other women, decided to take some time away from the festivities to relax, get our nails done at a salon near the French Quarter, and just catch up on life.
The paths less traveled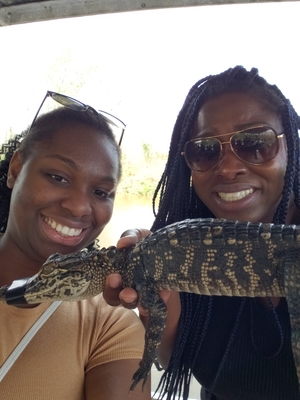 Although we did not have any preplanned schedule that can be found on an official trek, some of the best experiences I had on this trip were off the beaten path. In fact, they were inspired by a number of our Uber drivers and the local residents we met along the way. We learned about Willie Mae's, a black-owned soul food restaurant in which the original owner fried all the chicken herself, not relinquishing ownership of the business until she was well into her 80s, but not before on management of the restaurant, along with her secret recipe to her daughter. The restaurant has since been passed down one more generation to the original owner's great-granddaughter.
One of my closest friends in school challenged me to step out of my comfort zone, and I took her up on it. I went on a swamp tour and egged my classmates on when the chance arose to hold a baby gator, something I myself was scared to attempt. On the swamp tour, I saw the famous cabin on the bayou, featured in movies starring actors like Jamie Foxx.
Last words of wisdom
On our last day in New Orleans, our waiter at Willie Mae's recommended that we hop on the city tram to really see the whole city from the local perspective. He was kind enough to draw us a route from Canal Street to the Riverwalk. We promised him that we'd check it out, so off we went.
Viewing the city from our tram window, we saw purple, green, and gold colors all around, not to mention Mardi Gras beads galore. From this vantage point, we really got to witness city's beautiful architecture and colorful people up close and personal. We got off the tram on Magazine Street in the Garden District, at the driver's recommendation, to go in search of great shopping and a cemetery tour, which I found rather creepy but did it anyway — when in Rome, right? I was struck by the words on the tombstone of a dearly departed woman who lived from 1952 to 2008:
"All the beauty that could die."
Although I don't consider myself superstitious, I admit that I initially found this quote quite saddening. The more I thought about it, however, the more I found it inspirational, perhaps because I'm a glass-half-full kind of person. Although nothing lasts forever, there are many beautiful people and experiences that exist in this world. Indeed, I joined my classmates on this trip out of a desire to make the most of my Johnson experience, having spent so much of my fall semester prioritizing my academics and the internship recruiting process.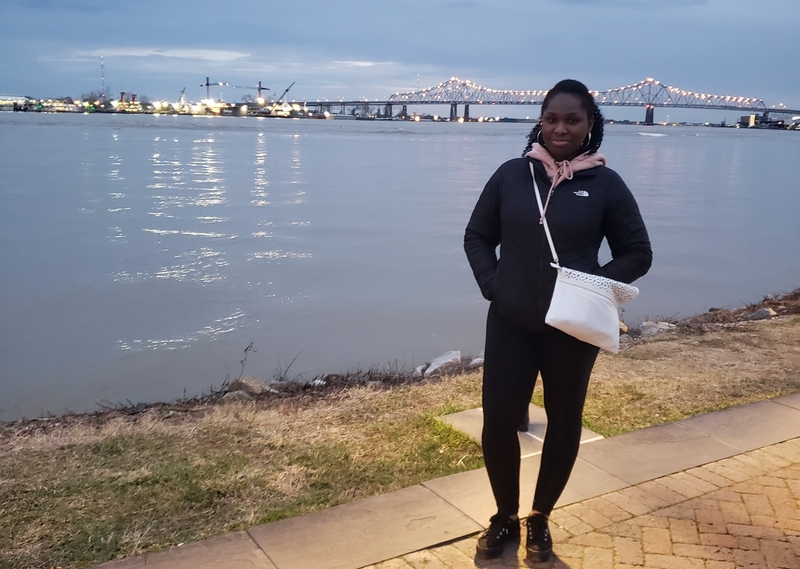 So, when I think now of all the beauty in this world that could pass, I am inspired to experience as much of it as I can. I've already started in this pursuit: having appreciated the beauty of New Orleans with classmates who dared me to step out of my comfort zone, the same classmates who were by my side during the rowdy outings and the simple fun times. Johnson gave me the opportunity to enjoy more of the world, starting with this trek to New Orleans, Louisiana (albeit unofficially).
---
About Clementina Ojie, Two-Year MBA '20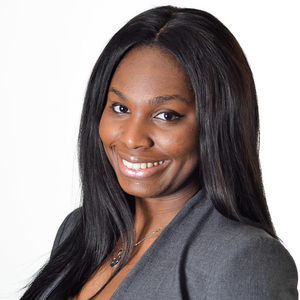 Clementina Ojie is a first-year MBA candidate at Johnson. She holds a bachelor's degree in English and business administration with a concentration in accounting from Fisk University. Prior to business school, Clementina began her career in finance at Vanguard in the retail retirement division, advising clients on how to save for retirement using the Vanguard mutual funds. She then worked in private wealth management at JPMorgan Chase as a client service associate. She partnered with senior bankers to help bring new business to the firm and create diversity programming internally for the Delaware location. This summer, Clementina will be joining Evercore as a summer investment banking associate.