Park Perspectives: Leading without a defined "leader"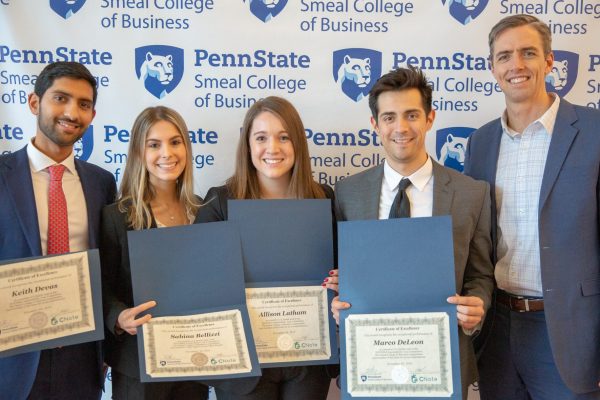 By Allison Latham, Two-Year MBA '20
Park Perspectives are authored by Johnson's Park Leadership Fellows.
What is business school without participating in a case competition? I checked this b-school bucket-list item off by registering a team for the 2018 MBA Sustainability Case Competition at Penn State Smeal College of Business in the fall of my first year. With a diverse set of backgrounds, my team felt well positioned to embark on our first official case competition outside of the walls of Sage Hall.
After initially registering, we found a few weeks passed by without meeting. With a few successful case competitions under our belt during the Core curriculum at Johnson, we realized that we needed to refocus on the MBA Sustainability Case Competition. When we began, we quickly realized we had a challenge: we were no longer under competitive pressure of our Johnson Leading Teams Case Competition and we were not embarking on a 72-hour marathon, like our Johnson Integrative Case. All of us were coming from formal team structures in our previous professional careers and were used to working within a hierarchical structure; at Johnson, the team leaders were already assigned as part of the Core. Now, as a team of equals, with no oversight, we were stumped as to how to proceed. Who would strategize? Who would decide which solution we should drive forth? Who would mediate conflict?
Take initiative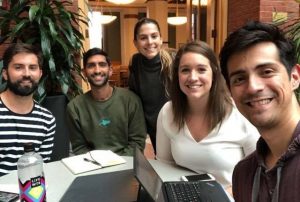 Given the gray space of the case defined for the competition, I quickly realized we needed structure, or we would be going nowhere fast. I reflected on a Park Fellowship session we had earlier in the semester around understanding and leveraging styles through an exploration of our Myers-Briggs Type Indicator results (ESTJ). Relying on my style centered around Sensing and Thinking, I am results oriented and enjoy discussion. With this in mind, and knowing my peers were of varying styles, I took initiative – I begin organizing meetings and mapping out our trajectory for the case to align with my preferred style but accommodating my teammates who were on the opposite end of the MBTI spectrum.
Through this small step of understanding one another, the creative juices began flowing. Through recognizing that my teammates needed clear directions as to what they were responsible for and what results were expected, we began to work as a highly functioning team. It simply required assessing my colleagues' strengths and determining which task would be best for them. A formal leader did not need to be defined, but just an individual to step up to help direct the abundance of creativity. The perfect ten slide deck emerged.
It's NOT about the title, it's about the results
Margaret Thatcher stated it well by saying:
"Being a leader is like being a lady. If you have to remind people you are, you aren't."
By doing, it would be my actions, not orders, that would help inspire the team to deliver a creative and winning presentation. Apart from scheduling meetings and facilitating brainstorming sessions, I ensured everyone's voices were heard. I leveraged each team member, conscious of their MBTI-style, to generate discussion and also come to a solution we all felt comfortable with. We submitted our initial slide deck and waited for the first round of results.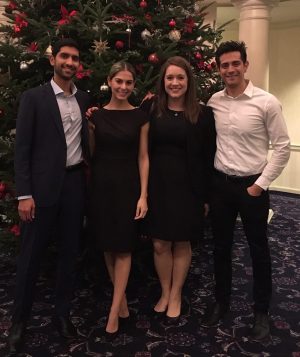 Great news! We advanced to the finals and we began to refine our story and prepare for the final presentation we would deliver at Penn State. There were less than 30 hours remaining until our final presentation was due, and we decided to meet with last year's team for feedback on our presentation. After thinking our deck was finalized, we received pages of constructive feedback. Some team members froze. But I took it as a challenge to incorporate what we could and use the time pressure to remove ambiguities from our presentation. Given the time pressure to submit a final version of our presentation, I took charge of outlining a pragmatic re-design of our deck and assigned each team member with a task based on their expertise. I led my team to think about our presentation from the judges' point of view and align the presentation in the style each of the judges would be expecting.
A few days later, we arrived at Penn State and were presenting a solution we were proud of. All of our hard work resulted in a second place victory; a massive achievement given we were competing against teams comprised exclusively of more experienced second-year students.
While the second-place title was great, what I learned in the process is that a leader can be used to organize and amplify the story of the group. A leader can identify team member strengths and weaknesses and use each person's talents to enhance the effectiveness of the team. At the end of the day, it's not about the title, but the success felt by the team as a whole. And sometimes, a little initiative and structure at the start can go a long way.

---
About Allison Latham, Two-Year MBA '20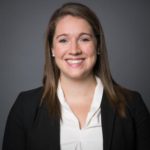 Allison Latham is a first-year MBA candidate at Johnson. Before business school, Allison worked as a business analyst for Barclays, a multinational investment bank and financial services company headquartered in London. She helped design a proprietary risk and trade capture system for the Equity Derivatives business. This summer, Allison will be returning to Barclays as an Investment Banking Summer Associate. Allison holds a BBA in finance and international business from the George Washington University.