BenDaniel Venture Challenge: Connecting entrepreneurial Cornellians since 2009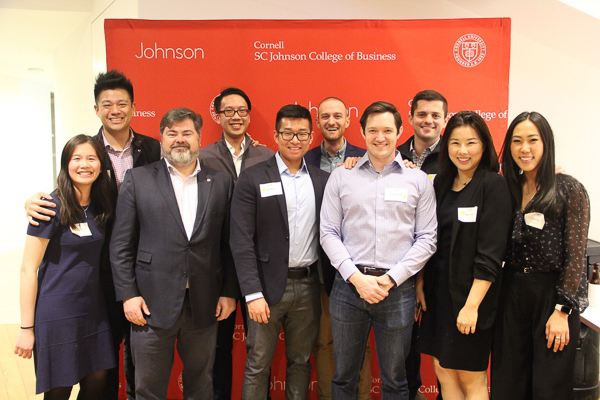 By Wenni Cai, One-Year MBA '19
As one of the nation's most active MBA student-run venture capital funds, Big Red Ventures (BRV) has been sponsoring the Cornell Venture Challenge since the year 2009. This year is a year of milestone and transition, as it is the first academic year at Johnson since 1985 without Professor David BenDaniel. Prof. BenDaniel, who passed away in late 2017, was our mentor and teacher, and is deeply missed. We are glad that we made the decision to rename the competition the BenDaniel Venture Challenge (BVC) in honor of him.
Running the challenge from a real VC perspective
This March, the BRV fund managers set up stringent judging criteria and ran through 70+ applications of Cornell-affiliated ventures. The purpose of the challenge is to provide an opportunity for burgeoning entrepreneurs to gain experience, exposure, and financing to help develop their business ideas to actionable and high-impact ventures. Winnowing the applications into a list of finalists was a herculean task. The finalists selected for this year represent ideas from different parts of the Cornell community and have the potential to make a lasting impact on the future.
Every year, we are fortunate to become not only a supporter but also a friend of all the teams. As a venture fund, we scrutinize early-stage startups for venture funding on a weekly basis and run through in-depth due diligence for potential investable companies. BVC has been a key channel to extend BRV's pipeline. The ability to follow the development progress of all the companies in the pipeline is critical for the fund's success.
Appreciation to our partners, sponsors, and supporters
We are grateful for the continuous support from Cornell Technology Licensing Office (CTL). The CTL has been a long-time strategic sponsor for the challenge. Since the beginning, CTL has generously matched the prize if there is an intellectual property licensor/licensee relationship between the winner and CTL. This year, CTL has offered to match rewards for all of the top-three winners. Special thanks to Alice Li, executive director, and Patrick Govang, director of innovation partnerships, for our even more strengthened partnership!
The BVC could not have been successful without the commitment from our judges. They came to Ithaca to judge a student pitch competition when their schedule was packed with board meetings with major companies. This is exactly the reason why the challenge has been a success year in year out. Huge credits go to our amazing 2019 panel:
Deb Kemper '88 (ENG), general partner at Golden Seeds
Eric Young '78 (ENG), co-founder and partner at Canaan Partners
Randy Brandoff '98 (CALS), executive director at Red Bear Angels
Ryoko Nozawa, MBA '16, principal at Cayuga Venture Fund
Thatcher Bell '97 (ENG), managing partner at CoVenture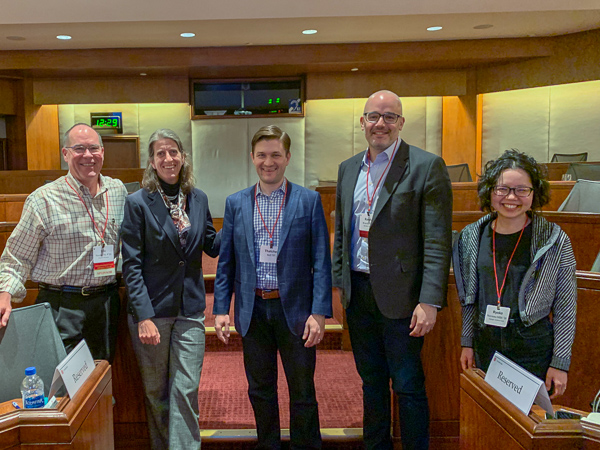 Showcase of the BVC finalists
Flicking through the photos from the final pitch day, it's heartening to see the passion and commitment from every entrepreneur. Each of them has tirelessly worked to transform their startup from idea to venture by leveraging resources in Cornell's dynamic entrepreneurship ecosystem in both Ithaca and at the Cornell Tech campus. After the finals, we asked the finalist teams to share their experiences as a startup founder and their thoughts on participating in the BVC. We hope that by sharing their insights, more audiences will become familiar with these companies, and we'll encourage entrepreneurial Cornellians to consider BVC as a fantastic opportunity to take their company to the next level.
---
Jason Goodman, PhD '20, food science
Co-founder and CEO of Antithesis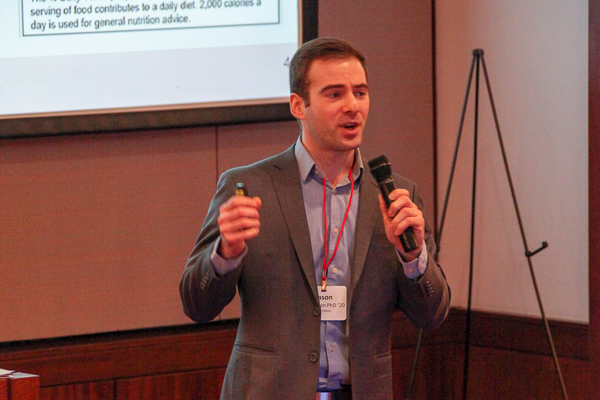 Antithesis was founded by Cornell food science graduate students in June of 2017 to make better food through science. We've worked through hundreds of product iterations to come up with Grabanzos, a better-for-you crunchy chocolate snack.  We've been fortunate enough to have the help of the Cornell entrepreneurship community through the entire journey.

We started out with eLab in the fall of 2017 and learned to do the work of customer discovery, ensuring that we were actually solving a problem for consumers. At launch, it was great to hear our customers telling us we had the solution to their problem, the one they had clearly communicated. Customer discovery works!

As we've continued to scale up, our plans have become more ambitious. We put these plans on display during the BenDaniel Venture Challenge this April. Despite not winning, and at the risk of sounding cliché, the judge's questions and pushback on our strategy have been invaluable. They pushed on weak points that forced the team to have tough conversations that will strengthen our overall strategy.

I can't thank the BRV team and the judges enough for helping hone our plan to change the way the world eats.
---
Payman Samadi, startup postdoc, Runway program at the Jacobs Institute
CEO and founder, EINO Inc.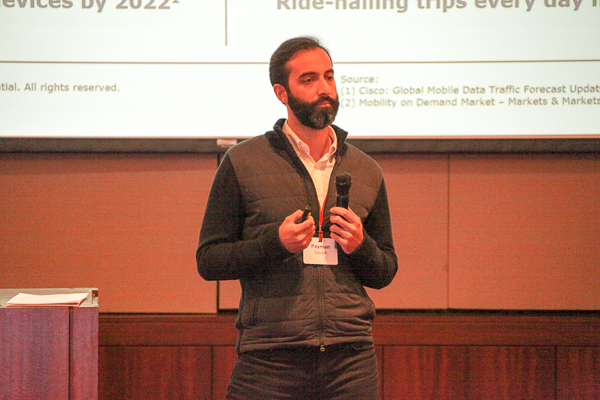 I joined the Cornell community through the Runway Startup Postdoc program at the Jacobs Technion-Cornell Institute at Cornell Tech in 2017. We are thrilled to be the winners of the BenDaniel Venture Challenge second place award. Cornell helped me to commercialize my research by providing investment, mentorship, and training programs so I could eventually start EINO.

EINO is a groundbreaking demand prediction and resource optimization solution based on accurate forecasting of people's locations and their intentions. We help service providers in urban areas to lower their capital and operational expenses while enabling them to deliver a higher level of service to their customers and ultimately increase revenues.

EINO's ever-updating, carefully curated data pool and portfolio of machine learning methodologies provide accurate, contextual, actionable insights into future demand. These insights empower users to identify and anticipate accurate temporal and spatial demands, understand the factors that will cause demand variations, and pinpoint future opportunities for optimization based on this information.

I'm honored to be part of the Cornell community and I'm looking forward to helping the next generation of Cornell entrepreneurs.
---
Ryan Sydnor, Johnson Cornell Tech MBA '19
Co-founder at Grow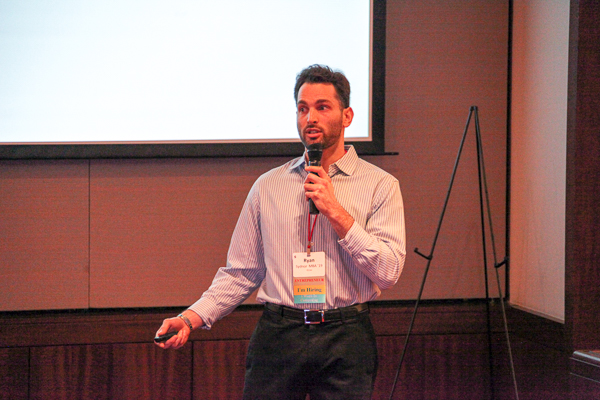 At Grow, we believe that continuous growth and learning are crucial in unlocking each and every person's full potential. The support provided to us by both Cornell's Ithaca entrepreneurial community and Cornell Tech's NYC network has been instrumental in unlocking our full potential as founders and as a business. The Entrepreneurship Celebration bridged all of Cornell's campuses to bring Big Red founders, investors, and advisors together.

In particular, the BenDaniels venture challenge was a fantastic opportunity for us to get feedback from a panel of renowned venture capitalists and has already been transformative for our pitch, our product, and our strategy.

If you're interested in helping your team learn and grow together, try out Grow!
---
Neel S. Madhukar, PhD '17 (Weill), startup postdoc, Runway program at the Jacobs Institute
CEO and co-founder of OneThree Biotech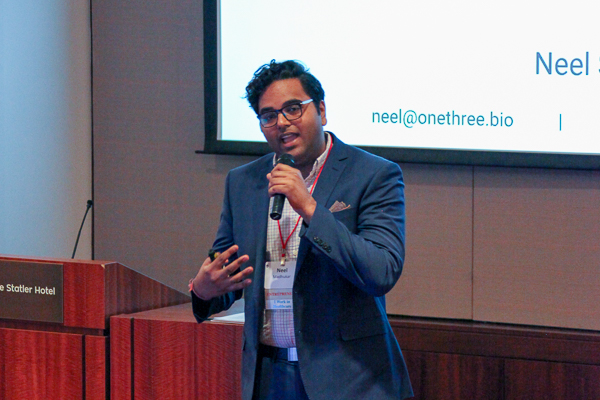 At OneThree Biotech we're redesigning early stage drug discovery through biology-driven AI. Our proprietary AI platform can mine through millions of diverse data points to identify new links between drugs, biology, and patients. This allows us to pinpoint new potential therapeutics for a fraction of the time and cost. So far, our platform has been validated through multiple preclinical and clinical studies and we're looking forward to changing the current paradigm of how new medicines are discovered!

We had a fantastic time presenting at the BenDaniel Venture Challenge and we were honored to be selected as the competition winner! As a Weill Cornell Medicine spinout and currently as part of the Runway Postdoc program at Cornell Tech, we have deep ties to the Cornell entrepreneurial ecosystem and loved having the opportunity to interact with multiple parts of the ecosystem during the celebration. Cornell not only was where we created the core technology, but the mentorship we received was invaluable as we thought through long-term goals, fundraising, and future operations. Additionally, as a deep science company, it was great to work with teams that understood the importance of having both great science and great business!
---
Isabelle Caffry, MBA '20
Co-founder of Organic Robotics Corp.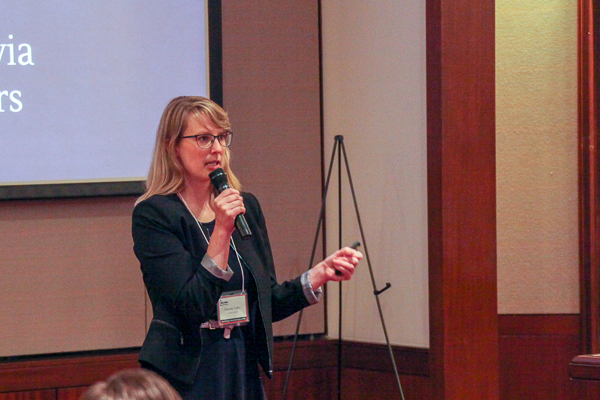 Organic Robotics Corporation had a great experience presenting as finalists in the BenDaniel Venture Challenge. As a startup based on Cornell technology, and Cornellians ourselves, it was amazing to see support from the Cornell entrepreneurial community as we build out our business.

It was incredible to be able to present and interact with such a wide range of venture capitalists that were there to support the competition. The competition across the board was very impressive and we learned so much not only from the questions from the judges but also from our fellow finalists' presentations.
---
We are excited to announce the final, top three winners and look forward to hearing amazing news from all the ventures that applied to the challenge this year! The top three winners received cash rewards from BRV and a match prize from CTL.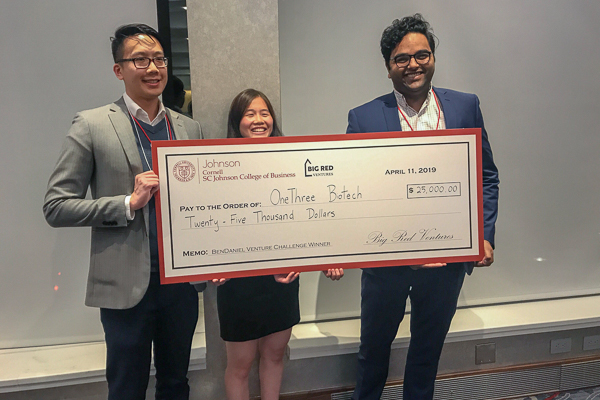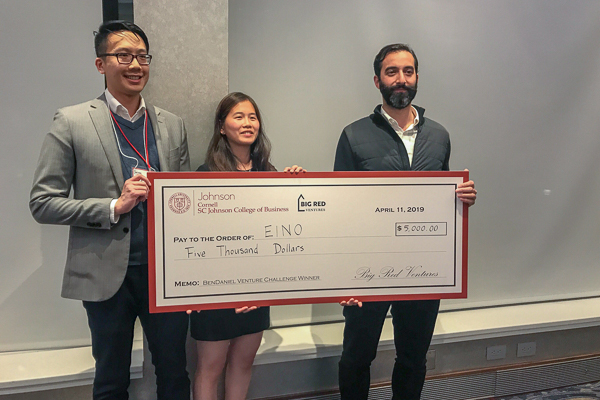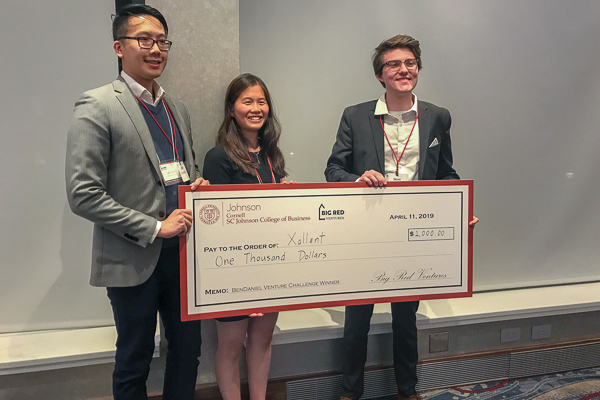 ---
About Wenni Cai, One-Year MBA '19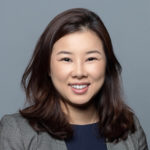 Wenni Cai serves as a fund manager for Big Red Ventures. Prior to Cornell, Wenni was the legal counsel at GSR Ventures. She specialized on cross-broader fundraising and corporate governance. Wenni holds an LLM degree from Vanderbilt University and LLB from the China University of Political Science and Law.