The magic of Israel, from technology to agriculture and everything in between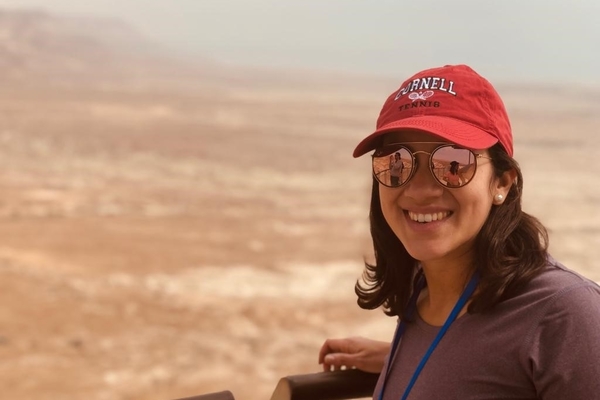 By Patricia Guzman, Two-Year MBA '19
This spring, I had the opportunity to travel to the Middle East for the first time when I visited Israel alongside 90 other students from Johnson. I was so excited and thankful for this nine-day experience. Israel was one of the destinations that I had on my bucket list for three main reasons: religion, culture, and business development. I want to share with you the magic that I felt during those fantastic days spent visiting landmarks, listening to amazing speakers, and learning cultural features.
Here, I'd like to highlight three main topics I learned a lot about during this trip and also which made my experience so worth it. First, I was impressed about how devoted people are in Israel and the many differences not only among religions in the same country, but also within them. Additionally, I was stunned the learn about the conflicts over land that have remained in the country after many years. Then, I enjoyed interacting with local people and getting to know their ideas, food, music, and more. I am also thankful for the chance to attend lectures given by people who participate in several industries such as technology, government, and agriculture.
On religion and land conflicts
Coming from a Catholic family, I knew beforehand some of Israel's rich religious history behind. However, lectures from speakers such as Miri Eisin, who served in the Israeli defense forces for more than 20 years, and Asher Susser, professor at Tel Aviv University, helped me see that Israel is a complex nation. I could finally understand the conflicts for land between Jews and Muslims. I learned about the military role of an Israeli, the disputes for land with other nations or "organizations," and the differences among religious groups, mainly Jews whose beliefs can vary.
On local culture: Perseverance and great food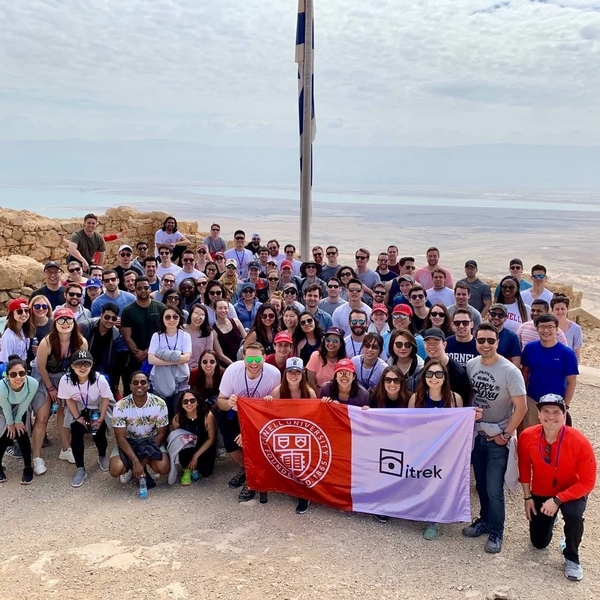 We had the chance to listen to two great speakers who talked about dealing with several obstacles in life and persevering for your goals. First, Arik Zeevi, founder of the Israel Foundation for Olympic Excellence, shared his experience as a professional athlete and Olympic medalist. He made me think about how many times we may fail in life before reaching our objectives. Additionally, he mentioned the importance of standing up as fast as we can because we can always win the race. Finally, Shoshi Jambar, mobile operations manager for WalkMe, was an inspiration to me. She talked about how she overcame all the difficulties she had in her life and how you have to have the guts to keep working hard to achieve your dream no matter your gender, religion, race, etc.
The food in Israel was one of my favorite parts of the trek. It was fresh, tasty, and light. I had never experienced eating a good light bread with hummus and tahini, great desserts such as cheesecake and cocoa bites, and mint teas and liquors. Totally recommended.
On business: Technology, R&D, and agriculture
Having the opportunity to learn from persistent people who were in the technology field taught me that starting from scratch and being curious could have a positive impact in the future. For example, Mois Nevon, one of the founders of Mobileye, talked about his experience developing solutions for the car industry. Unfortunately, he made a difficult transition by moving from one country to another and faced unemployed for a long period; however, he found the way to persevere and fight for his beliefs and goals.
Guest speaker Keren Elazari, an Israeli-born cyber security analyst and senior researcher at the Tel Aviv University, showed us how information security is a topic that most people are now paying attention to. Hackers are constantly monitoring fast-changing technology, so private companies and government entities are looking to hire them in order to avoid any cyber-attack that could jeopardized businesses. It is worth it to invest in assets that can help future businesses avoid losing information. I'm going to put this lesson into practice at my workplace.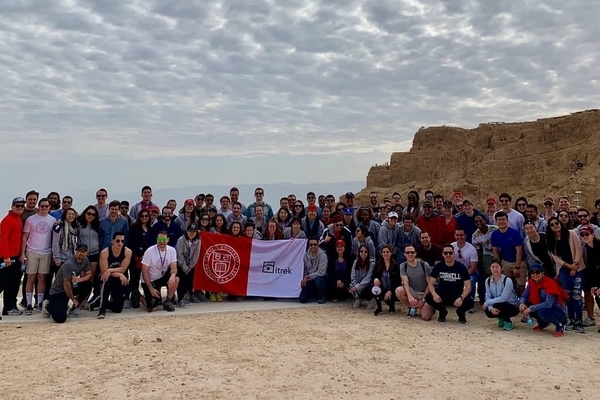 The speaker Avi Simchon, an Iraeli economist who serves as the chairman of the National Economic Council, showed incredible numbers of the high-level expenditure on civilian research and development in Israel. Apparently, those investments represent 4.5 percent of the GDP (versus a 2.4 percent average for OECD member countries in 2017). As a consequence, Israel became an attractive hub for multinational R&D centers (more than 300) with big players such as Google, Apple, IBM, and Amazon. Additionally, I got a better view of how Israel became a startup friendly nation, positioning itself at number four in the world according to CEO World.
Having the chance to visit a Bedouin territory, witness their lifestyle, and get to know the surroundings of their main activity, agriculture, was something different we experienced during the trek. I come from a country where agriculture is one of the main economic activities, so this was one of my favorites field visits. Getting the explanation of locals regarding the type of irrigation system, diversity of crops, and business success motivated me to share several ideas that required discipline for this economic activity in my country. Peru has hundreds of those agriculture communities that require more technology and support from public and private organizations.
On the landscape: Israel's cities and natural beauty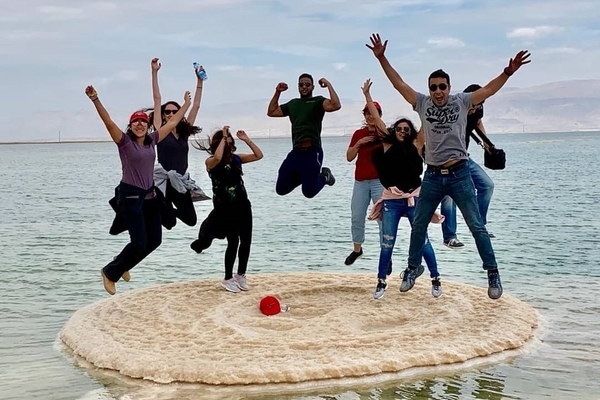 Tel Aviv
Tel Aviv was amazing. It has people full of good vibes, secure neighborhoods, lovely handcrafted markets, and great places to eat and have fun.
Jaffa
The iconic city of Jaffa is well-known for its Old Port. I was fascinated with its history and the art stores.
Jerusalem
Jerusalem was, by far, the best place. I come from a Catholic family, and I was waiting for so long to visit the Holy Land. The connection that I felt in several sites and temples was above my expectations. Even though the weather was not in our favor, I was fascinated by the magnitude of people visiting this place every day. Although this site is important for three religions, it seems that each of them respects their holy space perfectly. Amazing!
Nazareth
Nazareth was another fascinating city with great food (good street food like falafel and shawarma), several old and new churches, and nice streets to walk around.
And more!
We also visited the Judean Desert, Dead Sea, Sea of Galilei, and Mediterranean Ocean. Those were places where I could relax, reflect, and connect with the nature.
Overall, this was one of the best trips that I have ever made in my life. It enriched not only my personal life, but also professional life. I am truly thankful to all the people who put together this incredible and well-organized trek. I had the chance to visit places and learn from respected local professionals while also connecting with new people in the Johnson community. What a wonderful experience!
---
About Patricia Guzman, Two-Year MBA '19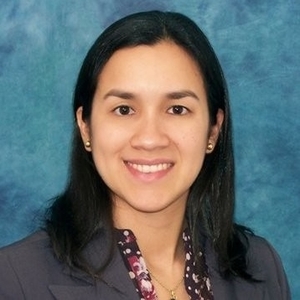 Patricia Guzman is a second-year MBA Candidate at Johnson. Before business school, Patricia worked as an investment research analyst at Rimac Seguros, the largest insurance company in Peru, assessing and analyzing investment opportunities in different industries such as retail, CPG, and tech. Prior to working at Rimac, Patricia worked in the construction and financial services industries. Patricia holds a BS in economics with a concentration in corporate finance from Universidad del Pacifico in Lima, Peru.