Christopher Marquis's co-authored paper recognized for "responsible research"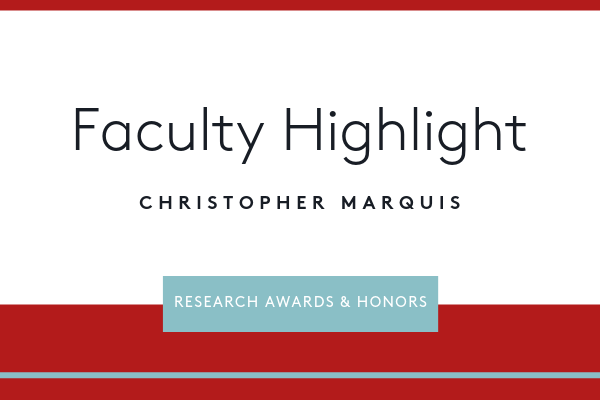 The paper "The paradox of responsive authoritarianism: How civic activism spurs environmental penalties in China," co-authored by Christopher Marquis, professor of management and organizations, was recognized as one of eight finalists for the 2019 IACMR-RRBM Award for Responsible Research in Management.
At a glance:
Recognition received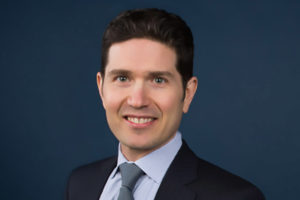 IACMR-RRBM Award for Responsible Research in Management Finalist
Awarding bodies
International Association for Chinese Management Research (IACMR)
Community for Responsible Research in Business and Management (RRBM)
Recipients of this award
Christopher Marquis, professor of management and organizations and the Samuel C. Johnson Professor in Sustainable Global Enterprise, Cornell University
Yanhua Bird, PhD student in organizational behavior, Harvard University
About the award
The IACMR-RRBM Award for Responsible Research in Management is given annually to recognize research that focuses on important key issues for business and society by incorporates credible methods. The co-sponsoring organizations, IACMR and RRBM, selected eight finalists—of which Marquis' paper was one—12 winners, and three distinguished winners.
"While all the nominated articles and books are outstanding, the review committees felt the selected studies to best exemplify the principles of responsible research, striving for broad and significant societal benefits, and leaving the world a better place for their presence in the literature," said the chairs of the Academic and Executive Review committees.
Mark Nelson, the Anne and Elmer Lindseth Dean of Johnson, congratulated Marquis for this "well-deserved honor."
Visit RRBM for more information on the award and selection process.
About the paper
To better understand the institutional change processes in authoritarian states, the co-authored paper, published in Organization Science, investigates the effectiveness civic activism in the form of privately submitted environmental complaints versus publicly visible, unsanctioned environmental protests in China. The authors highlight the paradox of "responsive authoritarianism"—the Chinese government seeks citizens' feedback through formal complaint letters but walks a fine line between tolerating societal input and retaining legitimacy.
The authors find, among other conclusions and observations, that "environmental protests as outside-the-system civic activism have a significant impact on government action, but environmental complaints, which are within-the-system civic activism, do not."
→ Read more: The tensions underlying how China deals with environmental complaints
An awards ceremony will be held on August 11, 2019 in Boston at the IACMR/RRBM joint session.