Unexpected access: Doors opened to Johnson SGE students at the nation's capital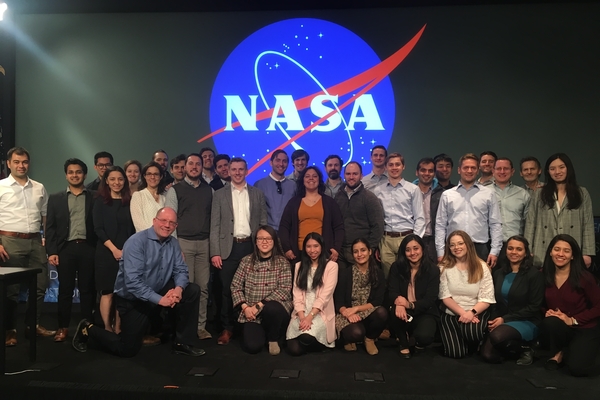 By Tim Shaw, Two-Year MBA '20
Each year, the Cornell Center for Sustainable Global Enterprise organizes a pair of 'treks' for Johnson students in the SGE immersion program. One trek travels to New York City, the other travels to Washington, D.C., and both offer an opportunity to meet with leaders in sustainability and social impact.
Students on this year's DC Trek spent time interacting with a variety of government and business representatives, engaging in conservations that centered around the future of environmental policy, space exploration, and more. In a firsthand account below, Tim Shaw, MBA '20, recounts his conversations, observations, and final takeaways as a participant on last month's DC trek.
Great expectations
I'm a bit ashamed to admit that my expectations of the trek were low—spend a few days in D.C. talking about sustainability and you're basically trading one ivory tower for another. I was happy to join, but I didn't foresee any of this feeling like real work or practical learning.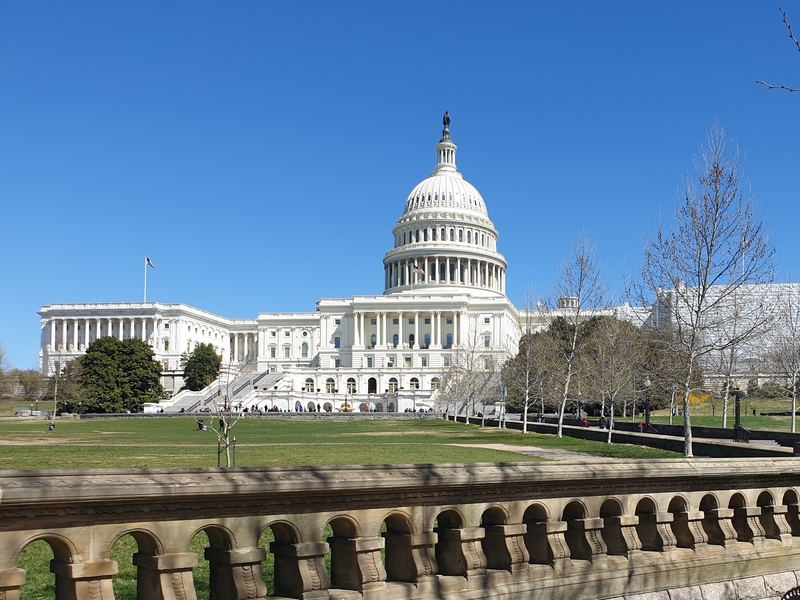 I should have expected more, especially after the NYC trek in February gave us so many opportunities to see, practice and even taste sustainability in action. While our time in NYC was a chance to learn about practical sustainability strategies in challenging industries such as the food supply chain, I made the mistake of assuming our time in D.C. would be spent on superficial policy rhetoric.
Naturally, it was policy-focused. To my surprise, however, it was anything but superficial. We had unfiltered dialogue with heavy-hitters who shape policies and programs with real social impact. It was remarkable what kind of access we were given, as also humbling to see the level of respect our hosts had for this cohort of students. Here's my recap:
Constellation
Our first stop was Constellation, an Exelon company located in Baltimore. We were exposed to the world of wholesale energy futures trading and took a tour of the trading floor. Then we discussed renewable portfolio standards, learned about offsite renewable projects Exelon has done for its retail energy customers, and explored the future of a distributed energy landscape.
Capitol Hill
Excitement mounted suddenly as our group was diverted from the Capitol Visitor Center across the street to the north entrance of the Capitol Building. Our session with Senator Gillibrand's (D-NY) legislative assistant for Agriculture, Nutrition, and the Arts started with an overview of the strategic implications for introducing the Green New Deal. To the surprise and delight of all of us, he gave us two full hours for rapid-fire questions, never once backing down from anything we lobbed his way. Even when it was time to leave, he graciously escorted us to the rotunda and posed with us for a photo opp.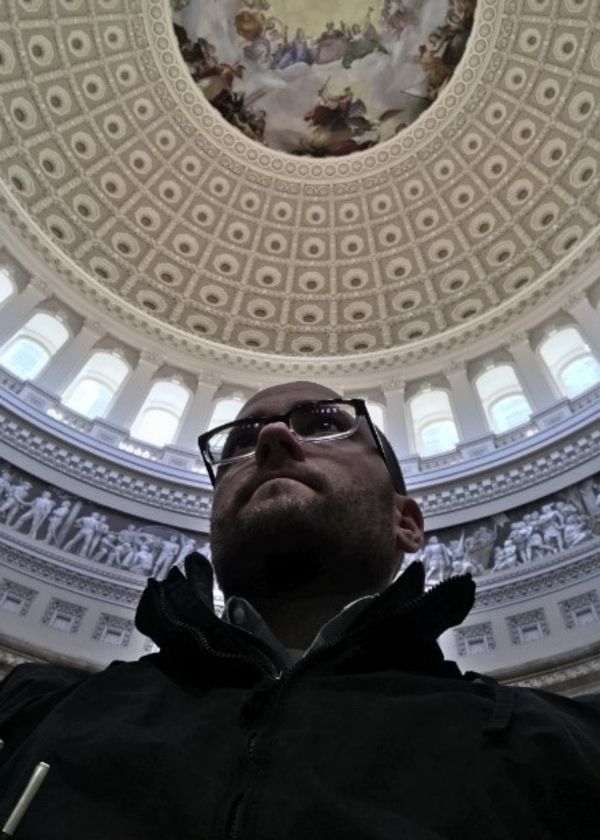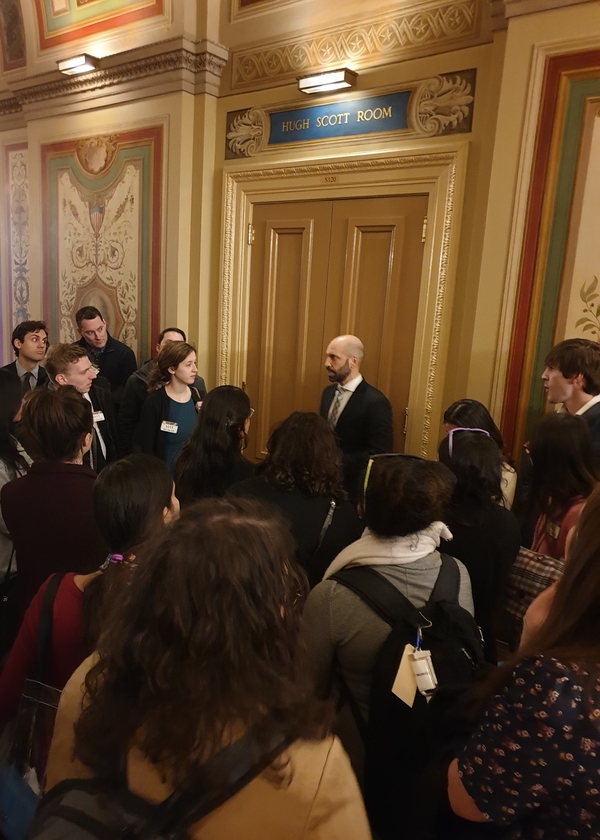 Cadmus Group
At Cadmus Group, we saw for ourselves  how mission-driven organizations can reframe an issue in order to continue making progress—i.e. very few "climate change" initiatives have survived in the current administration, but "building resilience" is something everyone can get behind.
I was also impressed by our conversation with Ian Kline '92, president and CEO of the Cadmus Group. A fellow Cornell alumnus, I was struck by his willingness to share with us some of his biggest failures in his quest to grow and diversify the business both organically and through acquisitions. Surprisingly, he was willing to divulge management missteps that took years to correct in some cases.  Nevertheless, the process increased annual revenue fourfold from the time he took over 10 years ago. It was a lesson in leadership from a fellow Cornelian, and one I won't soon forget.
Also, a fun fact I found out while there: Cadmus helped the EPA to establish the Energy Star brand. What a great example of a public information campaign with message penetration and staying power!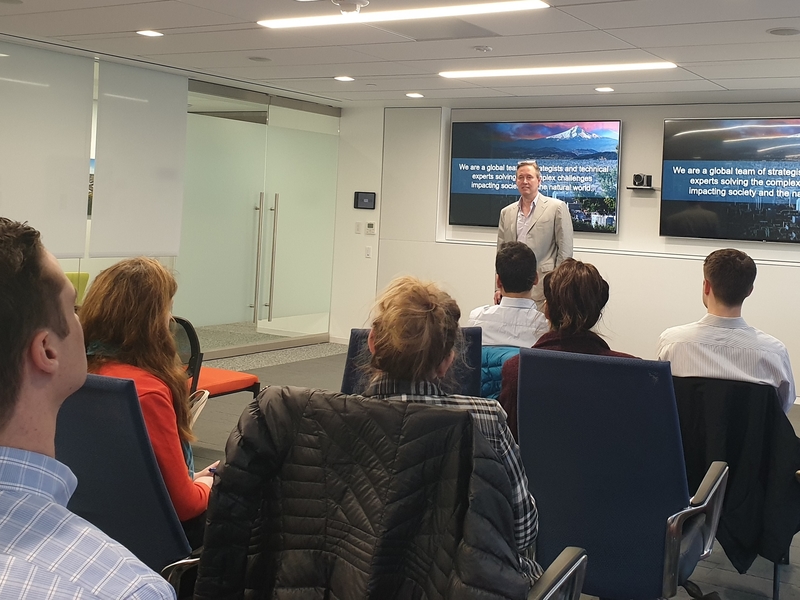 Department of Energy
The Department of Energy's (DOE) Better Plants public-private partnership has saved US manufacturers billions of dollars in energy cost. The secret? They open source every technology available from the DOE and National Labs to partners, then create shared learning experiments like the Better Buildings Challenge SWAP, where energy/facilities teams from companies like GM and L'Oréal trade places in a reality-show-like series.
Ashoka
Some of my classmates were previously familiar with Ashoka's work and its prominence in social impact investing. I, however, wasn't nearly as knowledgeable about Ashoka, which made our visit with the company's founder Bill Drayton an unexpected treat.
I think I will always remember him for his soft-spoken demeanor, and his stunningly-Socratic method of teaching us. He began by asking what we think about the trends in income distribution and the rising "us vs. them" mentality. I was struck at first when I saw him jotting down notes as students shared their viewpoints.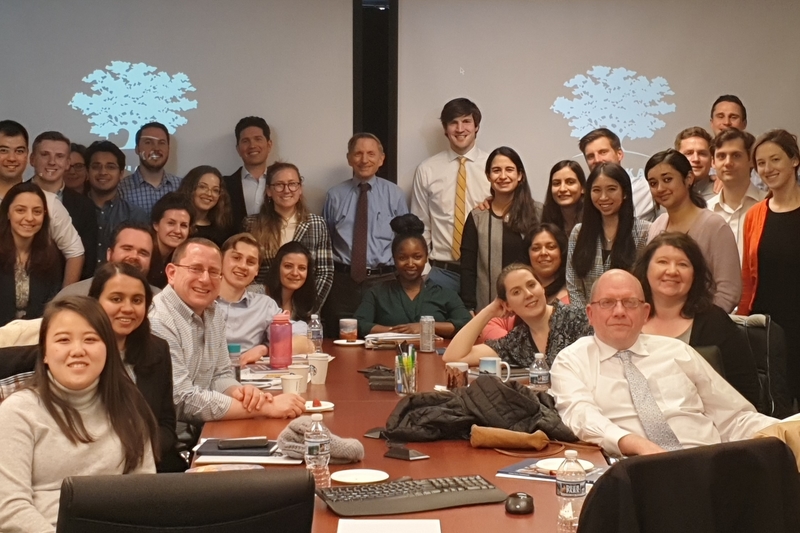 Everyone in the crowded conference room leaned in as he guided us to the root cause: the disappearance of repetition work causes backlash among those who have been told they  "can no longer contribute" in society.
Then he described the solution, and suddenly it became clear why he wanted to hear from us and wrote down some of our thoughts. Ashoka invests in young change-makers who lead "fluid, open, integrated team of teams;" many Ashoka fellows are half my age and working on continent-shifting entrepreneurial ventures. Fear not, he assured us. His confidence in how we will fare on the job market comes from the value that we have to offer companies: "There is a bidding war for anyone with change-making skills."
I left feeling inspired by his words and empowered by what I'm learning from my MBA education. Now I know why all the talk these days is about Ashoka.
OPIC
Did you know the Overseas Private Investment Corporation is one of the only federal agencies that returns funds to the U.S. Treasury? Neither did I. But it proves that it can be profitable to invest in infrastructure, energy and small-medium sized enterprise in frontier markets. We discussed OPIC's environmental, social and governance (ESG) standards, learned about the "2X" initiative that has deployed more than $2 billion in private capital to women-owned businesses abroad, and briefly touched on how they manage an insurance model that protects investors in multi-year, multi-billion-dollar projects against political risks.
USAID
Our host from USAID got us moving and forced us to take sides by moving to opposite ends of the room and debate our viewpoints on issues such as "should subsidies for private sector be avoided?"
One particular takeaway from her presentation concerned the concept of positive unintended consequences: installing small grain silos for small-scale farmers in Uganda was intended to preserve grain for food stability and the ability to negotiate better prices during and after the harvest. The team designed them almost mindlessly to include locks. The happy result? USAID noticed that the grain silos allowed women to leave the house more, because they no longer had to guard their stockpiles from thieves and pests.
NASA
Our final visit was a private briefing from the current NASA administrator (also a Johnson alumnus) We went from a 30,000-foot view of society to the 2,000-km view. Why is orbital debris one of his primary concerns? Because GPS and communication assets in orbit have transformed the human condition in such meaningful ways. That includes how we communicate, conduct business and even produce food. For example, NASA data helped mitigate—not just predict—a major drought in East Africa by telling farmers exactly when to water by measuring plant-cell stresses using infrared sensing.
He spent the rest of his time describing NASA's very recent new directive to begin to jettison low-earth orbit travel to the commercial sector, move toward deploying a sustainable settlement on the moon, and yes, what's next in the ongoing efforts to exploring Mars. Why do we continue exploring? That question gets kicked around a lot at NASA, I'm sure.
One thought stuck with me: the technology that emanated from the Apollo program—technologies that transformed the human condition—would never have been developed without the moonshot goal. What if piecing together the history of other planets helps us determine the right ways to preserve ours? We can't presently imagine what advancements will be discovered and how they'll shape society.
Final thoughts
I never imagined an MBA would offer me these kinds of opportunities and access to the highest levels of thought leadership and policymaking. The faculty, staff and Cornell's federal government liaison deserve high praise. The trip made me feel fortunate, once again, to be at Cornell. Even among Johnson MBA programs, this is one of the distinguishing features of the SGE Immersion.
Humans are notoriously bad predictors, which might explain why I envisioned a D.C. trek that would philosophical to the point of seeming trivial. So, how can we design a sustainable future if we can't even see what's ahead in our lifetime? The only way to get better at foreseeing the future is to "stand on the shoulders of giants" and then engage with others of different vantage points.
That's why I'm happy to share what turned out to be a meaningful trek. My hope is that future Johnson SGE students will be more prepared than I was and have their views expanded even further.
---
About Tim Shaw, Two-Year MBA '20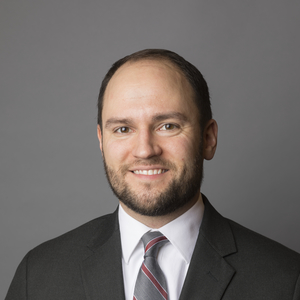 Tim Shaw is a first-year MBA candidate with a dual focus in marketing and sustainable global enterprise. Prior to coming to Johnson, Tim worked on corporate and public affairs campaigns at Edelman, as well as in-house PR and market research for Colliers International in Sacramento. He will be interning this summer at Nissan's North American headquarters, where he will focus on business intelligence and marketing strategy for the INFINITI brand. Tim earned his BA in public relations from Brigham Young University.