Park Perspectives: A quarter at the Cornell Tech campus
By Matt Ford, Two-Year MBA '19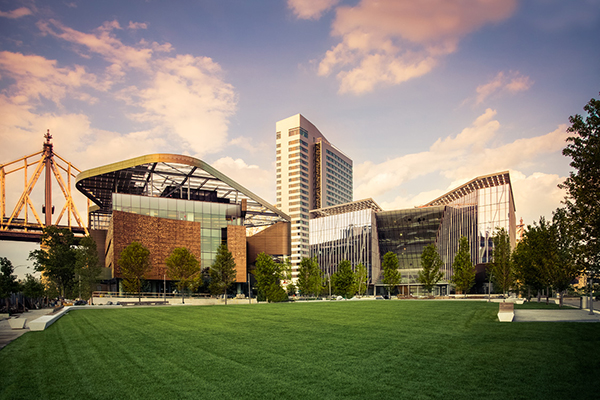 Park Perspectives are authored by Johnson's Park Leadership Fellows.
The Cornell Tech campus is a growing piece of life for Cornell MBAs—both for the 60+ students who are enrolled in the full-time Johnson Cornell Tech MBA program in New York City and for the 600+ full-time MBAs based in Ithaca. In addition to a handful of weekend courses, MBAs have the option to register for one of two five-week intensive curriculums at the Roosevelt Island campus. Students can choose from fintech or digital marketing intensives, headed by Drew Pascarella/Peter Balnaves and Michelle Duguid, respectively. Students complete coursework in their concentrations, in addition to undertaking a consulting project for a NY-based company.
A great option for Two-Year MBAs
Spring semester is an interesting time for a second-year MBA. On one hand, graduation is right around the corner, and the temptation to spend time with classmates in Ithaca is strong. On the other hand, winter has arrived is Upstate New York.
On a more serious note, for me, the choice to pursue the fintech curriculum in NYC had multiple variables. First, it was important to evaluate the curriculum. Of note to me were the class in Blockchain and Cryptocurrencies and the opportunity to do a consulting project for one of the program partners. Second, the opportunity to meet our New York-based counterparts was a great chance to expand my network and immerse myself in their tech-oriented business experience. Finally, I'm planning a wedding for July and thought it would be good to be home to NYC for a bit!
The coursework for the fintech curriculum
Three courses are required for the five-week fintech intensive, with space to take one to two electives while at the Cornell Tech campus. Required courses are:
Cryptocurrencies, by Rafael Pas. This course covers the basics behind blockchain and digital encryption, which make cryptocurrencies viable. It also discusses advantages and drawbacks to using blockchain in a business context.
FinTech Intensive Practicum, by Drew Pascarella and Peter Balnaves. Rather than being a truly bookworm course, this class focuses on bringing interesting business people and entrepreneurs to speak to the class about their company/vision/career/etc. Highlights included Ben Alden, General Counsel at Betterment, Alexandra West, VP of Strategy & Partnerships at Citi Ventures, and Simon Yoo, Managing Partner of Green Visor Capital.
Fintech Intensive Practicum, by Drew Pascarella and Peter Balnaves. More on this in the next section.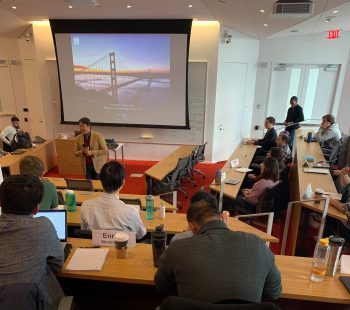 Students can also choose from a selection of Johnson elective courses at the Cornell Tech campus. I chose Sales and Business Development, by Steven Gal. This class required us to design and pitch a sales organization for a new product or company; many of my classmates focused on their entrepreneurial projects. My teammate Jay Buselli and I designed a new delivery channel for a psoriasis drug.
Other courses available for students to take include Design Thinking, Women Leading in Tech, and Managerial Decision Making.
The consulting project
Our project was a four-person effort for Citigroup Trade and Treasury Solutions (TTS), one of Citi's most successful and fastest growing divisions. I can't go into the specifics (you'd have to sign an NDA!), but we were tasked with green-field ideation of a new growth opportunity for the division. We worked with Citi leadership to generate a series of industries which were undergoing heavy disruption, looked downstream of the changes to the business, and created solutions for TTS to leverage their scale and expertise to better serve their clients through the changes.
At the end of the term, we presented our findings to sales and operations VPs at Citi, including their North American Innovation Head.
Our classmates worked on projects for companies including Verizon Wireless, Citi Innovation, JP Morgan Chase, and GreenDot (ever use Apple Pay or Uber? You've used GreenDot without realizing it).
The logistics of the NYC intensive experience
The application process takes place at the end of the first year, with decisions coming out in late summer. At present, the intensives are expanding, and most people are green-lit to go. You're not locked in until mid-fall, so if a recruiting conflict or a change of focus occurs, you have some flexibility.
Housing is available on the NYC campus, which is a great fit for those in need of a short-term rental. About half of the class stayed in the House at Cornell Tech, and the other half stayed in Manhattan, Brooklyn, or Queens. The Cornell Tech campus is easily accessible by the F Train, Roosevelt Island Tram, or a handful of ferries.
The term is five weeks long, versus the seven-week terms in Ithaca, so there is also some time available to experience New York City without the pressure of classes.
The verdict
If you're interested in fintech or digital marketing, it's a no-brainer. For those pursuing other paths, consider the value of expanding your network in New York City. If you've never lived in NYC before, this is a great opportunity before your career takes you to a different city! If you're planning a wedding and your fiance lives in NYC, you'd probably better go!