U.S.-China trade war: A zero-sum game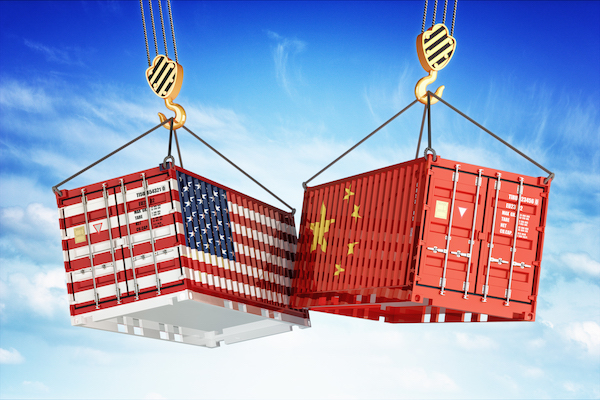 Opinions in this article are the author's and do not necessarily reflect those of Cornell, Johnson, or the Emerging Markets Institute.
U.S.-China Trade Relations 2000–2017
The turn of the millennium was a milestone in U.S.-China trade relations. In October of 2000, U.S. President Bill Clinton signed the U.S.-China Relations Act of 2000 which granted China permanent normal trade relations and was a precursor to China joining the World Trade Organization in 2001. By 2017, the U.S. and China had developed strong trade relations, shown by an over fourfold increase in the absolute trade balance between the two countries. China was then the third largest export market for the U.S. and received exports such as aircrafts, machinery, seeds, fruit, vehicles, among others, valued at roughly $130 billion. In that same year, China was the largest supplier of imports to the U.S. providing goods totaling $505 billion, from machinery, furniture, and bedding to toys, sports equipment, and plastics.
Meanwhile, the U.S.-China trade deficit rose from $83 billion in 2000 to $375 billion in 2017. The rising trade deficit with China is a major concern for many U.S. policymakers, which some attribute to China's unfair trade practices – including dumping, discriminatory non-tariff barriers, forced technology transfer, over capacity, and industrial subsidies. Further, China imposes higher tariffs on U.S. imports than the tariffs the U.S. imposes on Chinese imports. Still, others claim the trade deficit is a natural reflection of shifts in global production and supply chain networks as more goods are now made in China. This is caused by the transfer of many multinationals and manufacturing facilities to China due to low production costs and the large supply of vocational skill.
2018 U.S.-China Trade Dispute
Following the inauguration of Donald Trump in January 2017, U.S.-China trade relations have worsened. Trump made use of the widening U.S. trade deficit with China as part of his campaign rhetoric for trade reform. He promoted a stronger pro-American trade policy by making claims that China is "an economic enemy" in violation of intellectual property (IP) rights, an allusion to Chinese legislation forcing foreign multinationals to engage in joint ventures with Chinese firms which can replicate patented technology. Estimates have shown that theft of IP rights costs the U.S. economy $225-600 billion annually.
The U.S. government has thus felt emboldened to launch a trade war against China starting in 2018. This is made possible by Section 301 of the Trade Act of 1974, which grants the U.S. president the authority to levy fines and penalties on any trading partner deemed to be harmful to U.S. business interests. The U.S. first imposed safeguard tariffs in January 2018 on washing machine and solar cell imports. While many of these imports did not come directly from China, U.S. remarks made it clear that China's dominance of the global supply chain was a concern. The U.S. levied more tariffs on steel and aluminum from all nations, including China, in March of 2018, to which China responded the following month by placing tariffs on aluminum, meat, fruit, and wine from the U.S. As a result of this tit-for-tat strategy, the risks and costs to each nation have increased.
Implications
For the U.S., the trade war has impacted domestic industries such as automobile, technology, telecommunications, and agriculture. For example, last April China increased tariffs on U.S.-made automobile imports by 25 percent. Vehicle sales in China fell in 2018 for the first time in over twenty years and many major U.S. auto makers have posted declines in sales for the first quarter of 2019. In the technology and telecommunications industry, companies like Apple, Qualcomm, Cisco Systems, and Intel have experienced narrowing profit margins, price hikes, and declining sales in China. Apple, for example, has cut sales forecasts and issued an earnings warning statement earlier this year citing weaker-than-expected sales in China. In the agricultural industry, tariffs have been placed on U.S. farm-produce crops such as seeds, grains, fruit, and soybeans leaving many farmers with a surplus that cannot easily be sold. Farmers are eager for a trade deal but the failure of Washington and Beijing to settle differences further clouds their outlook. While the U.S. Department of Agriculture is preparing to roll out a farm relief program of $16 billion, many farmers doubt the size of the aid package compensates for their lack of access to Chinese consumers. For the U.S., the trade war has harmed many of the domestic industries and blue-collar workers Trump sought to protect.
China, on the other hand, has been wrought by similar damage as it continues to face a series of economic setbacks. For example, Chinese exports plummeted 21% in February 2019 compared to a year earlier. China's exports are expected to suffer further from companies relocating their supply chains out to avoid U.S. tariffs. Likewise, as of March 2019, China's imports fell for a third straight month. Yet, the escalating trade war and tariffs cannot bear all the blame. China has been hurt more generally by a slowing global economy which has prompted the country to set a lower GDP target and face a decline in manufacturing levels, leaving the country with excess capacity to export. Industrial profit and retail sales have further fallen and missed analysts' targets, all while a lag in China's domestic consumption and investment brews. Due to China's mounting national debt, it may be more difficult for the country to use public spending to stimulate growth.
An end in sight?
There is no telling when exactly the U.S.-China trade war will end. Perhaps the most significant step towards a permanent trade truce came in December of 2018 when Donald Trump and Xi Jinping met during a G20 meeting in Argentina. The U.S. agreed then to postpone an increase in tariffs for 90 days, which had originally been scheduled for January. In exchange, China agreed to purchase a substantial sum of agricultural products as well as other goods from the U.S. under the condition that the two nations "immediately begin negotiations on structural changes."
Since then, the U.S. and China have made some progress on working out a final deal. For now, the U.S. holds the upper hand since its imports from China are much larger than the reverse. While China has pledged to treat U.S. firms more fairly, impose punishments for intellectually property theft, and increase its imports of U.S. agriculture, energy, and industrial products, the U.S. doubts whether China will follow through and continues to demand a level playing field. Both sides are eager to conclude the trade war, even as deadlines are continuously postponed.