Listen Up: Podcasts go mainstream
Podcasts have become big business — and good business. Podcast guests and hosts share what they aim to achieve via their podcasts, whom they aim to reach, and what's valuable to them about this format.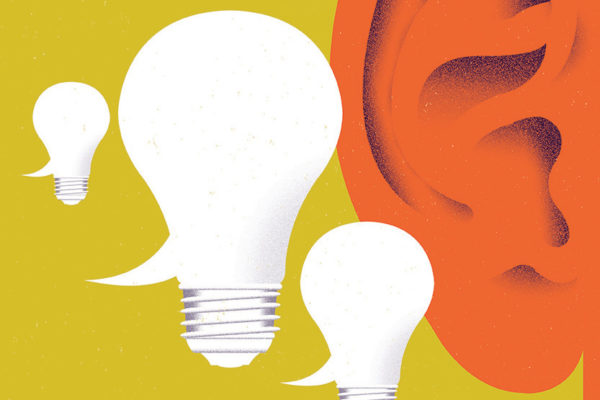 Before Professor Risa Mish '85, JD '88, appeared on Johnson's new podcast, Present Value, in January 2018, she hadn't seriously considered educating people beyond her classroom about the topics she covers in her Critical and Strategic Thinking core course. But with the advent of the podcast, which aims to promote Cornell professors and their research to the broader community, Mish says she's begun thinking differently.
Where she used to keep a narrow focus on her own classroom and community, now Mish sees the power in disseminating her ideas more broadly. "I started to think a lot more about the business idea of scaling. And in this case, the product is ideas. You can only reach so many people in the classroom," Mish says. "I think I was naïve, in a way, about the power of this kind of forum."
Founded and produced by Johnson students Harrison Jobe and Michael Brady, both MBA '19, along with a team of first- and second-year MBA students, Present Value is a welcome addition for Cornell, as professors like Mish, Robert Frank, Maureen O'Hara, Mukti Khaire, and others have found a venue to present their ideas in a long-form interview format to a wider set of audiences.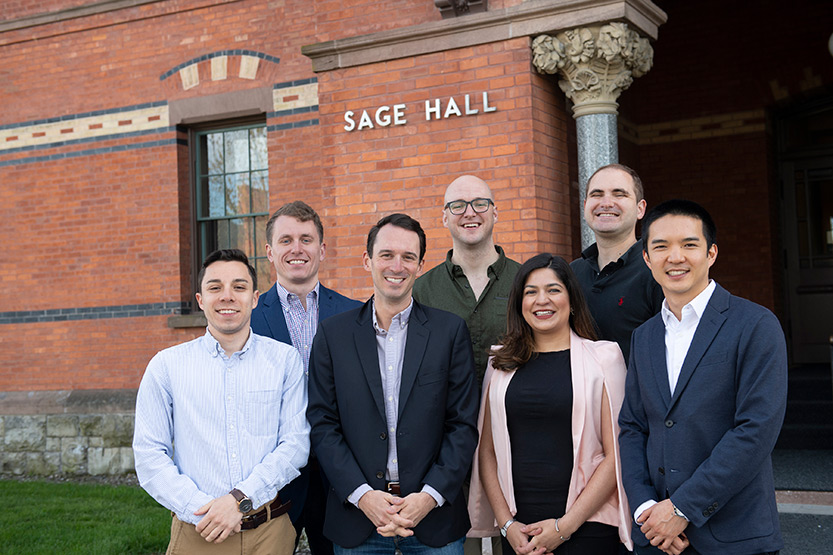 Present Value offers a rich new medium — one that nicely complements traditional PR — for sharing the world-class research and intellectual horsepower developed at Johnson and across Cornell. "From the beginning, we didn't want this to be just for Johnson people. We wanted it to be of interest to anyone with intellectual curiosity," says Jobe, who worked at NPR and The New York Times before business school. "Professors aren't always dying to do a quick hit on CNBC. And not everyone will pick up their book — but an hour-long podcast is more digestible," he says.
In a media world otherwise defined by social media, 24-hour news cycles, and Twitter-powered sound bites, podcasts like Present Value offer an antidote to all that noise: a longer-form experience that many people crave. Almost one-third of 24- to 54-year-olds have listened to a podcast in the last month, according to Edison Research and Fast Company, which declared 2018 "the year podcasts went mainstream." Podcasts are convenient — more than three-quarters of listeners consume them on mobile devices — and almost always free, though some are supported by advertising.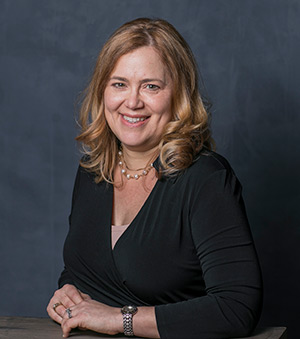 Mish says her Present Value interview, Critical Thinking and Sexual Harassment in the Workplace, offered a great opportunity to spread the teachings from her Critical and Strategic Thinking class to a broader audience — particularly, key lessons on bringing a thoughtful, self-aware approach to influencing, leading, and decision-making. Many listeners have reached out for more information or for suggested reading on these and other topics. Mish found that, because the conversation wasn't confined to a set time schedule (the producers edit the conversation afterwards), she also felt comfortable venturing into more personal subject matter than she normally would focus on in the classroom, such as her personal search for truth, or her childhood ambition to become a rabbi — both topics she discussed on the podcast.
The booming business of podcasting
In-depth, unrushed conversations used to be confined to late-night talk shows and AM radio. But today's consumers are clearly hungry for them; episodes of The Joe Rogan Experience, a popular podcast, routinely stretch past the two-hour mark with guests like Kevin Smith and Elon Musk. And the advertising revenue is following. Ad revenues for podcasts overall are set to double between 2017 and 2020, with PwC and the Interactive Advertising Bureau (IAB) predicting that U.S. ad spend will rise from an estimated $314 million in 2017 to $659 million in 2020 ("The Second Annual Podcast Revenue Study by IAB and PwC: An Analysis of the Largest Players in the Podcasting Industry," June 11, 2018).
Global audio streaming giant Spotify is clearly confident this is a growth industry: In February, Forbes reported that it had reached an agreement to purchase two giant podcast producers, Gimlet Media and Anchor (which makes tools to create podcasts), and in March, a Fast Company story announcing Spotify's purchase of Parcast quoted Spotify CEO Daniel Ek as saying that the acquisitions would allow the company "to become the leading platform for podcast creators around the world and the leading producer of podcasts."
Podcasting has decidedly public radio origins, with NPR pulling in a monthly unique U.S. audience of more than 19 million as of April 2019, according to analyst Podtrac. Shows like the TED Radio Hour and This American Life get millions of listens per week. Recently, podcast listeners and content creators have exploded with diversity. In 2018, the most-downloaded podcasts on Apple were The Daily from The New York Times, The Joe Rogan Experience, Stuff You Should Know, Fresh Air, and The Dave Ramsey Show. Sports and daily news podcasts are among those growing the fastest.
Advertisers increasingly reflect the diversity of podcast programming. A spending analysis by ad category included in the PwC/IAB report found that financial services accounted for 18 percent of the spend, followed by direct-to-consumer retailers at 16 percent and arts and entertainment at 13 percent.
Podcasts' power to inform and influence
Across industries, podcasting doesn't need to be big business to be good business. Although megahits like Serial, which documented a mysterious murder and its aftermath, grab most of the headlines, it doesn't take millions of listeners to make a real impact. In some cases, niche podcasts can drive important public policy discussions.
Through Greentech Media, Katherine Hamilton '83 (Arts and Sciences) co-hosts the Energy Gang podcast, which "explores the forces transforming energy markets in America and around the world." The podcast gets more than 160,000 downloads per month and is in the top 1 percent of all podcasts. Hamilton says each episode takes a good deal of time to research and produce. The time spent reading and conducting interviews in advance is worth it, she says, because the program reaches such a broad swath of the energy industry and beyond, from students to corporate and utility executives, and even members of Congress.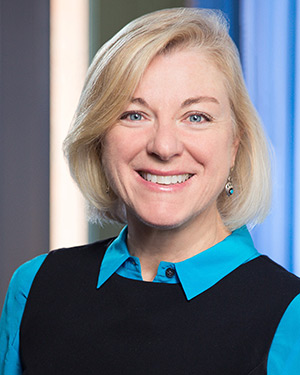 Hamilton's express goal as chair of 38 North Solutions, a public policy consultancy specializing in clean energy and innovation, is to create progressive change in energy policy. "I do clean energy, and we talk a lot about climate change [on the podcast]," Hamilton says. "But in my job, I can't go out and be politically biased." That's why she prepares so much for each recording. Presenting a compelling story requires a strong presentation of facts and scientific data that transcend any political interpretation.
Hamilton says she believes that having a woman's voice on the show is critical. "I have women come up to me and say how refreshing it is to hear my voice on a show talking about technical, scientific issues. They can see themselves being part of this sector, and that is one of the most important things to me," Hamilton says.
Today's media — especially television — create an echo chamber where people seek ideas and worldviews that jive with their own, says Hamilton. "But in podcasts, if you're looking at a topic area, the coverage is not biased. It's more topic-driven, and it can make a real impact. It's education for people," she adds.
Melinda Byerley, MBA '02, founding partner of digital marketing consultancy Timeshare CMO, and host of the Stayin' Alive in Tech podcast, feels a similar responsibility to her audience. Launched in 2018, each episode of Stayin' Alive in Tech features a conversation between Byerley and a leader in the tech world who shares stories and perspectives on some of the bigger questions about tech's impacts on society and culture. Guests offer up practical advice for how to persevere in the boom-and-bust world of tech. And the podcast also serves as a time capsule for preserving stories from Silicon Valley. As Byerley says, in Silicon Valley "the past isn't dead. It's not even past. We're still in the age of internet giants, and they still have things to teach us."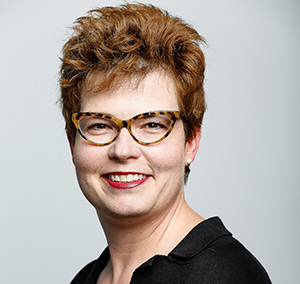 Although Byerley says it's important to preserve the legacy of titans like Steve Jobs, she says there's value in telling stories about underrepresented minorities, women, and other populations that tend to get overshadowed in the prevailing young, white, and male tech culture. Though it's clearly aware of tech's challenges, the podcast doesn't cheerlead for tech, nor does it judge.
Instead, the monthly program offers Byerley the chance to hear from tech luminaries like best-selling business author and speaker Tom Peters '65, MEng '66; Philip Rosedale, co-founder of the virtual civilizations High Fidelity and Second Life; and Avinash Kaushik, data visualization expert and digital marketing evangelist at Google — people who have great growth stories to tell, but who also share more measured perspectives on how tech affects our lives. She feels a sense of purpose in preserving records of a transformative time in the tech industry. "This is a labor of love. I pay for it out of the profits of the company, but it's not an ad — it's something I enjoy doing. It's my way of giving something back to my community," Byerley says.
Creating new connections across the airwaves
While the most popular podcasts command big advertising dollars, they serve a variety of business needs beyond just revenue generation. Many podcasts create more indirect value for their associated businesses by building engagement, connections, and thought leadership credibility with important listener groups.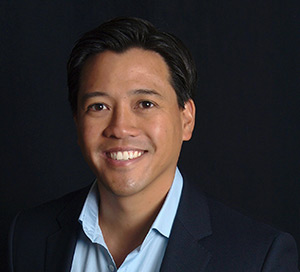 In the world of private equity investing, connecting sophisticated investors with the right founders and CEOs is a critical job for GrowthCap managing partner RJ Lumba, MBA '06. What started as a blog evolved into GrowthCap Insights, a podcast that enables institutional investors to get exposure to GrowthCap's regular listening audience of 25,000 — many of whom are CEOs of rapidly growing companies. Lumba says the podcast offers a friendlier, more personal way to get in front of potential companies seeking capital. "When you listen to someone speak, you start to feel like you know them, or know them better, and [understand better] what they're actually trying to communicate than if you'd just read the content," Lumba says.
Diversifying beyond the written word can help established operations create new connections. The Techdirt blog has long been known for its thoughtful approach to topics like technology, innovation, policy, economics, business models, and more. Michael Masnick '97, MBA '98, founder and CEO of Floor64 and Techdirt editor, launched the website in 1998 and the blog a year later (the logical extension of the e-newsletter Masnick had already started while a student at Johnson).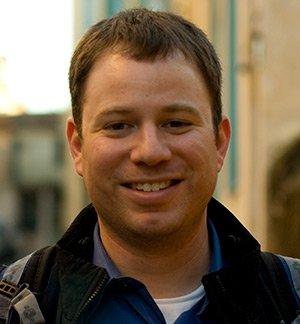 In 2014, Masnick started producing the Techdirt Podcast. Where the Techdirt blog is home to crisp analysis with a clear point of view, the podcast is great for exploration, says Masnick. It's also an opportunity to create different kinds of content not necessarily native to the regular Techdirt blog. For instance, he says, "If we come across someone who's an expert in a certain area, just having an open discussion is a more effective format than writing up an interview or book review," says Masnick, who has interviewed director Kevin Smith, musician and activist Amanda Palmer, several Cornell professors including Johnson's Robert Frank, U.S. senators, former CIA operatives, and more.
Masnick adds that the long-form nature of podcasts encourages authenticity. "If you're doing sound bites, it's easy to come up with a quip, but if you're talking to someone for an hour or an hour and a half, you need to get past that. It's tough to not be authentic for that long," he says.
Broadcasting the authentic human experience
Authenticity is the name of the game for Brendan Harris Burns '09 (Dyson), MBA '12, JD '12, who explores themes of manhood and relationships on his podcast, the Brendan Burns Show. An entrepreneur and high-performance life and business coach, Burns' podcast is a natural extension of his one-to-one and group coaching business.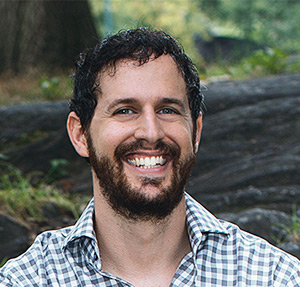 When Burns experienced a period of major personal turmoil and trauma in 2013, he found himself in the self-help section of his local bookstore. "[Self-help literature] felt like the missing piece to my life — the answers to all the questions I was too afraid to ask. I went on my own personal journey," he says — both literally and figuratively.
In late 2016, Burns left his job at a New York City hedge fund to document a year of nearly continuous travel, updating his Instagram feed with an inspiring chronicle of his personal journey. When he got back to New York, he had amassed more than 125,000 followers. That number has since grown to 136,000, with more than 1,000 plays per podcast episode.
Confident that his message was resonating, Burns dove in, became a life coach, and started doing group therapy, events, and the podcast. Now, he has a staff of five. "I have a passion around having enlightening conversations about topics that are taboo and shameful," like how men can heal from abuse and trauma, he says. "My content resonates with people who have been around the block once or twice, or have gotten back up and need more encouragement," Burns says.
Still, his podcast is more of a means than an end in itself. There's no doubt that it helps Burns reach more people, including potential clients. But he's not explicitly using it for ad revenue. "Given my success with coaching and live events, I don't need to monetize it. I've purposely not opened it up for advertising," Burns says. Rather, he expects to go the route of Tony Robbins, who uses his podcast to advertise his own workshops and seminars.
Of the medium, Burns says: "Podcasts aren't the number-one revenue stream for most businesses, but I think they're a powerful tool when used correctly. Where else can you get an hour talking directly into someone's ear every week? You can change someone's life."
The importance of production and professionalism
For Burns, as for many successful podcasters, a commitment to have meaningful discussions and produce them professionally sets their operations apart from the amateurs. Present Value's high level of professionalism includes doing copious background research and being persnickety about editing out the um's and ah's, flubs, and loud breathing — qualities that make a big difference in creating a premium product that listeners appreciate.
As a student-initiated program without big marketing dollars behind it, Present Value's reach continues to grow: Its episodes have been downloaded or listened to more than 16,000 times in more than 80 countries. "Our goal has always been to raise the public profile of Cornell by creating an intellectually ambitious, premium product that showcases preeminent Cornell scholars and alumni … something that Cornell as an elite institution can be proud of," Brady wrote in an email to Present Value guests and supporters this spring.
Brady and Jobe have enthusiastically recruited and trained their first-year replacements, whom they say have already honed the program's production processes, enabling producers to maintain its professionalism while increasing output. The podcast recently released its first episode with a non-professor guest in alumna Irene Rosenfeld '75, MS '77, PhD '80, former chair and CEO of Mondelēz International (Strategic Reflections: A Career in the Food Industry). Hernan J.F. Saenz III, MBA/MILR '98, a partner in Bain & Company's Dallas office and global head of the firm's performance improvement practice, who is also a visiting senior lecturer at Johnson, followed soon after with Strategic Choices and Actions in a Digital World.
Podcasts are clearly having their moment, and for good reason. Jobe says it's because they are at once so accessible and also such incredibly personal media experiences. For Cornell, and for many alumni, podcasting has become a way to deliver a very personal, very present kind of value to their businesses and communities.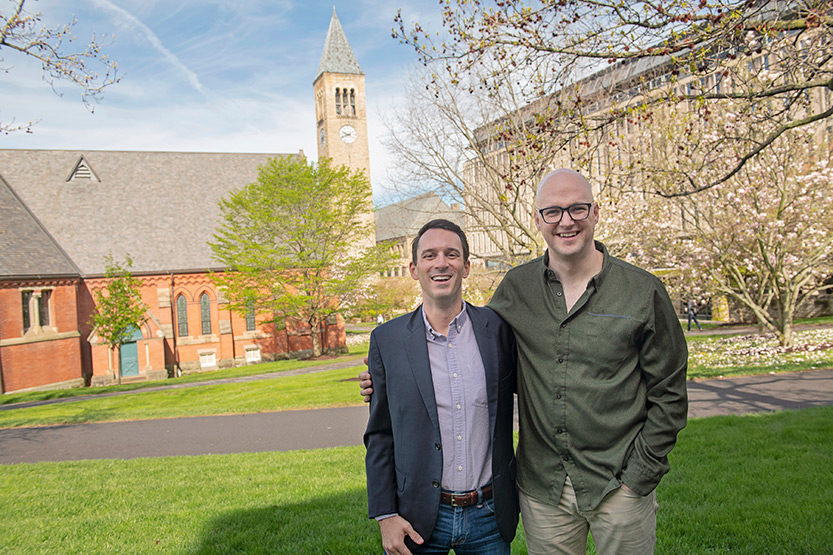 "From the beginning, we didn't want this to be just for Johnson people. We wanted it to be of interest to anyone with intellectual curiosity."  — Harrison Jobe, MBA '19

"Our goal has always been to raise the public profile of Cornell by creating an intellectually ambitious, premium product that showcases preeminent Cornell scholars and alumni." — Michael Brady, MBA '19
---
Podcasts at Cornell
Cornell faculty, students, and staff are sharing a wealth of knowledge and diverse perspectives in a wide range of podcasts. Here are a few:
Antiquitas: Leaders and Legends of the Ancient World Produced in collaboration with the Cornell Broadcast Studios, this podcast is hosted by classics professor Barry Strauss, the Bryce and Edith M. Bowmar Professor in Humanistic Studies in the Departments of History and Classics. A celebrated author of seven books on ancient history, Strauss is a recognized authority on the subject of leadership and the lessons that can be learned from the experiences of the greatest political and military leaders of the ancient world. Season one (2018, eight episodes) focuses on the lives, deeds and misdeeds of different leaders of ancient Greece, Rome, and Egypt. Season two (2019, four episodes) focuses on the death and life of Julius Caesar. Episode length: about 30 to 45 minutes.
Doing Translational Research Produced by the Bronfenbrenner Center for Translational Research in Cornell's College of Human Ecology and launched in March 2016, this podcast explores the process of translating research findings into policy and practice and working with practitioners and policy makers to design more effective research studies. Episode  length: 15 to 25 minutes. Frequency: monthly.
Down to Earth Launched in August 2018, this student-led podcast sponsored by the Cornell Institute for Climate Smart Solutions features conversations about climate change. Episode length: about 25 to 30 minutes. Frequency: weekly.
Extension Out Loud This podcast highlights Cornell Cooperative Extension's impact on the daily lives of New Yorkers through engaging interviews with researchers, educators, and practitioners. Their wide-ranging conversations explore agriculture, food systems, nutrition, sustainable energy, youth development, and more. Episode length: about 25 to 30 minutes. Frequency: monthly.
Fresh from the Hill: Inside Stories of Noteworthy Cornellians Launched in October 2018 and sponsored by the Cornell Alumni Association, this podcast aims to "give you an inside look into the lives of some of our most notable young Cornellians." Episode length: about 30 minutes. Frequency: biweekly.
Good Code  A podcast about ethics in our digital world launched in February 2019, Good Code is a dynamic collaboration between Cornell Tech's Digital Life Initiative and visiting journalist Chine Labbé, who engages with different experts "on the ethical dilemmas raised by our ever-more-pervasive digital technologies." Episode length: about 25 to 30 minutes. Frequency: weekly.
Speaking of Language Produced by Cornell's Language Resource Center, this podcast features informal conversations with educators, students, and others who offer interesting and helpful information about the intersection of language learning and pedagogy, while also spreading the word about the Language Resource Center's work. Episode length: about 25 minutes. Frequency: weekly.
What Makes Us Human? Launched in 2017 and produced by the College of Arts and Sciences in collaboration with Cornell Broadcast Studios, this podcast showcases the newest thinking from across the disciplines via audio essays written and recorded by Cornell faculty. The themes of each semester-long season have included: "What Makes Us Human?"  "Where Is the Human in Climate Change?" "What Do We Know About Love?" and "What Does Water Mean for Us Humans?" Episode length: about 5 minutes. Frequency: Weekly during the fall and spring semesters.