Undergrads in Boston: Competing in the Cornell Stock Pitch Challenge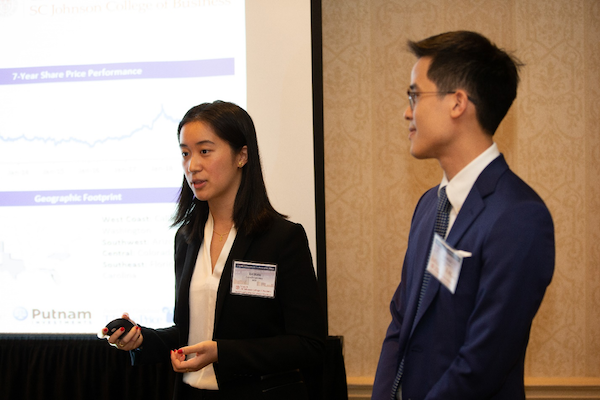 During mid-September, while my peers back on the hill settled into their first full week of classes, I had the honor of representing Cornell University at the ninth annual Undergraduate Stock Pitch Challenge, hosted by Johnson's Parker Center for Investment Research. Judges for both rounds hailed from well-respected investment management firms from across the country: Fidelity Investments, Credit Suisse, Dodge & Cox, Putnam Investments, and T. Rowe Price.
This year's stock pitch included 15 teams representing institutions from Williams College to Columbia University. The challenge was focused on the homebuilding industry for round one and the broadcasting industry for the final round. Along with my two teammates Richard Cho '21 (CIS) and Sam Kwee '21 (Dyson), I arrived at the Omni Parker House Hotel in Boston on a Thursday and began the event with a networking session with each firm's representatives and recruiters. In addition to learning about each firm's culture and industry focus, it was great fun to meet peers from other school who pursued a passion in finance like we did.
Following the networking event and an opening speech by Lakshmi Bhojraj, executive director of the Parker Center, we were able to meet more students and analysts from sponsoring firms. It was especially exciting to talk to Thomas Spratt, a manager at T. Rowe Price, and gain insight into his 22 years with the firm and receive valuable career advice from someone who has  extensive industry knowledge.
The night's highlight also included a keynote speech from Fahim Razzaque, managing director of research at Fidelity Investments. He spoke of his journey from being a University of Michigan engineer, aspiring to accelerate his career to management roles, and eventually finding investment management as the ideal lifestyle of both. Fahim stressed the importance of finding the core motive of what you work and live for, whether it be family or lifelong learning. Without a healthy dual existence of strong personal motivation and a caring support system, it was difficult not to "burn out" as so many do in this line of work.
Pitching KB Home after a week of analysis
After a night of final touches and rehearsal, Friday began early. Every team was to give a 10-minute stock pitch followed by a five-minute Q&A, split between two rooms with five judges each. For the first round, all teams were to pitch KB Home (KBH), a homebuilding company, while teams that advanced into the final round were given four broadcast industry stocks to choose: Sinclair Broadcast (SBGI), Gray Television Inc (GTN), E.W. Scripps (SSP), and Hemisphere Media Group (HMTV). However, as all teams had to prepare both pitches beforehand, the first rounds were rigorously competitive, vying for the win or just the opportunity to present on the result of a week of hard work.
My team chose to long KB Home for the first round. We spent ample time analyzing the fundamentals of the company and creating the discounted cash flow model to project our target price. We were also sure to conduct extensive industry analysis and find realistic, impactful catalysts that would make for a compelling long. Our team had a great time creating a presentation that was exciting and persuasive for the judges.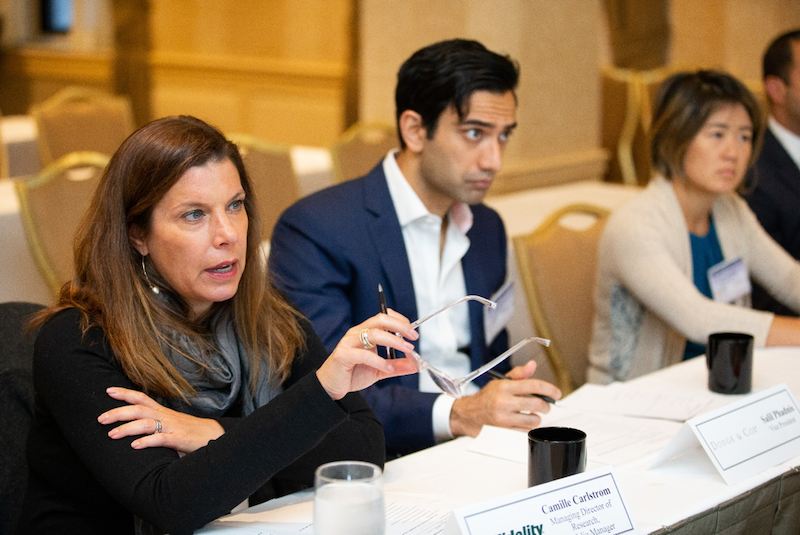 Benefits of a multi-school event
As students were allowed to sit in on pitches that came after theirs, my team was able to watch two more teams present: University of Connecticut and Georgia Tech. Both were very impressive and watching them gave an opportunity to learn how to tackle the same challenge with very different approaches. Although some other teams may have proposed to long KB Home as we did, every team had a differing investment thesis and catalysts—some teams even conducted their own proprietary research on the name in order to gain first-hand information.
During lunch we had more opportunities to connect with fellow students and firm representatives as we awaited round one results. My team had the pleasure to get to know both the Harvard and William College teams—it was very eye-opening to learn how different my education at the School of Hotel Administration (SHA) was from a traditional liberal arts curriculum! As we wrapped up our meal, the teams that would progress to the final round were announced: Harvard, Notre Dame, and Georgia Tech. Unfortunately, none of the three Cornell teams were able to advance, but the judges gave all teams some critical advice: to have more healthy skepticism to all analyst reports and second-hand resources found online, the importance to be creative in pitches, and capturing appropriate housing cycles (as looking back on only 5 years was not sufficient for this past cycle).
After the final round, the winners, Harvard and Notre Dame, with announced. Both teams had pitched Hemisphere Media Group (HMTV). It was an incredible experience to observe four pitches with such depth of research and exquisite handling of Q&A from the judges.
It was both an honor and privilege to represent Cornell University at our Undergraduate Stock Pitch Challenge in Boston. Both the valuable feedback my team received and relationships we built with other students and firm representatives are sure to be long-lasting. I cannot stress enough how important it was to have experienced this as an undergraduate student. Interacting with industry leaders can certainly further one's curiosity in a career in finance.