An interview with Dave Evans, co-author of Designing Your Life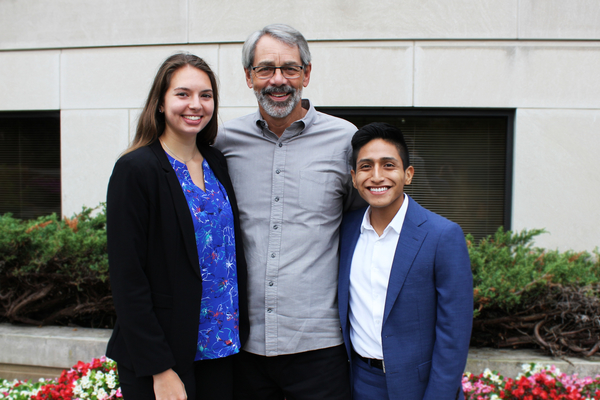 Interview conducted by Emma Moulton '21 and Wellington Lema '21
Dave Evans, co-founder of the popular Stanford Life Design Lab and co-author of New York Times bestselling book, Designing Your Life, recently spoke as part of the Dean's Distinguished Speaker Series hosted by the Charles H. Dyson School of Applied Economics and Management. Selected as the Dyson School's 2019 summer read, Designing Your Life explores principles anyone can use to build a well-lived, joyful life. Design concepts and skills featured in the book have been integrated into the new first-year course, AEM 1101: Design Your Dyson.
Dyson students Emma Moulton '21 and Wellington Lema '21 sat down with Evans to discuss the design thinking process.
How did this book come to fruition?
"My favorite memory of writing Designing Your Life was that we wrote it twice; we wrote it once, and it didn't work. We threw it away. Then we hired a team to help, including a collaborative writer. We used a group called the Idea Architects, run by Doug Abrams. Doug is someone who decides to help with books he thinks people need to read. He is in such high demand that he is typically the one that reaches out to authors, not the other way around. In the last three-to-five years, ours was the only book Doug worked on where the authors contacted him first. When we finally got the first chapter back, I had been wondering how it would turn out, and it was absolutely terrific. I was so surprised by how well the collaborative writer did, I actually cried."
At any point did you notice any resistance or pushback to ideas published in the book?
"Generally, no; it's been an overwhelmingly positive response. We've heard questions such as, 'Isn't this just an elitist book? You're both rich white guys from Silicon Valley, you're highly privileged people, you teach at Stanford, and you teach elite students. This book is just for the highly resourced person.' The answer is, no, it's not. But, at the same time, yes. If you're massively resourced and have a bunch of people backing you, then yes, you can do a lot more.
If anybody's been angry at us, it's because they think we were saying, 'Just read the book, and it will be great and all your problems will suddenly fall away.' But that's not what we're saying; we're saying that design is a brutal commitment to reality."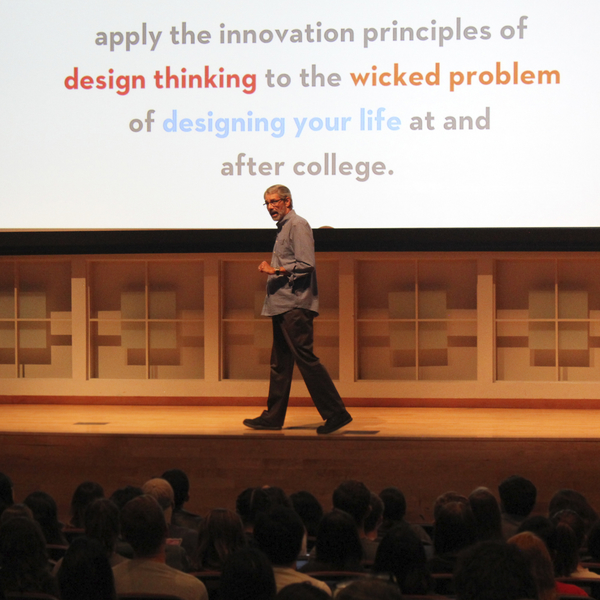 In the book you talk about having three different lives. Do you think you've lived three different lives in your careers, or is there a life that you'd still like to live?
"Things really do change over time. Career-wise, I've gone from working in the energy sector, to being a product manager at Apple, and then jumping into being the creative guy for a game development company—all radically different careers. Being in different roles, even within one industry, is almost like having a completely different life.
I recently realized that I'm not even a teacher anymore. Most of the time, I'm traveling on the speaker circuit while also being an author. That's a change."
Reflections from Wellington Lema
"Interviewing Dave Evans provided an invaluable perspective on how to find a balance between what fulfills while also paying the bills. At the Dyson School, this can be especially difficult when you see your peers pursuing careers in finance. Evans emphasized that when he made his career changes, he had no idea if he was making the right decisions. Instead, he took the time to reflect upon where he was and where he wanted to go. I appreciated his honesty about experiences in the business world, where career decisions are usually ambiguous in that there is no clear right-versus-wrong answer.
I found this to be true when reading the book—it really is about how to design your life not about how to design our life. Decisions shouldn't be based on what other people are doing or what people tell you; we are each on an individual journey. That doesn't mean you can't ask people for advice, but you need to also understand where they're coming from. What works for others may not necessarily work for you." 
Do you think it's important to take a step back and evaluate where you are?
"A big thing is reflection. I'm into jobs that craft their rhythm based on days of the week, in seasons, and if there are new learnings. I don't formally say, 'Okay, it's time to review my 20s.' I'm a big fan of narrative: What is the story? Where are we going? We will bring people in to share their mentor story and train people because we teach them how to tell their story forward, not backward.
For example, consider my time at Apple. Yes, that was the right thing to do, but I didn't know the risk and other forces working with me. You have to work really hard if you've been successful, or perceived as successful, to get people to learn from the difficulty you faced at the time. The issue of editing your narrative after the fact is not self-delusion. It's actually choosing how to sustain it and have it serve you in the best way possible."
Reflections from Emma Moulton:
"Dave Evans is a force. When he walks into a room, he immediately changes people's potential energy into kinetic actions. After eating breakfast with him, I was motivated to run a marathon, solve world hunger, and start a career in dance; I was excited about living life. His ability to reframe problems and rethink mainstream issues is inspiring.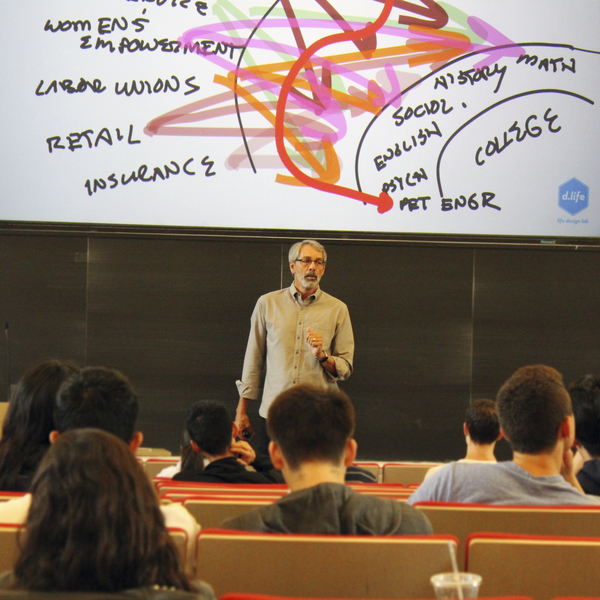 The concept of design thinking is what Evans and co-author Bill Burnett coach readers about in their book. After reading it, I was excited to meet him while also secretly hoping that I could receive a 15-minute personal coaching session on how to plan out my life. However, Evans's book stresses that you can't plan out every event. It is important to live in the moment and maintain a design-thinking framework. This allows you to reframe impossible challenges into opportunities."

Do you have any advice for business students?
"Schooling is a finite game, while the human adventure is an infinite game. The finite game of recruiting has rules so that if you want to receive an offer from this group of people, you must go through a highly structured recruiting process. There is a problem with companies who have more capable candidates than they can hire, so it is completely a buyer's market. That's the challenge if you play that finite game.
Many people will give you advice. If you want to know my advice about advice… there's a distinction between when I help you figure out what you think, versus when I tell you what I think. You can tell very often when you are getting advice because it starts with 'Well, when I was your age…' or 'If I were you…' which really means, 'If you were me.'
When taking advice, be very careful because advice comes from my values, my location, and my view. Very rarely do people tell you where that advice came from. You don't need to have a great mentor; you just have to be a great mentee. Go ahead and get advice, but make a thoughtful analysis on whether or not you follow it."