Korea-Japan Trek: Learning about emerging markets and beyond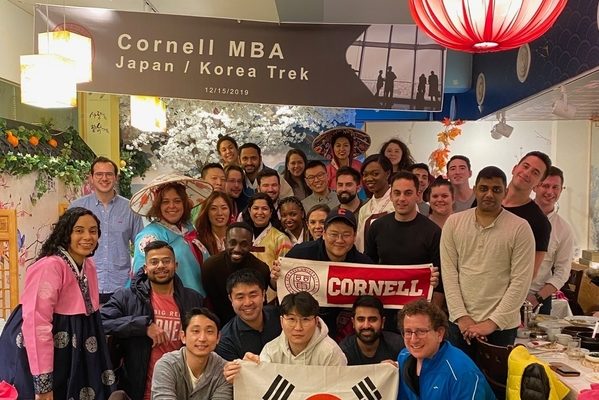 In mid-December 2019, I embarked on a trek to Korea and Japan, thanks to the generous financial support of the Emerging Markets Institute. Our cohort was a mix of 30 Cornell Tech and Johnson MBA students with wide-ranging backgrounds and varying degrees of exposure to both countries. This trip was my first visit to these markets, but it will definitely not be my last.
Across both Korea and Japan, we met with executives and employees of companies (including multiple Johnson alum) who were actively seeking growth opportunities abroad, having tested their business models in their home countries before looking for further business beyond. Innovation and research were key to their strategies. One of the major insights I gained during the trek was an appreciation for how Korean and Japanese companies leverage core aspects of their cultures to promote business abroad.
Korean companies showcase culture and creativity
In what some still classify as an emerging-market-Korea, we saw how AmorePacific invests heavily in the latest beauty and cosmetics products, harnessing its brand to deliver products to international markets. Korea is known for its beauty and cosmetic research, with AmorePacific leading the pack.
Likewise, we learned about CJ E&M, an entertainment and media company, that uses funds to promote Korean media on the global platform. One of the company's latest films, Parasite, has already garnered much acclaim internationally.
We also got to know LB Investments in Seoul, a private equity and venture capital firm investing in multiple Korean startups. Standard Energy, which is developing redox flow batteries said to be revolutionary for the energy storage system market, especially renewable energy, is a good example of the type of company LB Investments finds attractive.
Japanese companies harness business model innovation
We witnessed a similar trend in Japan, one of the richest countries in the world, where companies leveraged Japanese culture and assets to grow internationally. A prime example of this was the Cool Japan Fund, a public-private fund, supported by the Japanese government, investing in companies promoting Japanese culture and traditions through products and services internationally. As part of the trek we, as a cohort, pitched ideas to the Cool Japan Fund for potential investment opportunities in the United States that would align with their objectives of promoting Japanese culture abroad. Our ideas ranged from Sake bars to pop shops around Japanese gaming culture.
We also visited Hoshino Resorts, which operates Japanese-style hotels and inns rather than outright owning them, a new method within the hospitality industry. We met the company's chief executive officer, Yoshiharu Hoshino, who is considered a celebrity in Japan for his company's innovative business model. He talked about the potential his unique business model has for global markets and how Hoshino Resorts actively grew throughout much of Asia—like other firms, drawing on its unique home culture but through a hotel-operation model.
Finally, we learned about the Kodo Foundation, another example of business model innovation for global expansion. The Kodo Foundation has been promoting taiko (Japanese percussion instruments) through professional taiko drumming troupes. The foundation recognized the benefits of taiko beyond art, promoting it for self-healing purposes. Sado Island in Japan, where Kodo Foundation is based, hosts retreats where foreigners come to heal mental health issues by playing taiko, while engaging with other practitioners and healers.
Insights gained from my trek
As I think about my future endeavors working in emerging markets, and in particular my home country, Pakistan, I see the benefit of tapping into cultural strongholds to facilitate global expansion, just as we witnessed with Korean and Japanese companies. A company that zeros in on a particular aspect of its home country—whether it be related to the company's business model, product, or service peculiarities—has an edge when competing internationally. The challenge is to ensure that the product or service exported is fully vetted, with a unique enough value proposition.
As part of the Johnson Cornell Tech MBA, I'll be taking part in Startup Studio in the spring semester, as my team designs and launches a business idea, hoping to win funding for further acceleration. The insights from this trip, and in particular the conversations with the management at the companies we visited, will further the development of my future projects.
Some of the items that will go into my startup development, thanks to this trip, include:
Identifying unique aspect-value propositions and leveraging them for business growth (similar to the culture aspect used by Korean and Japanese firms).
Finding multiple-use cases for a product or service to keep it relevant across time and geography (as the Kodo Foundation did).
Being flexible with the value proposition and willing to modify and adjust it according to audience (as was the case with Volvo in Japan, which successfully tailored and marketed its products to the Japanese economy, establishing itself as a key player in an already saturated vehicle manufacturing market).
Opinions in this article are the author's and do not necessarily reflect those of Cornell, Johnson, or the Emerging Markets Institute.