Present Value: Reggie Fils-Aimé '83 reflects on leadership and corporate innovation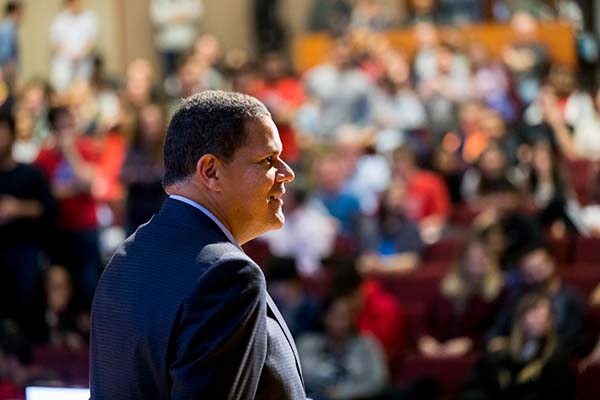 Present Value, an independent editorial project produced and hosted by Johnson students, had the pleasure of interviewing Reggie Fils-Aimé '83, former president and chief operating officer of Nintendo of America. 

Present Value can be streamed on the Present Value website, or you can subscribe through Apple Podcasts, Spotify, or your favorite podcast app by searching for "Present Value Cornell."
Taking the alternate path
While visiting Cornell this past October as the inaugural leader in residence at the Charles H. Dyson School of Applied Economics and Management, Reggie Fils-Aimé '83, former president and chief operating officer of Nintendo of America, sat down with the Present Value podcast to reflect on his 35-year career.
During his time as an undergraduate student at the Dyson School, Fils-Aimé began envisioning his future career and thought he had found his chosen path in the banking industry, he says. Like many college students, he discovered his next step into the working world offered opportunities to match his degree and training with a career choice.
However, rather than following through with his banking interests, Fils-Aimé accepted an offer to join Procter & Gamble (P&G) in a brand management program, which set the stage for the discovery of his own career values, he says. Fils-Aimé provides perspective on this decision and the way in which his time at P&G brought him to the realization that growing a small business or industry into something larger was a challenge he wanted to pursue.
Once he was aware of his goal, Fils-Aimé explains, he pursued a career path in various industries, including the food and beverage industry, private equity, and eventually the entertainment industry.
Developing leadership and life principles
This set of diverse experiences also led Fils-Aimé to develop several leadership and life principles, including "being open to alternatives," whether in a personal or professional setting. Following this principle can open up valuable opportunities for future growth, he says.
Another principle Fils-Aimé found to be especially important during his time at Nintendo involves courageous and decisive leadership. He describes the decision to include Wii Sports with the purchase of a Wii gaming system as one of those defining moments. As a leader, he had to make the tough call to not only push for this strategy, at the loss of a substantial amount of potential revenue, but to continue to advocate for this position, he says. In the end, bundling the Wii console with games actually allowed it to reach new audiences by "creating fun right of the box," driving positive sales results, but that was not obvious at first. Having the courage to make a decision like this and stay resolute is an example of the kind of leadership decision that separates great leaders from the rest, he says.
Refreshing a brand and reaching new customers
As Fils-Aimé was in the process of taking a leadership position at Nintendo, Sony was beginning to dominate the market and Xbox was a new and viable threat on the horizon, he says. Sony's announcement of its intention to enter into the handheld market created a buzz in the industry. As a result, Fils-Aimé found it essential that he begin conversations with other executives to understand and align on a common vision for the Nintendo brand. These conversations set the stage for the next decade of decision-making at Nintendo, while maintaining a crystal clear vision of what the brand stood for, he says.
Fils-Aimé explains, they were determined to refresh the brand and reach new customer segments in a way that was uniquely Nintendo by continuing to embrace the product's appeal to a young audience as well as expanding to underserved audiences like the elderly. He discusses Nintendo's approach to the rise in popularity of first-person shooter games and the new gameplay of the storied Zelda franchise as examples of Nintendo's ability to stay true to its brand and innovate.
"Failing forward" and learning from mistakes
While innovation is typically most seen in the engineering and R&D departments of an organization, at Nintendo, innovation intentionally runs through the entire company, according to Fils-Aimé. He explains  that the driving mantra of the company is "make something unique." Coming from the top down, this mentality pervades both internal and external messaging and informs what the company stands for.
However, just as considering alternative decision making involves risks, so does innovation, Fils-Aimé cautions. This has meant that not all Nintendo products have been successful. Fils-Aimé explains what it means to "fail forward" and learn from what might be considered mistakes, such as is in the case of the Wii U. The failure of the Wii U to gain market adoption led Nintendo to discover what users really wanted— to take their console with them from room to room and on the go. This key learning led to the development and unprecedented rise of the Nintendo Switch soon thereafter. Innovation makes failure inevitable, Fils-Aimé says, but failing forward increases the likelihood of success in the future.
Fils-Aimé expands on the above topics and more in his full-length episode with Present Value. Listen, subscribe, and share!
About Reggie Fils-Aimé '83
Reggie Fils-Aimé is the inaugural leader in residence at Cornell's Dyson School. He was previously the president and chief operating officer of Nintendo of America and held marketing roles at Procter & Gamble, Pizza Hut, and Guinness. As a leader in residence, Fils-Aimé will participate in many events in the 2019-2020 academic year and share his leadership principles built over his 35-year career. Fils-Aimé is a 1983 graduate of the Dyson School and the recipient of the Walter Day Life Achievement award by the International Video Game Hall of Fame for his services to the gaming industry.