Profile in Leadership: Christina Keller, MBA '07, president and CEO at Cascade Engineering
Christina Keller upholds and updates a family tradition of do-good capitalism at B Corp Cascade Engineering.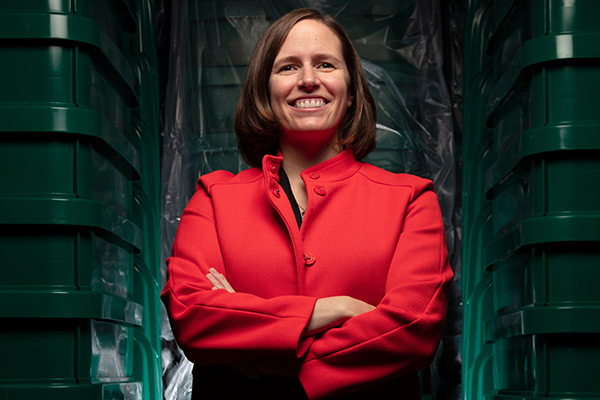 Christina Keller got far more excited than anyone expected. In an otherwise routine meeting in October, a division leader threw out the notion of creating a new product, the "smart" pallet, marrying Cascade Engineering's location-tracking RFID chip-making arm with another subsidiary that manufactures plastic pallets. Cascade was already in talks with one major logistics firm about a large order of RFID tags for new pallets, so why not sell them both?
To Christina, the Grand Rapids, Michigan, conglomerate's CEO and president for just over a year, it was exactly the sort of innovative and lucrative idea she'd been urging her team to bring her way.
"I jumped on it right away because I'm always looking for opportunities to scale," she says. "It's not about sitting back and waiting for somebody to do a report on it. If we think it's a good opportunity and if we trust the people working for us, we ask, 'What are the resources you need? What are the roadblocks that are in front of you? How can we break those down?'"
Steve Bushong, Cascade's vice president of operations, recalled being amazed by how quickly Christina seemed inspired by the idea and eager to put it into action. "This was nothing more than a sketch of something that somebody had a thought of, but Christina pushed it quickly into the business," says Bushong, one of Christina's first major hires after taking over as president and CEO in September 2018. "She pushes the envelope on things like that."
The smart pallet moment is a classic example of what several executives called 38-year-old Christina's "action-biased" approach to leadership, a style that has allowed her in just over a year in the C-suite to place her imprimatur firmly on the 46-year-old company founded by her father, Fred. Fred Keller '66 (materials science and engineering) grew Cascade into one of the nation's largest plastic-molding companies in North America with nearly $400 million in annual sales and 1,800 employees spread across four states and Budapest, Hungary. The company has provided plastic components for Herman Miller chairs for 40 years, has manufactured some 30 million roll-to-the-curb trash and recycling carts, and, more recently, is finding lucrative new business in making battery casings for the power sources of electric vehicles.
 An advocate for a triple-bottom-line culture
Cascade Executive Vice President Kenyatta Brame says there was some nervousness around Cascade as the younger Keller took over because there was no guarantee that she would be as forcefully supportive as her father of the company's many social-good initiatives. Fred took pride in creating what he termed a "triple bottom line" enterprise, one that accounts for its focus on improving "people, planet, and profits" through such efforts as the hiring of recently released prison inmates and welfare recipients as well as a push to build zero-waste factories. The firm is one of the world's largest B Corps, a prestigious independent certification bestowed upon companies that meet rigorous standards in social and environmental performance, transparency, and legal accountability.
"Now that Christina has taken over, we realize our culture is strong," Brame says. "Christina is an advocate for the culture. Although she is very analytical and puts great emphasis on the financial success of the business, her number one priority is also our people."
In retrospect, there should have been little doubt. In her first year on the job, the company was a 2019 "Best for the World" honoree from B Corporation. Emblematic of this kind of work is an initiative she has led in the company's garbage cart division to develop a way to make plastic bins out of landfill trash. "That process is actually carbon-negative," she touts, "so it's a pretty big deal. We're finding people at Waste Management care about that.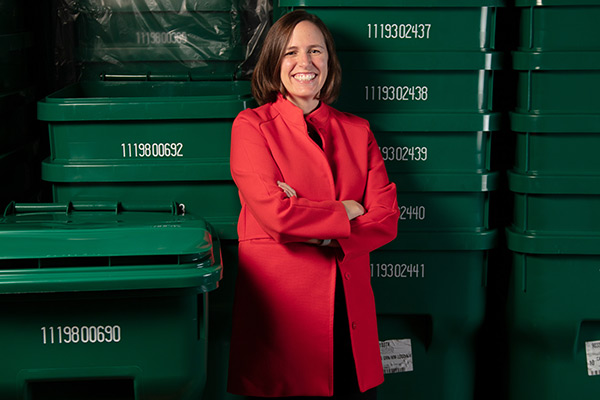 "Our customers are interested in how we can solve environmental problems together, and that creates more opportunity for us to grow."
Christina has also created a program by which Cascade puts $3,000 toward closing costs on employees' first-time home purchases. Such efforts draw perplexity among leaders of other corporations when she speaks about them, Brame says, but she has a ready reply: "Her answer is that we're part of this community. Christina has always understood that we can't be successful if there are segments of our community that aren't successful."
Discovering the limits to social progress in nonprofit work
Christina was, of course, steeped in her father's ethos growing up around the business, working on the manufacturing line between terms as an undergraduate at Boston College in the early 2000s. She admired her father's unusual approach to business, but in the years after graduation she believed working in the nonprofit world would be a more direct way to do good for the world. "She found herself in Africa putting up solar panels and working in the carbon credits field," Fred says of his daughter's volunteerism and work for two years with D.C.-based Environmental Resources Trust (ERT). "But when she went back to see the installations she helped put up, she saw many were broken or not working properly or not being used at all. At that point, she started questioning whether the NGO world was the right place for her to spend her energy."
With that revelation, Christina enrolled in the Samuel Curtis Johnson Graduate School of Management's Two-Year MBA program, where one of her most memorable courses was one on sustainable business practices taught by none other than her father. She planned to join Cascade at some point, but it is family policy to work outside the business first, so she put in two years as a pharmaceutical compliance consultant for Polaris Management Partners in New York. Then, in 2009, at her husband's urging, Christina returned to Michigan. "He said, 'Well, if we're gonna do it, we should probably do it now because your dad's gonna retire at some point and you want to work with him," she recalls.
Business savvy informs creative problem solving
Immediately, Christina earned her stripes. She was assigned to figure out what to do about the Hydraid BioSand water filter, a product at risk of being discontinued because International Aid, the nonprofit for which it was developed and made, was on the verge of collapse and could no longer afford to pay for it. The device is not intended as a profit-maker, but Christina had to figure out how to at least break even on the lightweight portable device vital in developing countries because it doesn't require boiling to make water potable. She wrote a business case that landed $1 million in outside financing to stabilize International Aid and its filter project and then rescued the product itself by tapping into the carbon offset credits market, per her experience at ERT, to generate revenue to pay for the devices. She put these pieces into place in the span of five months, demonstrating both her creative problem-solving skills and her drive to quick implementation.
"When I stepped in, the BioSand water filter would have been a loss because we would have just written off the tool and written off the relationship with the nonprofit," she says. "That was 2009, and it's still working. There are more than 75,000 Hydraid BioSand water filters in many countries, including Ghana, Kenya, and Honduras. Each unit is designed to treat water for eight to ten people per day. That means that up to 750,000 people have access to clean water on a daily basis."
Just as importantly, Fred was pleased. "It was less of a test and more of a 'How do you get your feet wet? How do you get some real experience with some real consequences and what do you learn from that?'" he says.
Building independence and leadership as president of CK Technologies
After that success, Christina was sent to Montpelier, Ohio, for four years to be president of Cascade's most lucrative subsidiary, CK Technologies, which builds plastic components for truck bumpers, grills, chassis, and roofs. During that time, her father appointed Cascade's president, Mark Miller, as CEO — although most of the company's brass suspected Miller was holding the place until Christina was ready for it. Miller served as CEO for four years, retiring in 2018.
"I realized that she was going to be a long-term leader when we asked her to move down to Montpelier," Brame recalls. "She'd come from New York, went to high school in Switzerland, and now you're asking her to move her family to rural Ohio so that she could better understand how manufacturing works. And she did it."
Fred said his daughter's time in Ohio was pivotal to her leadership development outside his shadow: "The question in a father-daughter business relationship is always going to be whether there is too much interaction. It's very easy for a parent to ask every day 'How are things going, what are you doing?' It takes away the independence of the individual. Having her in a place two and a half hours away that was needing some good leadership was a great spot for her to test out her own methodology."
 An ascension neither forced nor foretold
None of this is to say Christina was groomed from youth for her role as CEO. Both father and daughter insist it was a happy alignment of skills and interests that turned the C-suite into a multigenerational affair. Christina's two older sisters showed no interest in the day-to-day management of the firm — although one, Lorissa Keller MacAllister, is on the Cascade board.
"My father was a very influential, inspirational leader," Christina says. "He would talk about what he's trying to accomplish with making a positive impact on society and the environment while also being financially successful, and I was very intrigued by that. But he wanted all of us to be happy and to pursue our passions and not feel obligated to be a part of the organization," she says. Still, the outcome of having Christina follow in his wake and to secure his legacy brings Fred immense pleasure. "I never wanted to force my children into doing something I wanted them to do," he says. "It was a joy to me to learn that Christina wanted to do this."
There are important differences in their styles. Fred earned a business degree, but his first calling was as a Cornell-educated materials science engineer who focused on the technical aspects of plastics manufacturing. Christina is a pure businesswoman with some understanding of the technical side of the operations from her various jobs throughout the company dating back to her 20s. The younger Keller, then, has taken a business-school approach to some aspects of the sprawling business operations by seeking to streamline some redundancies and, most significantly, is integrating her old Ohio stomping ground, CK Technologies, into Cascade Engineering.
"We were operating as a collection of small cottage industries within a larger business, so one of the things that I did was work to consolidate so we have the same backend systems," she says. "That was probably more of a traditional business school education of making our processes the same and harmonized across the family of companies. It was a lot harder, I will say, than I anticipated or that they talk about in the leadership books, because people don't like change."
Bringing business-school principles to bear
Brame offers the example of the way the company measures its operational equipment effectiveness, where Christina has spent her first year in charge pushing for more efficiencies and improvements.
"This is what she's good at — asking, 'What will it take to improve that number?'" he says. "She's challenged us to not only measure against ourselves but measure against other companies, and that's opened our eyes to some areas where we may not be as good as we thought we were."
In person, Christina is sunny but intense. She is known for her indefatigable travel schedule and her efforts in the community. In recent years, Fred has relinquished enough of his ownership stake to his daughters to make the company a women-owned firm, a rarity in both corporate America in general and the large-scale manufacturing sector specifically.
Customers in male-dominated industries, such as manufacturing, have asked Christina if she's the new assistant, and when she responds that she's the company president, they're clearly surprised. "You can't change that," she says. "You just figure out how you own it and live with it."
Christina's family-work balance — she has a 5-year-old and an 8-year-old — is a topic of awe among her staff. "She spends so much time on the road being the face of the organization, says Bushong, citing her involvement in the Young Professionals Network, the Network of Women in Business, and the Young Presidents' Network, among others. "She's just very driven."
Both Kellers hope Cascade can remain a family firm indefinitely so the company can stay true to its good works without having to answer to shareholders or equity investors seeking short-term gains.
"We are working at what we can do to engage the next generation in opportunities, so they understand manufacturing is a great place to be," says Christina of her children and four nephews. "Hopefully, they will continue after I bridge the gap from Fred to our kids, although we're also open to non-family-member leadership. Just because you're a family member doesn't mean that you have to lead the organization. Following in Fred's tradition, you can be wherever makes you happy, whatever's the best for your skill set."
Not yet 40, though, Christina expects to stay put for a while. "This is where I want to be," she says. "I hope to be here for another 45 years."