Liu foresees new business models as hospitality infuses retail shopping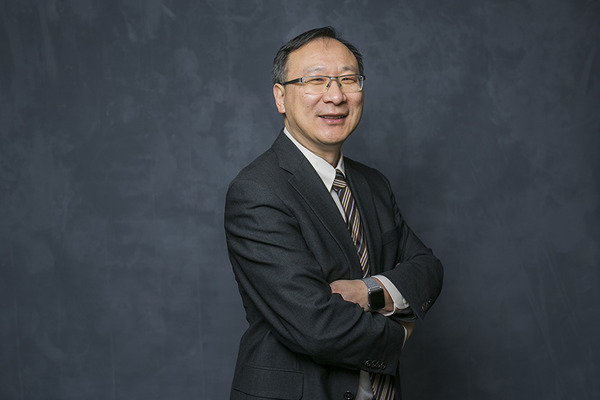 When Peng Liu, associate professor in the Cornell School of Hotel Administration (SHA) was growing up in Beijing, the Chinese central government determined which apartment his parents lived in, which industry they worked in, and how much they could spend on groceries each week.
Even though a market-oriented economy didn't exist in China in the 1980s, Liu remembers becoming fascinated by the field of business when he was in middle school. "I spent a lot of time reading in the library," he says. "I just read all kind of books, from novels to business, and gradually that influenced my philosophy and the way I viewed the world."
After studying engineering at Tsinghua University and earning a master's degree in financial economics at Peking University in China, Liu began a PhD program in real estate at the University of California, Berkeley. He then became an associate at Goldman Sachs, before joining SHA, where he is the Singapore Tourism Board Distinguished Professor in Asian Hospitality Management.
Liu's background and research: Connecting hospitality, engineering, and business
In one of his first hospitality studies, Liu tackled the system of hotel reservations and devised a tool that created differentiated pricing based on the probability of a traveler actually renting the room. Using what he called a hotel reservation optimizer, guests would have the option of paying a lower price for a room if they gave the hotel an estimate of the likelihood that they would occupy the room.
"The idea was to have a way to reward customers for telling the hotel their actual arrival probability," says Liu, who has advised several hospitality companies and hotels about the tool. "The customers would save money and the hotels would get valuable information to help them with their inventory management."
Drawing on his background in engineering, Liu then spent several months at Marriott International Inc. headquarters to help the company improve its sustainability goals while reducing operation costs. In 2013, he developed a series of strategies for Marriott to create incentives for both guests and hotel employees to conserve energy and to use energy consumption data from the company's hotels to increase sustainability.
Working with a student, Liu developed a software product that could monitor the sustainability initiatives at all of Marriott's hotels. "The software could be used to manage all of their properties to create incentives, sustainability initiatives, and a compensation scheme for rewarding the managers," he says.
Enjoyable experiences: Research shows hospitality has a place in retail development
More recently, Liu has focused his research on retail development and its relationship to the hospitality sector. Malls in the United States are facing the fallout from not just the rise of e-commerce but also changes in consumer behavior, he says. In a 2018 study of 1,060 shopping malls, Liu and two collaborators found that the current business model, centered on large anchor stores, is outdated because consumers no longer shop at department stores to compare brands and prices. In fact, the higher the percentage of anchor stores in the malls studied, the poorer the performance the retail centers had, the study showed.
"People come to shopping centers less for buying physical products and more for the experience of entertainment, learning, socializing, or just window shopping," Liu says. "That's exactly what the service and hospitality sector are good at."
The future of shopping mall development will rely on more experiential attractions such as high-end restaurants, indoor amusement parks, and other types of entertainment, Liu says. These experiential venues could potentially replace department stores as the key revenue generators for retail centers, he adds.
Last November, Liu presented the findings of the shopping mall study in Shanghai, where he received the 2019 Asia Travel + Hotel Award from the Asia Hotel Forum and the Hospitality Asset Managers Association.
Liu plans to continue his research in the retail sector to develop business models that are more viable for the industry. "The retail shopping–hospitality sector is the perfect laboratory to test new ideas about the interaction of people and space," he says. "Serving people better and giving them experiences they enjoy, that's what hospitality is about."