EMI's China trek: Free enterprise, socialist goals, and a rich cultural heritage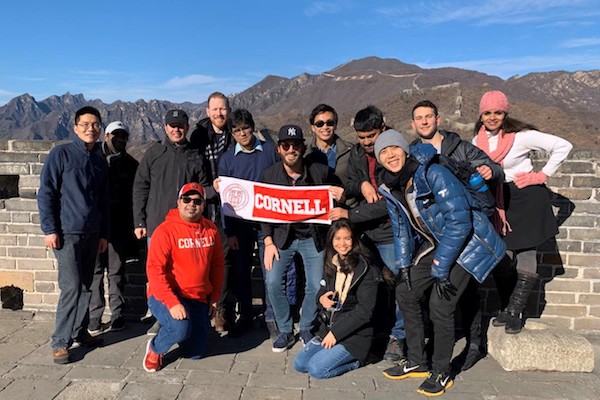 As an international student keen on forging a global career and on building experiences both inside and outside of the classroom, I was excited to take part in the China Trek last December. The trip added even more color to my Cornell MBA journey and gave me the opportunity to broaden my horizons. The financial contribution of the Emerging Markets Institute was key in deepening my interest in emerging markets as was its generous support in funding part of this trek.
Chinese economy: State and enterprise work hand-in-glove
China's economic strength has been achieved by building a delicate balance between free enterprise and socialistic goals. The Chinese claim that they are not a capitalistic economy because the their overall economic direction is heavily guided by the state to achieve socialist development aims. I was keen to observe how this careful mix of capitalist and socialist aspects manages to deliver results.
My visit to a private equity company, Tsing Capital, and one of its portfolio companies, Sensoro, caused me to reflect. Sensoro is in the business of making high-end, smart sensors with a wide gamut of applications, from detecting fire outbreaks to improving the performance of cellular towers. As a pilot project, Sensoro has been engaged in improving the fire detection system in an impoverished neighborhood. Upon visiting the neighborhood, we realized that they do so through an array of smart cameras and a heat detection/alarm system, all of which is managed through a central Sensoro server room.
On the face of it, this was a great example of how new companies in China are continuously innovating, positioning themselves at the cutting edge of the latest technology. However, the alternate use of this ecosystem built by Sensoro was even more interesting. This network of cameras, while helpful in detecting fire outbreaks, is also used by state agencies to improve governance. For example, the network could be used to enforce adherence to parking fines find missing persons, detect malpractice, and much more. Further, I observed such mutually beneficial cooperation across the country—for example, online marketer Alibaba voluntarily sharing buyer/purchaser information with law enforcement agencies.
This is exactly how the paths of the state and enterprise intersect and allow them to work hand-in-glove. As a microcosm, this example shows how the Chinese manage to wield strong governance while  preserving enough leg room for businesses to flourish. At the heart of strong Chinese economic growth are such public-private partnerships, a far cry from the kinds of checks and balances seen in democracies such as India and the United States.
Western business practices: Take the best, build the rest
Another aspect of China's robust growth has been the strength of the country's institutions and companies. This is an area in which the Chinese seem to have embraced the business practices of the West while adding their own flavor. Specifically, we visited the China-Africa Development (CAD) bank and got a fair understanding of how it looks for opportunities to invest. This visit was a real eye opener, for it showed how a company can take shape by mixing best practices from Western organizations with the sensibilities of the Chinese. At first blush, CAD looks like any other financial institution with practices not too dissimilar from those of any modern Western bank. For instance, both value deals in similar ways. CAD has similar corporate functions to aid in management and its risk assessment modules often mirror those seen in Western banks.
And yet, CAD is exceptionally return-focused as opposed to social development–focused, which is the more likely aim of other development banks investing in impoverished economies. CAD's lack of transparency in explaining some of its deals in Africa was perhaps the biggest difference between it and the usual development bank. Additionally, its non-committal answers to criticism over putting unnecessary debt on poor countries suggests that despite the similarities with other development banks, CAD is distinctly different. These factors imply that Chinese corporations have found their own way to incorporate Western practices while sticking to a moral/social compass along the lines defined by the state.
Limited freedom of expression still plagues China
Despite China's explosive economic growth, it has not been without its fair share of criticism. Our visit to the National Basketball Association (NBA) office in Beijing was a stark reminder. NBA games, once a rage among the Chinese, have been taken off the air following some comments about freedom of expression made by the Houston franchisee's general manager. Such drastic reaction to one person with a different value system who chose to express his point of view paints a grim picture for a country looking to become the leader of the world in this century and beyond.
This was not a one-off incident; during our stay, all matches of Arsenal, an English soccer team, were taken off the air following a comment made by one of its players. These incidences show that if China is likely to continue its explosive economic growth, it has to be more open minded about how it embraces the world and the diversity therein.
A rich cultural heritage on display
Finally, I would be amiss if I did not touch on the cultural experience that was China, for there are different colors to this country, with a rich heritage and a milieu that is indeed a wonder to behold. The Chinese are exceptional at not only respecting but also preserving their history.
Our visit to the Great Wall and the Forbidden City were exemplary. At each of these spots, the grandeur of the structure itself was visible, but the pride the Chinese take in heeding the lessons of the past was also striking. Our visit to a hutong—an alley in Beijing lined with shops of different kinds—underscored how diverse tastes and cultural predilections co-exist in China. Finally, the food at different places, so varied yet still similar, revealed how Chinese cuisine has developed distinctively across different parts of the country. From roasted duck to hot pot to traditional Chinese liquor, we tasted it all and reveled in the food for thought.