Cornell team 'solves the retirement puzzle,' earns first place at the 2020 IPCC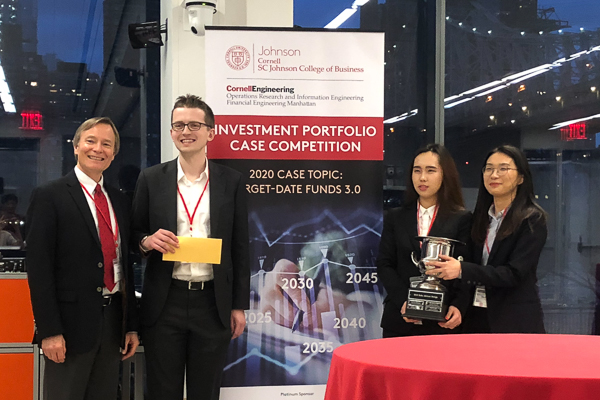 Each year, Cornell MBA students interested in careers in investment research and asset management participate in investment competitions hosted by top universities around the country. Throughout November and December, students used the competitions to showcase their well-polished investment ideas, which are judged by professionals at top investment management shops around the country.
This January, Cornell students from Johnson and the College of Engineering participated in the Investment Portfolio Case Competition. This competition, organized by the Parker Center for Investment Research at Johnson, was different from earlier competitions in two aspects: 1) Instead of pitching a buy or sell of a publicly-traded company, participants were asked to pitch a new design of an investment portfolio and 2) This was the last scheduled competition of the academic year in which a Cornell team will participate.
The second point is especially relevant because while numerous teams had placed in competitions this academic year and performed very well, none had placed first. The pressure was mounting for Cornell to put in another strong showing and try to bring the Portfolio Case trophy home to Johnson. My teammates and I felt ready for the challenge.
One 401(k) plan, one week for a market redesign
Shortly after 5 p.m. on Wednesday, January 22, we downloaded the case description. A hypothetical fund, DMC Target Funds, was delivering strong investment returns but was suffering from criticism for an outdated asset allocation process and related significant declines in new business (fund inflows). My teammates and I needed to come up with a plan to improve the competitive positioning of the funds by Thursday, January 27 at noon.
Eager to get started as soon as possible, my two teammates, Wenqing (Stacy) He and Yumeng (Lily) Ding, Master's in Financial Engineering students, emailed me that evening to set up a time to meet to discuss our game plan for the project.
We quickly realized we had a big undertaking on our hands, as we not only had to figure out how to refine the asset allocation model to improve fund returns, but we had to do so in a way that fit in with the company's mission (easy-to-understand investment products) without copying competitors' existing products.
As our two-hour meeting progressed, we came up with a plan. We realized we needed to know a few things:
Since these funds are in 401(k) plans, the current and potential users are representative of a cross-section of financial situations. If we could understand the way Americans think about retirement and financial planning, we could better redesign the product.
We couldn't just say we wanted to redesign the asset allocation strategy of the target date funds. We needed to use robust investment research to show why our recommended asset allocation strategy was the right approach.
We had to demonstrate to the judges how this would be a profitable undertaking for the company.
Lily and Stacy expressed that they felt very comfortable running financial models and researching asset classes. I also felt comfortable researching asset classes and I had a strong background knowledge of the financial situation of Americans.
After a couple more hours of meeting on Friday, we agreed that we had a plan. Lily and Stacy would input a series of investment classes into a Black-Litterman asset allocation model and I would do market research.
Sunday night came and we still had a lot of work to do, but as we met on Monday, our work started to come together. Lily, Stacy, and I drafted an ideal financial model and made sure that it would be cognizant of our plan to allow it to be simple and one that better engaged Americans behind on saving for retirement.
We had some additional touchpoints throughout the week and agreed to meet Wednesday evening, where would talk about the results of the back-testing from the Black-Litterman model.
By Wednesday evening, the news came that there were still some kinks to work out in the model due to technology malfunctions. Yikes.
It was 5:30 p.m. and we had less than 24 hours to get the entire project together. Since we couldn't do anything to present the financial numbers in the meantime, we decided to look at our presentation and think about remaining parts that we could tackle. After our two-hour meeting came to a close, we had completed almost all of the remaining pieces, including a good shell of the marketing plan. Lily and Stacy, who had been working closely on the financial model, felt that the model was just about done running and that they would be able to work late into the night to get the results presented coherently onto our presentation.
Since they knew much more about how the model worked, we decided to divide and conquer in an attempt to preserve energy and meet our deadline. Lily and Stacy would work late into the night to do the financial pieces and I would wake up around 5 a.m. to review their completed pieces and add finishing touches on the rest of the presentation based on that. We had a plan.
That morning, I spent three hours putting the finishing touches together and made sure our plan was marketable. It was 8 a.m., and I could tell we were just barely going to make it. All three of us were frantically going back and forth on emails until about 11:50 am, when Lily submitted the presentation. I breathed a sigh of relief and ran to catch my bus to New York City.
Showtime in New York City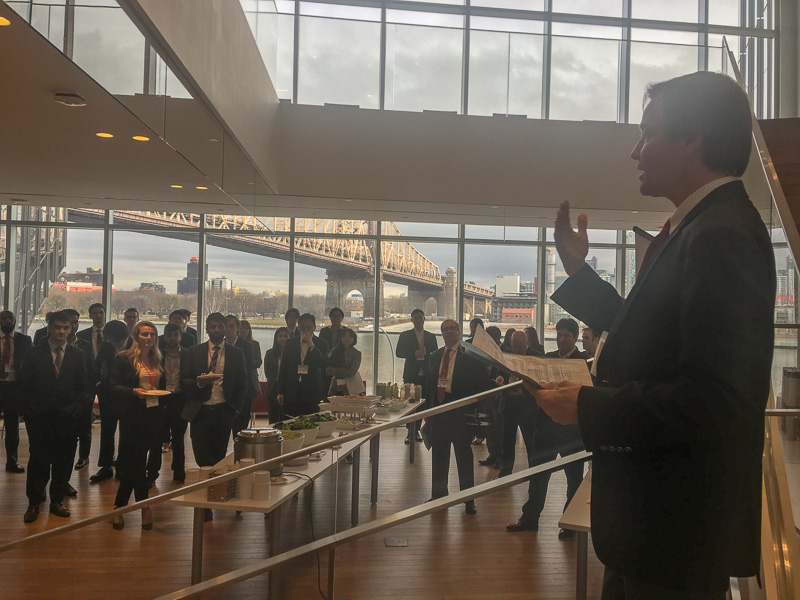 Friday, January 31 was the day of the competition, hosted at the Cornell Tech campus in NYC. For me, it was my first time being on the campus and I was sufficiently impressed. It has both the appeal of being in a big city, while being tucked away on Roosevelt Island and feeling removed from the hustle and bustle of the city.
At 11:55 a.m., it was time for us to present our idea to the judges. We were all feeling nervous, but we all agreed that no matter the outcome, we had done our best and were happy with what we'd accomplished thus far. The presentation went off as planned, but it was hard to get a read on what the judges thought, especially given the challenging questions they asked!
We broke for lunch and got to mingle with students from other schools, such as MIT, Columbia, NYU, and Carnegie Mellon. A common thread throughout these conversations was that while we were all really busy with our graduate programs, we all agreed that we were enjoying our experience and making lifelong memories. As lunch started to wrap up, Professor Scott Stewart, faculty director of the Parker Center and organizer of the event, announced the three teams that would advance. As we were wondering whether we would make it, the announcement seemed extra-long, and my heart definitely skipped a beat when I heard that our team had been selected.
Industry insights and preparing for round two
The three of us hurried to our breakout room to begin our one-hour power session, where we would meet with one of the judges to receive feedback and work together to incorporate it. We frantically took notes during our 10-minute conversation with the judge and then strategized about how to use our remaining time best. Once again, we used our time as much as possible, submitting our revision two minutes before the final deadline.
When we walked in to present in the finals, we were greeted with 12 judges and probably about 40 other audience members. As we presented, I felt a strong sense of calmness, especially as I saw several of my classmates looking on. Since we went second, we had the opportunity to see the third team present from UCLA. They were really good!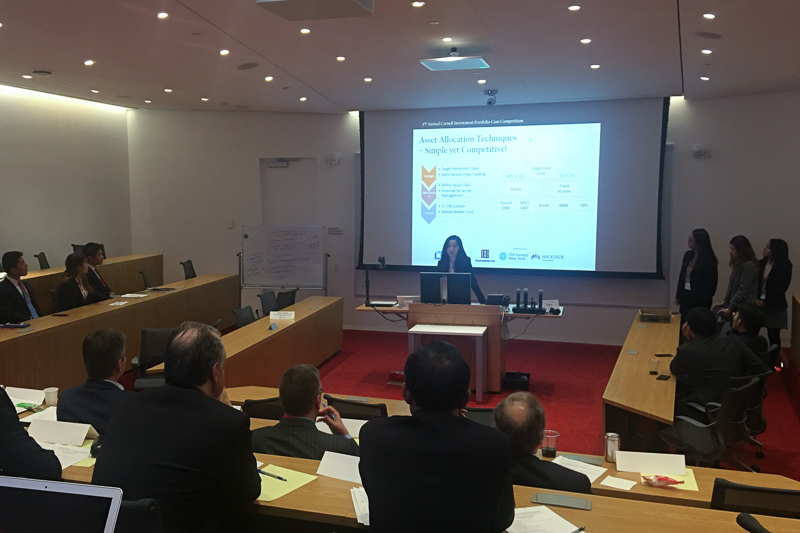 Once again, we were whisked off to another reception as we awaited to hear the results of the competition. Before that, two of the representatives from sponsoring firms spoke. Roger Marinzoli, head of product development at TIAA, gave an impassioned speech about all the great ideas he saw from the presentations and spoke about the importance of developing sound investments that will make a positive financial difference in the lives of people from all financial backgrounds.
Jonathan Shelon from KraneShares spoke about how some of his cutting-edge research in the target-date fund space led to much more favorable outcomes for investors during the Great Recession. These words resonated with me especially well. Given the long-lasting memory of the financial problems in 2008, many people rightfully question the intentions of our world's financial leaders. Hearing speeches like this is a great reminder that the vast majority of leaders in the industry are honest hard-working people who want to use their knowledge of the markets to advance prosperity for their clients and customers.
A positive and transformative experience
Now was the moment we had been waiting for all day—the announcement of the winners. The team from UCLA was called up and announced as the third-place winner. Next, the second-place winner was announced—MIT. We had won the competition!
All of three us were overjoyed with this and were so proud to have had the opportunity to bring the trophy home to Cornell. This would not have been possible without the valuable contributions of so many mentors and teachers. Thank you to the second-year MBA students in the Investment Management Club who provided us with ample coaching on the technical sides of investment research and on the art of making masterful presentations. Thank you to the professors at Johnson who provided all the first-year students with challenging cross-curriculum projects their first semester and who threw us into challenging presentation situations with a short turnaround time. And thank you to Lily and Stacy, who were commensurate good teammates, working late into the night multiple days in a row to make this project a success.
As I look forward to the future, I am thrilled to be working with Ana Espitia, my fellow VP of competitions for the Investment Management Club, to mentor the Class of 2022 on bringing home more competition trophies next year. To any prospective students reading this, Johnson's high ranking is an understatement of the positive and transformative experience you will have here. We hope to see you in the fall!