Emerging markets elective highlights teamwork and insight among EMBAs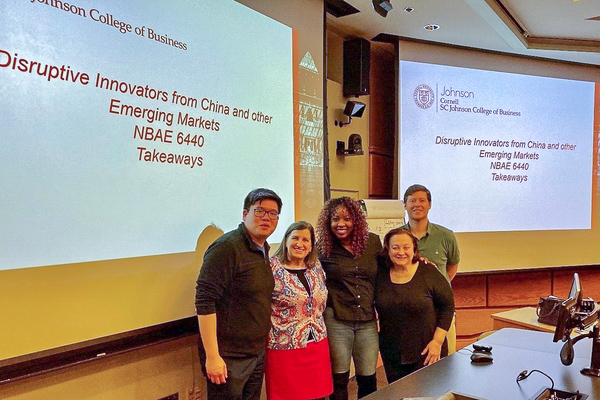 One of the highlights of my first semester in the Executive MBA Metro NY program during the fall of 2019, was competing on behalf of Cornell in the Emerging Markets Institute's (EMI) Annual Case Competition back in November. Not only did I enjoy meeting and competing with the other teams, I was also inspired to work with colleagues in preparation for the competition, whose dedication, initiative, and industry insight mesmerized me.
Building on such amazing experiences at  EMI during my first semester at Cornell, I turned to Lourdes Casanova's winter elective course, NBA 6440 – Competition from Emerging Markets: The New Emerging Multinationals. This elective course for EMBA students is divided into five sessions: the first two dedicated to China and the rest dedicated to other emerging markets. Students were placed into small groups with the task of crafting a presentation around a company sourced to each emerging market (e.g., Tencent, the tech giant of China, and Flipkart, the Indian e-commerce giant).
The global arrival of Chinese multinational corporations
In the first two sessions, Casanova would draw our attention to China and its emerging global companies. We took a poll to see who had heard of the Chinese conglomerate Tencent, perhaps most known for its ownership of the massively popular Chinese social media platform WeChat. To my surprise, no more than a third of the class raised their hands. Likewise, Casanova inquired which bank was the largest in the world. Most of the class shouted out Bank of America or JP Morgan Chase; it was certainly a puzzlingly shock to learn that out of the world's five largest banks, four were Chinese.
This unfamiliarity with rising Chinese multinationals on the global stage stood to me as a reflection of China's relative weak soft-power at the moment. Unlike Japan and Korea, the two countries that have had tremendous success in promoting their international profile and influence through the juggernaut that is their respective entertainment industries, China's entertainment industry has not achieved such clout yet. Nonetheless, it is likely Chinese multinationals will transition further into true global giants through sheer technological innovation alone, as has been the case of Alibaba in recent years.
Turning our focus to India, Africa, and South America
Casanova then turned to other emerging markets (e.g., India, Africa, and South America). The class would divide again into groups, crafting a presentation on a given company. We learned about India's thriving global economy through Flipkart, one of India's leading e-commerce companies that was recently acquired by Walmart. We explored M-Pesa, Africa's most formidable mobile payment service in the continent. Finally, with South America, we uncovered Marcopolo S.A., the Brazilian bus/coach manufacturer.
The presentations were superb, explaining how and why these companies proved so successful over time, the problems and challenges they faced, and what they overcame to be where they are now. This group project was much welcomed, as it not only allowed me to bond with members of the EMBA Metro NY 2020 cohort, but more importantly, witness just how incredibly insightful, dedicated, and passionate my classmates are.
Wrapping up the emerging markets elective course
On the last day of the course, Casanova pleasantly surprised the entire class by inviting everyone for dessert at her home that evening. The gathering was delightful and it certainly was the highlight of my week—we even learned even how to play the Indian tabletop game Carrom. Apparently, I am a natural!
As my week of elective coursework drew to an end, I was reminded of not just how entwined the United States and Chinese economies are, but also just how interwoven the global economy has become in past decades. While some scholars have suggested that the 21st century will be the Chinese Century, I am optimistic that the 21st century will also be an Indian, African, and South American Century.