The top three most surprising facts about emerging market multinationals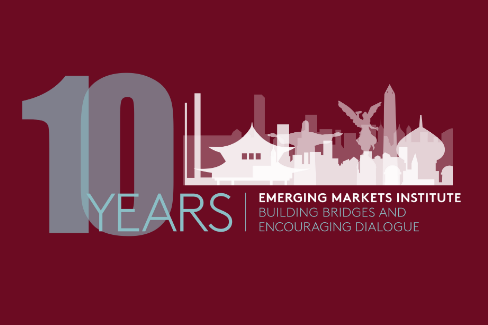 Since 2017, I have helped bring to publication three annual reports and three books as a research assistant with the Emerging Markets Institute. Two-and-a-half years ago, Lourdes Casanova, the Gail and Roberto Cañizares Director of the Emerging Markets Institute, was looking for an editor with a journalistic background for her book Financing Entrepreneurship and Innovation in Emerging Markets, written in collaboration with Peter Cornelius and professor Soumitra Dutta. Lourdes took me on to perform developmental and copyediting for the institute as a local reporter for The Ithaca Voice with one previous academic book edited under my belt—but without any business experience­.
It was daunting at first, thrown into the deep end of the complex world of emerging market economies. Luckily, part of what I enjoy so much about journalism is the freedom to learn about a variety of subjects and become a mini-expert as part of my job. I was no stranger to quickly briefing myself on scientific studies, food trends, or international politics, and while the process of learning about emerging market multinationals was similar, I was particularly surprised by three major insights in EMI research.
Some of the world's largest companies are from emerging markets
If you told me about a deal on Amazon.com, or a meme you saw on Facebook, and I said "What's Amazon? What's Facebook?" you might assume I had been living under a rock for at least a decade or two. And yet, some of the world's largest companies are from emerging economies, and despite being integral parts of everyday life in their home countries, they are relatively unknown outside of them. One such example is that of State Grid Corporation of China (SGCC), a state-owned Chinese utilities company. Ranked no. 2 in the Fortune Global 500 in 2018 with a revenue of nearly $350 billion (and no. 5 at $387 billion as of 2019), SGCC is the world's largest energy provider, serving nearly all of China. Known for its implementation of ultra-high voltage technology, the company has begun expanding worldwide into Latin America, Europe, Oceania, and elsewhere in Asia, its ultimate goal being a global grid.
You may have begun hearing about Tencent, a company whose interconnected universe of apps and services makes Google's empire look modest. If you've spent any time in a movie theater in the last few years, you may have noticed a telltale "Tencent Pictures" logo at the end of such films as Wonder Woman, Men in Black: International, or in trailers for upcoming movies like Top Gun: Maverick. Tencent has only been in the movie distribution business since 2015, but is most well-known for its service WeChat, a ubiquitous app known as Weixin in China. Tencent presents a striking example of a homegrown innovation ecosystem, evolving from copying other models of instant messaging platforms, to ultimately achieving internationalization through strategic mergers with and acquisitions of wildly popular mobile and online gaming companies. You may be addicted to a Tencent game and not even know it! The company wholly owns subsidiaries or stakes in Supercell Oy (Clash of Clans), Riot Games (League of Legends), Activision Blizzard (World of Warcraft), and Epic Games (Fortnite, Unreal Engine, Gears of War, and Infinity Blade). Tencent's incredible strength comes from its unique business model that combines its gaming and social networking platforms with online-to-offline services such as mobile pay and ridesharing.
For detailed case studies about both of these companies, see chapters six and nine in The Era of Chinese Multinationals, by EMI director Lourdes Casanova and professor Anne Miroux.
State ownership can encourage growth
Unlike in most Western nations, many successful business in emerging markets are wholly or partially state-owned. Popularly seen as a restriction, heavy government support nevertheless has promoted and encouraged growth in several EMs rather than stifling it. Although typically EM multinationals are much younger than their developed nation counterparts, they have made huge strides in short periods of time specifically because of government policy, not in spite of it. China's explosive growth, primarily in the tech sector, provides one such example of the possible positive effects of government intervention. Between 1979 and 2017, the country's growth rate was nearly 10 percent per year on average, according to the World Bank, "the fastest sustained expansion by a major economy in history." (Casanova and Miroux, The Era of Chinese Multinationals, Chapter 3)
Over time, the Chinese government implemented a series of reforms that resulted in proactive outward foreign direct investment (OFDI) policy, giving China's business sector a nigh-unprecedented boost. Beginning in the early 2000s, China's new "Going Out" strategy outright encouraged overseas investment by Chinese firms rather than attracting inward FDI. The country's efforts to "Go Global" streamlined processes for companies looking to expand abroad. Furthermore, the Global Financial Crisis actually proved to be an opportunity for Chinese firms to acquire struggling firms from the United States and Europe. Even though China's growth rate has slowed from its all-time high, China's "Made in China 2025" policy first implemented in 2015 seeks to address the new normal with an emphasis on technological innovation. Even as the global economy looks to veer into uncertain territory beginning in March 2020 due to the worldwide outbreak of COVID-19, past experience shows that China has the potential to weather currency volatility and economic crises better than other economies, both emerging and developed.
Sustainability and innovation as a selling point in EMs
While tech innovation is at the forefront of much of the business sector, emerging markets are also making great strides to promote sustainability and social innovation. With many EM companies embracing standards of corporate social responsibility, "doing good" is no longer a luxury. In Latin America, companies are stepping up to combat climate change and social inequality. In fact, as of July 2019, 20 percent of the world's Certified B Corps are headquartered in Latin America, 540 firms in total. Of the 94 companies in the Dow Jones Sustainability Emerging Markets Index, 26 are from Latin America.
Latin American companies are making investments in business model innovations for societal improvement rather than strictly for economic gain. Natura Brazil, a cosmetics company, is creating sustainable supply chains in the Amazon, guaranteeing fair trade and investing 2.2 percent of net revenues in R&D in projects that support restoring biodiversity in the Amazon. Pacari, a chocolate producer from Ecuador, aims to support small farmers and manufacture top-quality chocolate at the same time. Pacari includes more than 3,500 small-scale farms in its supply chain, all of which have been certified in environmentally friendly and sustainable crop management. Even more remarkably, the company introduced social change with a seemingly mundane innovation: simply changing the size of its cocoa bags. While there are many female workers in the cocoa industry, the heavy weight of the traditional bag gave men an advantage. By introducing smaller, lighter bags, Pacari empowered its female workers to become active merchants and earn income without men as intermediaries.
See chapters six and eight of the 2019 Emerging Market Multinationals Report, Emerging Markets: Building Constructive Engagement for more about corporate social responsibility in EMs and the OECD's Sustainable Development Goals.
EMI in 2020
This year we will celebrate the EMI's 10th anniversary as well as the fifth anniversary of the institute's Emerging Market Multinationals Report. We invite you to join us on November 6 in New York City at the Cornell Tech campus to launch the 2020 report at our annual conference. I look forward to marking these occasions with you and discussing the many ways that emerging markets continue to surprise and astound us with their resilience and innovation.