Cross-program hackathon teams address the future of urban centers
Students team up across programs, cultures, and time zones to compete in the annual Business Model Hackathon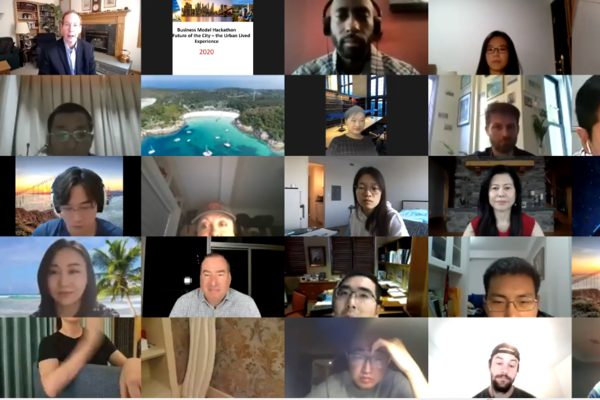 On the weekend of April 25 and 26, 179 students from both the Cornell-Tsinghua Finance MBA program and Cornell Tech's master's degree programs participated in the 2020 Business Model Hackathon. The hackathon, now in its fifth year, was conducted in a virtual format, which brought students together across the United States and China—and across time zones. As the event kicked off, Mark Nelson, the Anne and Elmer Lindseth Dean of Johnson, welcomed students with a broad smile: "Johnson MBAs are problem solvers, innovative, and we try to make a difference in the world," he said.
The founder of the annual hackathon, Yaru Chen, the Nicholas H. Noyes Professor of Management and academic dean for China initiatives at Johnson, inspired participants by reminding them that the purpose of the hackathon was to "unpack the dynamics and examine the relationship between interdisciplinary and intercultural dynamics and innovation." This year's returning course instructor was entrepreneur and investor Steven S. Gal '88 (Dyson), senior lecturer of management at Johnson and Cornell Tech. Gal encouraged the 38 participating teams to "start to build a better tomorrow—that's what innovators are doing and that's what entrepreneurs are doing."
The Future of the City—The Urban Lived Experience
This year's innovative hackathon theme was "The Future of the City—The Urban Lived Experience," which posed as a great challenge particularly due to the COVID-19 outbreak. Each team had to focus on the challenges that major cities around the world are experiencing and hack a solution by coming up with a business platform. The teams worked relentlessly for 36 hours as they battled for three top prizes.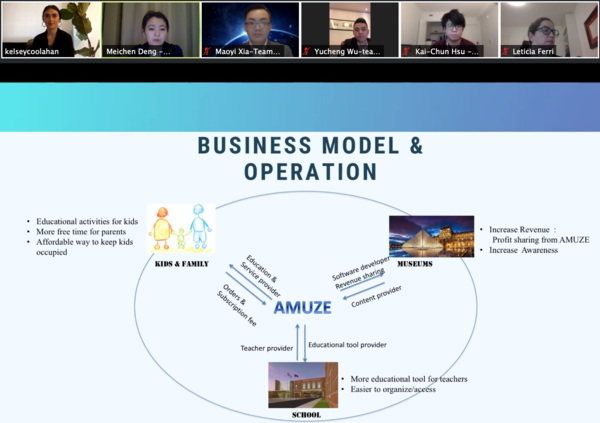 From brainstorming to making the final PowerPoint, students quickly learned how to work with people from around the world, some of whom they had never met before, resulting in powerful collaborations. Yaofeng Fu, Cornell-Tsinghua FMBA '21, (Team 4, 1st prize) felt that his team formation achieved an effect of "1 + 1 > 2" because of their diverse backgrounds.
During the night, when students in the United States were asleep, their Chinese team members continued the project and vice versa. After several hours of sleep, team members met again and continued their project discussions. Yuanyuan Zhang, FMBA '21, (Team 35) described her teammates as "focused, efficient, harmonious, and very responsible." She was excited about her own accomplishments, as well: "This was my first time working with international friends without other FMBA classmates. It challenged my physical and mental ability since I only slept for four hours," Zhang said.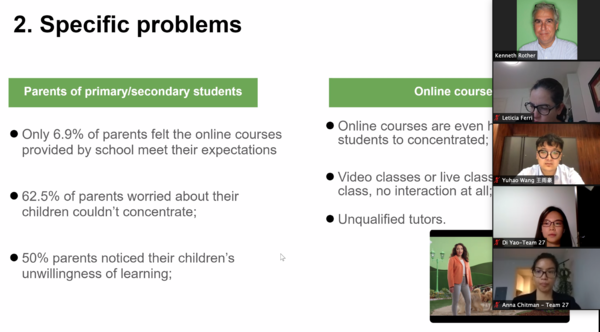 The topics presented by the 38 teams varied from online shopping to saving marriages in urban centers. Through their interactions, students learned about the project and each other. Yuchao Lu, FMBA '21, (Team 15) commented: "We have learned a different way of thinking from other students with different backgrounds and cultures. This hackathon experience will be used for life."
By Sunday morning, all the participants, judges, and staff members returned to the group Zoom meeting to find out the top-five finalists. Judges had a hard time choosing one winner per track since there were many great team projects. All the students were eager with anticipation in hopes that their own team number might be called—Gal announced teams 4, 12, 18, 31, and 37 as the judges' top choices for each track.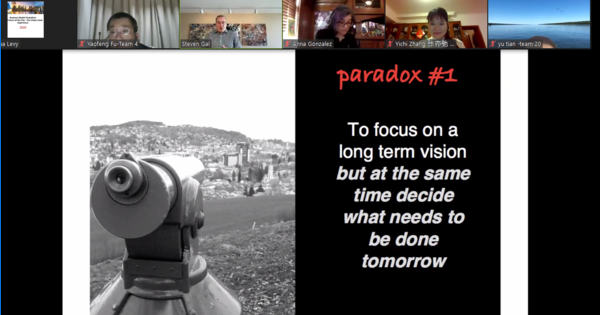 As Gal gave a lecture on innovation to all the students, the judges deliberated to determine the top three teams. Most of the hackathon's judges were Cornell alumni, and some remarked that they felt like they were back in the classroom and were thrilled to be part of the event. After the winners were announced, there was a wave of energy—everyone unmuted themselves and roared with excitement. Team 4 placed first and received the grand prize of $10,000, Team 12 won the $7,000 second-place prize, and Team 37 finished third, taking home $5,000.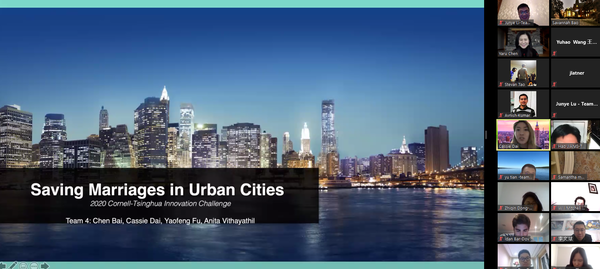 As she cheered for the winning teams, Chen congratulated everyone and reminded students that we live in a world where we are closely connected, and together we can build a better world. That sentiment was echoed by Rui Zhang, FMBA '21 (Team 34): "Even though we stay apart, we stand together as one," he said.
Ian Mukherjee, Johnson Cornell Tech MBA '20, (Team 12) summarized the event perfectly: "Working from across the globe was a great reminder that innovation comes from a diversity of backgrounds and perspectives. Especially during this COVID-19 pandemic, it's important that we connect and discover common threads that bring us together as people while celebrating our differences. The Business Model Hackathon allowed us to do just that. It was incredible seeing how creative and open we could be as a collective during a time when the world seems so isolated."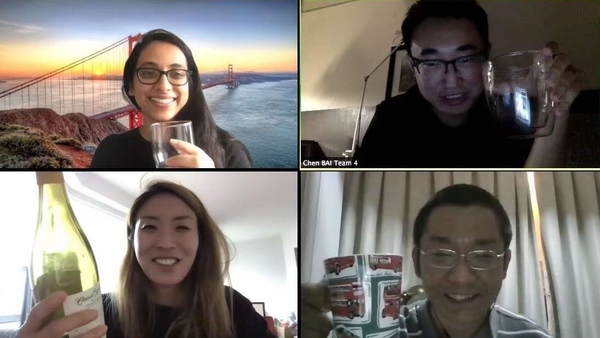 Hackathon participant reflections
Cassie Dai, Johnson Cornell Tech MBA '20 (Team 4)
"This was truly an amazing experience. Meeting and collaborating classmates from Beijing was wonderful, and I am really thankful to have had three amazing teammates as we contributed our strengths and efforts equally throughout the entire hackathon. I believe having a winning mindset and then working hard together to achieve that goal was the winning formula for us, and I hope this experience can inspire more Cornell students in the future to connect and collaborate cross-culturally."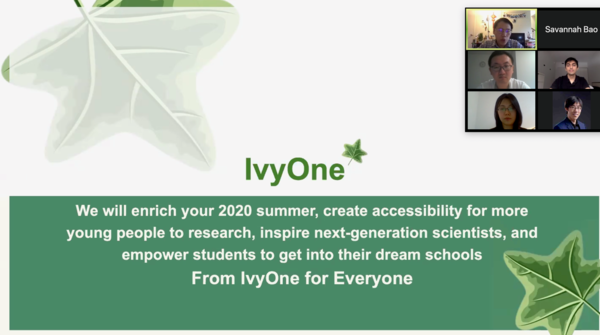 Zhiqin Dong, Cornell-Tsinghua FMBA '21 (Team 37)
"I am very happy to participate in this hackathon! I really like the creativity of our team, IvyOne for Everyone. During our team's first Zoom meeting we agreed upon the direction of online education. This is a business opportunity that is worth investing and will have significant user growth in the short term. The teamwork was very efficient and the competition was completed with ease and pleasure."
Yaofeng Fu, Cornell-Tsinghua FMBA '21 (Team 4)
"To make this event run smoothly, you must have spent a lot of energy and time to organize. Our overall experience was very good, and felt almost like an in-person event. Our team members' backgrounds (nationality, working experience, program, etc.) were very diverse. These arrangements are really important. It can achieve the effect of 1 + 1 > 2. …Our team didn't think much about the final ranking. After the event, we held a special meeting to celebrate, and learned more about each other. We will keep in touch and cherish the friendship that we forged throughout the hackathon event."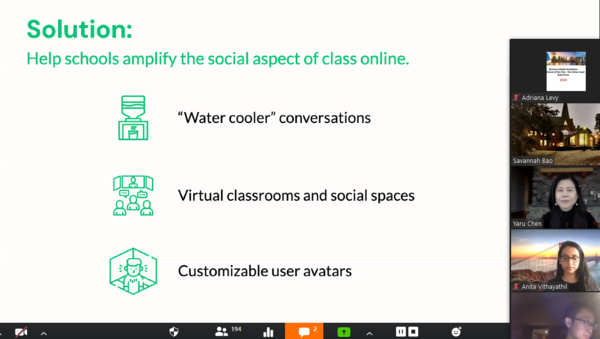 Junye Li, Cornell-Tsinghua FMBA '21 (Team 12)
 "This online hackathon experience was unique and fantastic. Although some of us were in different time zones with different cultures, we still brainstormed and cooperated with each other efficiently!"
Yang Liu, Cornell-Tsinghua FMBA '21 (Team 12)
"The hackathon was more interesting than I expected. Especially working with the Cornell Tech MBA program students, I feel that the team members were complementary. We learned a lot from each other. My teammates and I decided to meet up when I visit New York next time."
Anita Vithayathil, Johnson Cornell Tech MBA '20 (Team 4)
"I was not sure what to expect from this experience, especially since it was virtual, but I was surprised at how well we adapted. It was uniquely challenging but immensely rewarding! Going forward, I'm sure I will fall back on my learnings from this competition often."