Japan-Korea trek focuses on business strategy in wines and spirits

The Japan-Korea Experience in International Management made for a well-rounded trek, encompassing Seoul, Osaka, Kyoto, and Tokyo. I seized this opportunity to learn more about East Asian business culture.
I completed my pre-trek brief on North and South Korea relations to understand why these countries are where they are today and what the future will look like. I learned of the power and economic struggles and the role allies played in what was once one country only to come apart—the communist North and the democratic South. While there has been no formal peace declaration between the two, as denuclearization negotiations continue, a more peaceful relationship reigns today.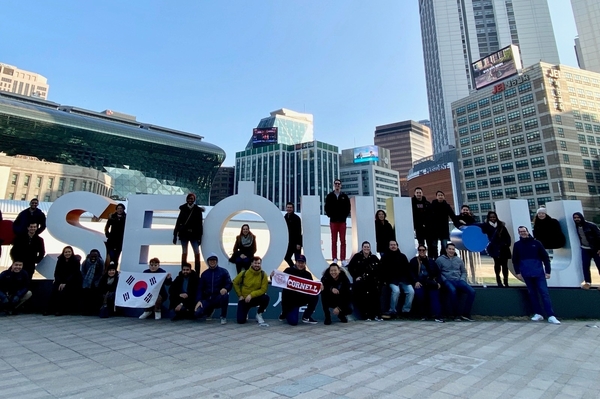 According to the Cornell Emerging Markets Institute's 2018 Emerging Multinationals Report, Korea is a top-20 emerging market (E20) with 16 companies in the Fortune 500 since 2005, trailing the United States and China, while still enjoying a disproportionate share relative to GDP.
Throughout the trek, I would delve into the history of Korea and Japan through its alcoholic beverages—a field of interest of mine since interning with Beam Suntory, a multinational spirits company founded in 2014.
Wines, "Gangam Style"
On the first day of the trek we visited  Koonsadong, a Korean distillery founded in 1962, whose name means "house of good yeast and good wines" and who's located in the affluent Gangam-gu neighborhood where the popular song "Gangam Style" was dubbed. Here I learned of nuruk, a yeast used to ferment wine from rice in Korea since 1800 BC.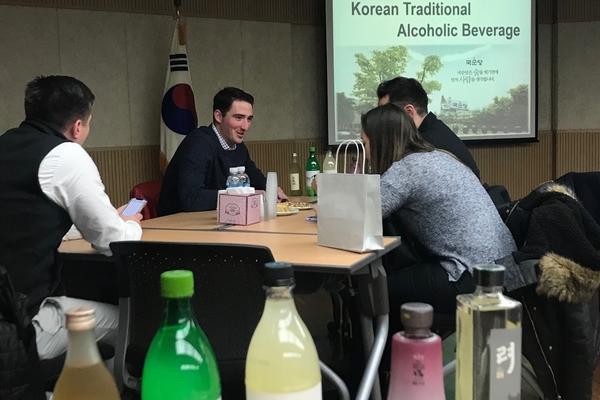 Korea's beverages have evolved, and palettes have expanded through economic development, from makgeolli and yakju to distilled spirits such as soju. Brewing methods and the type of nuruk heavily influence flavor differences. Fermented foods and beverages in Korea are known to provide health benefits (e.g., lower blood pressure). The company has accordingly sought to promote healthy drinking through traditional wines. Alcohol consumption, including in business settings, is part of Korea's culture, where drinks are not to be turned down when offered by a superior, nor is a glass to go empty.
Kansai to kanpai
From Seoul, we flew into Kansai International Airport to spend the evening in Osaka, where we enjoyed Japanese style pancakes (okonomiyaki) for dinner before venturing into the nightlife.  As soon as we commenced the dining and nightlife of Japan, I noticed that highball was present on every drink menu, a cocktail typically made in Japan with Jim Beam bourbon and soda water, a refreshing alternative to beer, to be enjoyed throughout a meal and into the evening due to its lower alcohol content (one-third whiskey to two-thirds soda).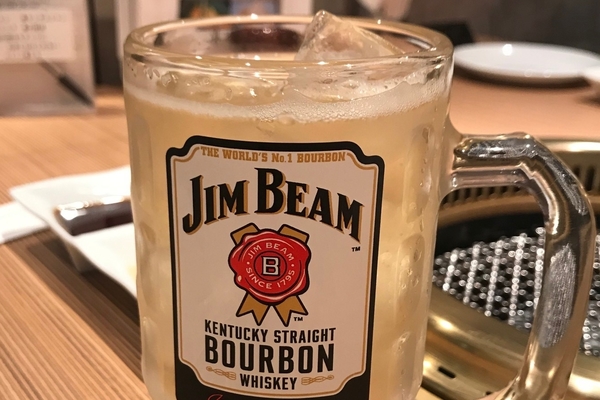 This drink was the key cocktail strategy for the Jim Beam Black brand I worked on over the summer at Beam Suntory, where Japanese experts on staff would educate employees, consumers, and trade members about the beverage to boost its popularity in the United States. Its presence was seen everywhere, toasted with "kanpai," meaning "cheers" in Japanese.
Presenting business ideas in emerging markets and beyond
On our final day of programming we visited Cool Japan Fund, a venture capital firm based in Tokyo. The firm touts $947MM in investments across media and content, food and beverage, lifestyle/fashion, and inbound tourism sectors. We first learned of the company's current investments, such as alcoholic beverage companies like East Meets West Fine Wines and Winc for Japanese sake sales in China and North America respectively. Their goal is to bring "Made in Japan" brands to the world, with a special focus on luxury wines and sakes.
Following this presentation, classmates presented new business ideas related to alcoholic beverages. Japanese "White Claw" was pitched due to the high growth of hard seltzers, with ideas for marketing creatively to college students of legal drinking age to maximize profitability within a short timeframe. Likewise, an upscale craft sake was proposed in East Asian markets close to Japan to maximize the 60-day shelf life, but also in the United States, in tandem with fresh fish shipped to top restaurants daily.
While Japan is not considered an emerging market, the country's economy has slowed due to high consumption taxes and an aging, largely homogenous population, leading to labor market shortages. Government intervention to stimulate immigration has become a priority. For Beam Suntory's brands, the Japanese market has become saturated. It now looks to shift its focus to high-growth emerging markets such as China and India.
I am grateful to the Emerging Markets Institute for generously supporting my funding and my education as I aim to contribute to the growth of wine and spirits brands in emerging markets and beyond.