A first-hand look at the African economy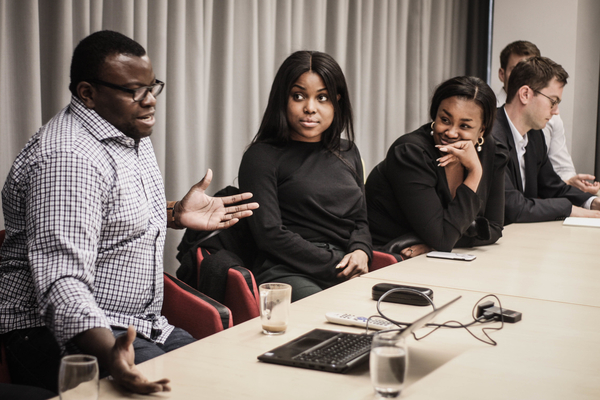 Even before this year's Africa trek, the African continent had been no stranger to me. Prior to business school, I lived and worked in Port Elizabeth, South Africa as a Fulbright scholar. I taught English in a secondary school in Walmer Township. Years earlier, I studied political science at the University of Cape Town in the midst of my undergraduate career. Together these extensive experiences both as a student and teacher in South Africa deepened my knowledge of the culture, history, and society of which I became extremely fond. With the Africa trek (supported by the Emerging Markets Institute) it all came full circle, yet from a wholly new starting point: the lens of business, lending novelty once more to a place so familiar.
Visiting Yum! Brands in South Africa
We began at the southern end of the continent where one of my most insightful experiences would take place during a corporate visit to the headquarters of Yum! Brands, the parent company of Taco Bell, KFC, Pizza Hut, and The Habit Burger Grill.
As a previous community member living in South Africa, I found that KFC was a local staple. It was the only restaurant that my students living in the township would ask for as their monthly treat, and it was also the only restaurant franchise I saw located deep within. The perception of KFC in the United States is that it is casual, fast food, and accessible, if not less than desirable. Its positioning in the South African township, however, is of luxury, known as a place for special occasions where families dine in or celebrate.
The penetration of KFC on the African continent is especially strong in South Africa, seemingly never more than a few blocks from us at any point in time. Catered to the local taste, its menu features a higher spice content (zinger), pap, and chili spice on fries. In my opinion, this flavoring is far better than the U.S. menu—to me, South Africa touts the world's best KFC. However, I noticed that upper-middle-class and upper-class consumers were more likely to eat Nando's, Steers, or even McDonald's instead. Indeed, high-income groups seem to consume KFC only as a late-night option, a dynamic that prompted me to consider a range of questions around KFC's market share strategy. The restaurant could offer high-margin items, including healthier options such as grilled chicken sandwiches and rice, or expand their menu with desserts and more.
Room for entrepreneurial growth in Ghana
We turned next to Ghana, where the ripeness of the economy proved especially insightful. I enjoyed hearing about the many young entrepreneurs within the diaspora moving back to Ghana to start businesses. The Ghanaian economy is becoming the fastest growing economy in the world—a window into how the continent is emerging as a formidable power in commerce. With high smartphone penetration, young populations, and growing middle classes, countries like Ghana, Rwanda, Nigeria, and Kenya are on the heels of South Africa in asserting a place of their own on the economic stage. U.S. companies, like food delivery service or electronic payments, which Americans largely take-for-granted, are still novel to Ghana and many countries surrounding it. This means that entrepreneurs can duplicate preexisting, successful models in an iterative fashion, avoiding the risks that many start-ups would face and reaping rewards within a short timeframe. Ghana is now within reach, in my view, of a major leap toward full development within this generation, if not the next; a future I intend to follow with great interest throughout my own career.
Our visit to Ghana would coincide with the Year of Return, Ghana 2019, a global recognition of the 400th anniversary of the arrival of Africans in the English colonies from the Ghanaian coast. In its memory, tens of thousands of descendants across the diaspora, including Africans living in Europe, the Americans, and the Caribbean, as well as Africans from across the continent, gathered in Accra, Ghana's capital, in the month of December. In honor of the "return," members of the diaspora visited cultural landmarks, concerts, and festivals—a wave of tourism that brought substantial economic revenues for local businesses, hospitality establishments, and the treasury. It likewise amplified the buzz around what is now the fastest growing economy globally, debunking myths around its potential for development.
Still, the infrastructure was not suited for the quantity of patrons who visited nightclubs and festivals, resulting in long lines and unsatisfied customers. Accra is accustomed to seeing this quantity of tourists only during the month of December, but it would behoove business leaders to open up high-capacity venues for seasonality to be converted for other purposes throughout the year. The same goes for holiday rentals. Airbnb has yet to show a marked presence in Accra, leaving those who opt not to stay in hotels to hire realtors to find vacant apartments for short-term rentals. A localized and trustworthy digital platform could streamline this process for those visiting from abroad.
What does the future hold?
We often hear that in Africa lies the future of business. After participating in the Africa trek, I could be no more certain of this fact. And yet, as we look to the continent for opportunity, we must not lose sight of the imperative to empower local entrepreneurs and business-minded individuals to reverse many of the economic oppressions that have stifled the continent thus far. Social entrepreneurship and impact investing are dynamic sectors thriving in countries like Ghana and South Africa. I am hopeful for the growth still to come and for all that has already come, which is now here to stay.