How the global pandemic changed a small business in a big way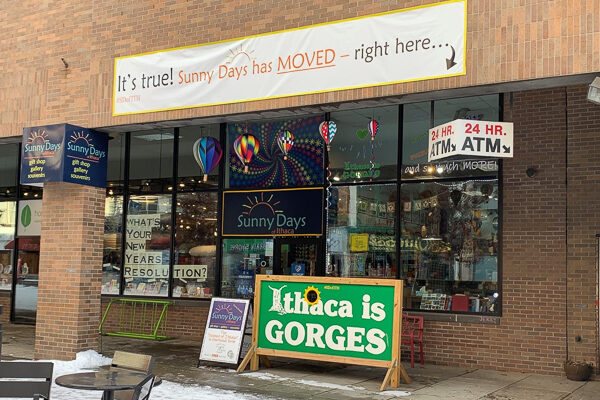 By Aurora Banuelos, Two-Year MBA '21, and Matt Sturgeon, Two-Year MBA '21
As members of Big Red Microenterprise (BRM), a student-run organization that partners with the Center for Sustainable Global Enterprise to support microbusiness, we had the opportunity to work with a local Ithaca business during the first year of our MBA program. We were paired with Sunny Days of Ithaca, a gift shop filled with unique and local souvenirs, crafts, gifts, and artisanal items that capture the essence of Ithaca and cater to tourists and local residents alike.
Getting started: Creating a plan to increase sales
When we first met with the store's owner, Dierdre Kurzweil, she explained the journey of her business from the beginning. This helped us understand her motivations for starting the business, how it had grown and evolved, and what challenges it was currently facing.
Sunny Days of Ithaca opened in 2014 across from the Tompkins County Public Library and recently relocated to the Ithaca Commons. The move was meant to attract more foot traffic and sales among tourists in the warmer months and early fall and Ithaca residents during the colder months. Kurzweil found that the Commons location was ideal for bringing in lots of tourists, but the local residents that had once frequented the store began to decline after the move. Moreover, the ongoing construction on the Commons did not help matters, as it often appeared as though the store was closed for weeks at a time.
Kurzweil initially asked the BRM team to explore ways in which she could grow revenues through new marketing options. She also wanted to expand her ecommerce site to be able to provide uniquely Ithacan gifts to those who had moved away. With these ideas in mind, we set off to explore possible strategies for growth. To start, we focused on developing a plan for creating sales targets that focused on either increasing foot traffic or encouraging existing customers to buy more items. We also thought about experimenting with store layout and product placement to highlight popular items. But, before we could even present these ideas, the COVID-19 global pandemic changed the business landscape in a big way.
Pivot: COVID-19 brings a new reality
As Sunny Days was forced to close its doors during the early months of the pandemic, we contacted Kurzweil to understand what was happening with the business. Facing the possibility of permanently closing, she asked if we could help her think through what this would mean and how she could pivot the business to continue without a physical storefront. To make an exit strategy easier, we created a checklist of things to consider, such as break-even goals, financial obligations, vendor relationships, inventory storage, costs of vacating the physical store, and public communications about the closing. Our hopes were that a checklist would ensure that important issues would be addressed, and nothing would fall through the cracks during a time that could be very overwhelming and rapidly changing.
We also provided best practices for bolstering ecommerce sales. Sunny Days had a website where customers could shop online, but sales were low. With the global pandemic and the physical storefront temporarily closed, developing an effective ecommerce site became a necessity rather than a way to bolster in-store sales. We recommended enabling guest checkout, using a "suggested products" feature, and sending emails to "abandoned cart" owners to promote sales. We also suggested providing more detailed product descriptions and highlighting buttons—"Shop Products" and "Add to Cart"—to make the online shopping experience more user friendly. Lastly, we recommended utilizing the store's Facebook following to drive customers to the website and creating blog or using Facebook posts to market the products available on the website.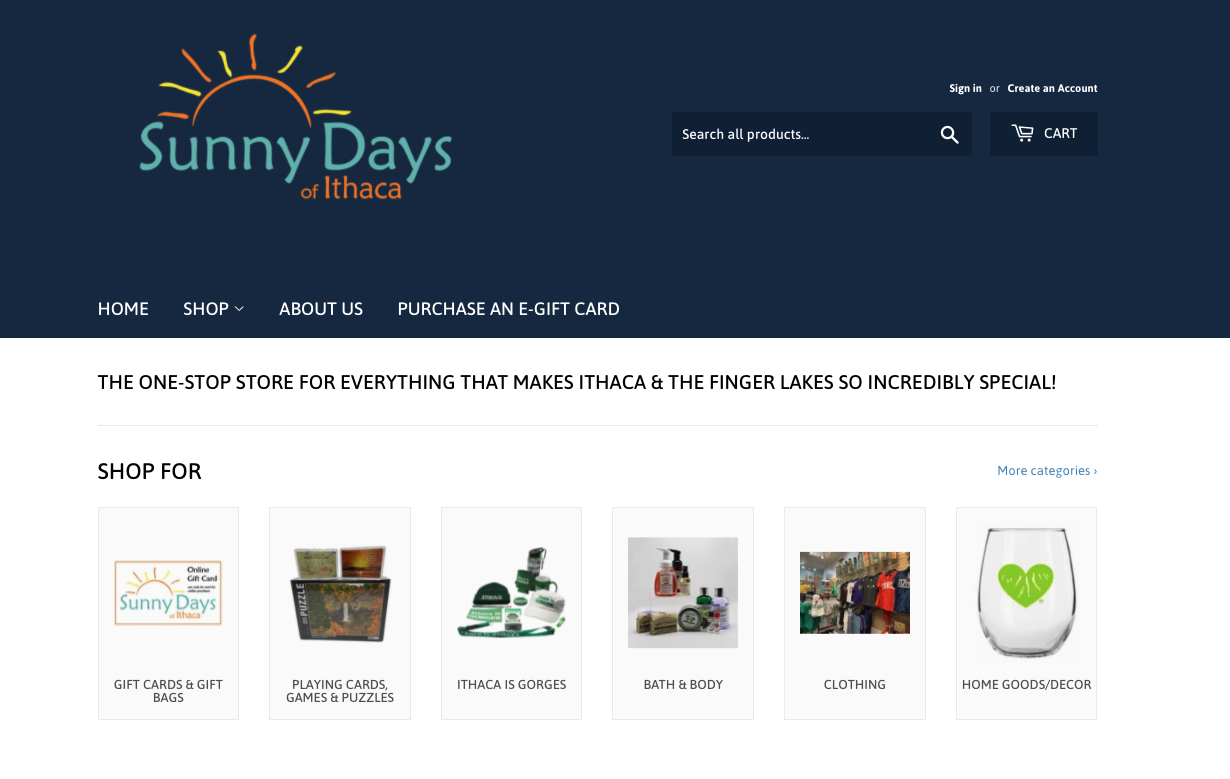 Reflection: Adaptability, reinvention, and experimentation
All in all, this coaching and advisory opportunity with Sunny Days made us realize that there will always be twists and turns and ups and downs when it comes to running a small business. While Kurzweil shows incredible passion for her business and the local community, external factors often forced her to change the way she does business. Marketing initiatives and long-term strategies can be difficult when the business environment is constantly changing. However, we quickly learned that adaptability, reinvention, and experimentation can deliver results.
We would like to thank Dierdre Kurzweil and Sunny Days of Ithaca for giving us the opportunity to learn and contribute to her business. With Kurzweil's ingenuity, creativity, and business savvy, we have no doubt that Sunny Days will persevere and be around for years to come! If there is anything Sunny Days has taught us, it is to keep moving forward because sunny days are ahead.