Student perspective: One Africa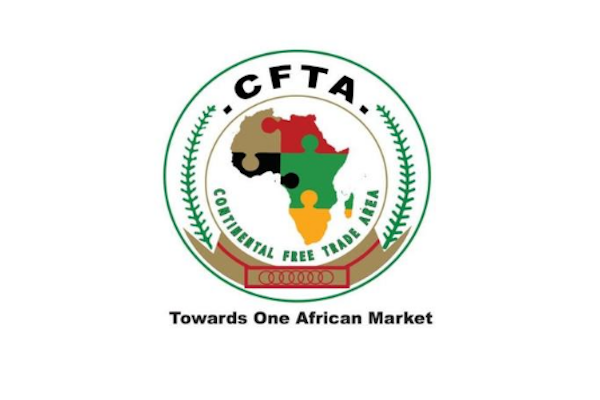 Moving to North America at the age of six, it would not take long before I lost touch with my African roots. I reconnected while spending a summer in one of the world's least visited countries, Equatorial Guinea, where I interned for Marathon Oil, the American petroleum and natural gas exploration and production company. Working in the oil industry in a petrostate was a fascinating experience and I continued to pursue this interest in business and geopolitics at my first job with Deloitte serving clients that included the IMF.
While at Johnson, my semester abroad in Paris would lend me the opportunity to engage with both professors and students on French-African relations and also development officials at the Organisation for Economic Co-operation and Development through Cornell's Emerging Markets Institute. In this article I hope to shed light on new horizons and new possibilities with and for the continent.
Try a new perspective: Africa is rich
The world is no stranger to the continent's potential, but Africa's abundance of natural resources, which include oil, gas, timber, diamonds, gold, platinum, bauxite, and many others, has also proven a curse. As I laid out in this article about the CFA franc, while responsibility for the recent mass migration to Europe and the further persecution of Black people around the globe lies in the hands of its leaders, we cannot ignore the fact that the growing global demand for raw materials that originate in the continent source its supply through trade practices analogous to those of the colonial era.
On the surface, the story is simple: profits from exploitation of these resources are largely owned by foreign, private corporations. Only about 100 companies listed on the London Stock Exchange control an identified $1.05 trillion worth of assets on the continent in just five commodities—oil, gold, diamonds, coal and platinum—according to a 2016 report by a UK-based NGO, War On Want. Regional government access to these pillars of economic growth could finance the current infrastructure gap estimated to be in the range of $67.6–$107.5 billion per year, according to the African Development Bank, even before moving forward with economic reformations.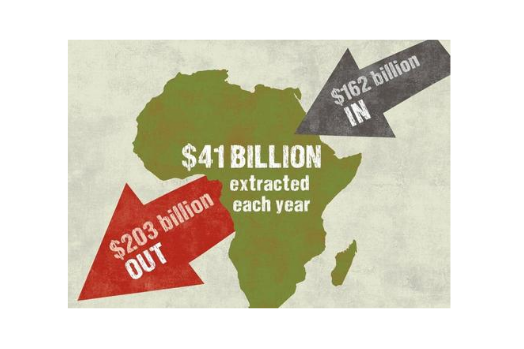 Consumers will pave the way
Against a mounting tide of nationalism around the globe, Africa is taking a stance against trade wars and deglobalization by ushering in a free-trade pact. The African Continental Free-Trade Area (AfCFTA), once implemented, is set to become the world's largest continental free-trade zone since the creation of the World Trade Organization in 1994, grouping 1.3 billion people in a $3.4 trillion economic bloc. Before considering the implications of the deal for the development of the continent, it is crucial to highlight Africa's position in the global economy. Today, it accounts for 17 percent of the world's population, but only 3 percent of global GDP. What's more, it is the fastest growing population in the world, with more than half of global population growth expected to occur in Africa between now and 2050, according to the United Nations. The population of sub-Saharan Africa alone will double in the next 30 years, implicating a significant increase in consumption, all of which, in conjunction with an increase in trade within the bloc and population growth could power the continent's shift to increased value-added production.
A considerable amount of the goods sold in Africa are imported
Most of Africa's international commerce still lies with global trading partners. Since the mid-90s, intra-African exports as a percentage of total exports increased by a mere 8 percent and currently stands at 18 percent, compared with 20 percent in Latin America, 59 percent in Asia, and 69 percent in Europe, according to the Brookings Institute. Indeed, trade with developed economies, often facilitated through agreements, has historically been privileged due to the high costs of regional trade.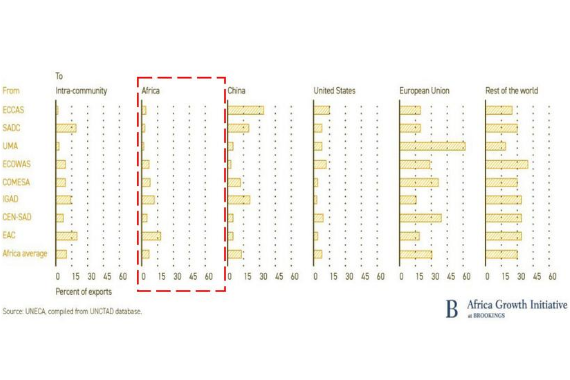 It is said that new trade agreements would not guarantee trade, but provide new incentives. As shown above and below, the potential for African trade is immense. Increased cross border trade would enable countries to specialize in specific manufacturing, potentially giving rise to continent-wide supply chains.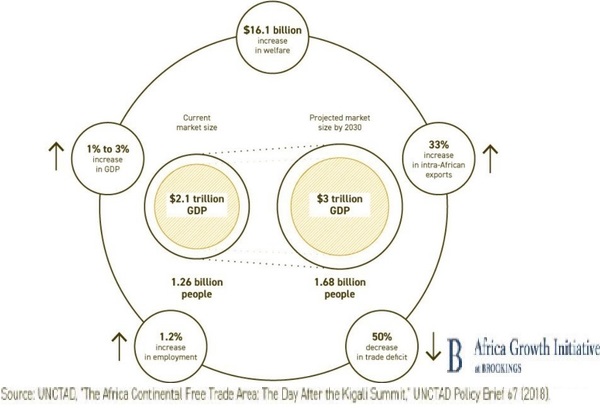 Agriculture, infrastructure, and healthcare as the most beneficial sectors
Agriculture is a major focus area for growth in Africa. It is true that the level of food import dependency varies across African states, but with 60 percent of the world's arable land, it is remarkable that the continent's food import bill is slated to rise to $110 billion by 2025, further weakening African economies.
Take Nigeria for example: In 2013, it produced 65 percent of tomatoes in central Africa, but also stood as the largest importer of tomato paste from global trading partners. The country was second in the world in citrus production, but according to the Minister of Agriculture, its grocery stores were filled with concentrated, imported fruits. Although AfCFTA is expected to play a crucial role in meeting the demand for food on the continent, each state should reconsider its food import policies. In 2019, in a move to increase local content, President Muhammadu Buhari directed the Central Bank of Nigeria to block foreign currency requests by food importers. While domestic production increased, the policy was criticized for not considering the low capacity of local farmers and the immediate shock to supply.
Another measure underway includes the formation of a chocolate division of OPEC by Côte d'Ivoire and Ghana, both of whom collectively produce two-thirds of the global cocoa supply. This initiative is expected to raise the cost of candy bars, ice cream, and cake worldwide. "COPEC," as it is being dubbed, is highly supported by the world's biggest cocoa users including Hershey Co., Mars Inc., and Mondelez International Inc. in efforts to boost the income of  farmers exploited for several years. While this is a step forward, governments ought to focus on local processing and consumption to build up revenues and employment. For instance, the government of Côte d'Ivoire, as part of focused efforts to build value, introduced tax breaks for grinders and producers in order to achieve its 50 percent target for locally processed cocoa. The same model should be followed by neighboring countries to boost local processing of all raw materials.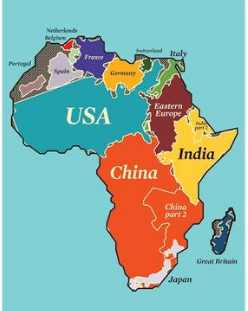 Now, to diversify away from hydrocarbons, African petrostates could produce three times more cereals, grains, and livestock with an intensified agricultural focus, according to McKinsey. Likewise, growth in sectors such as agriculture combined with the opening of borders for free movement of goods and people could spur the construction of roads and railways, reducing the infrastructure gap. Not to mention gains in the healthcare sector, it may prove just as significant as agriculture's, given the bloc accounts for 25 percent of the pharmaceutical market but produces only 2 percent of what it consumes.
COVID-19 implications
Now as ever, the pandemic has exposed the urgent need for supply chain reconfigurations across the continent, including toward a generic drug industry. While this pact has the rare political backing from 55 states, its implementation could face delays due to the spread of the coronavirus. As of June 1, 2020, the continent has recorded 146,794 confirmed cases and 4,224 deaths in over 45 countries. But many questions remain regarding the testing capacity of the poorer states. Even with these modest numbers, the World Bank's latest Africa's Pulse report indicates that economic growth in sub-Saharan Africa will decline from 2.4 percent in 2019 to between -2.1 and -5.1 percent in 2020 as result of the pandemic—projections that will depend on measures taken to curb the spread of the virus. While this is likely to be the first recession on the continent in over 25 years, a swift recovery is expected in 2021.
Much progress has been made toward the ratification of the AfCFTA, and much remains to be done before African countries can fully trade under the new system. This agreement will add incentive mechanisms to boost the local processing and consumption of raw materials. Phase 1 of the agreement, which includes protocols on goods and services, is now in effect. However, a final round of tariff negotiations on investment, competition policy, and intellectual property rights, considered to be the most important to the deal, was meant to take place in May 2020, but was postponed until December 2020. These discussions are still at their infancy stage, but will continue in January 2021, all in the name of one African market, expected to be fully implemented by 2030.