Welcome to the Pillsbury Institute for Hospitality Entrepreneurship Virtual Kick-Off Event!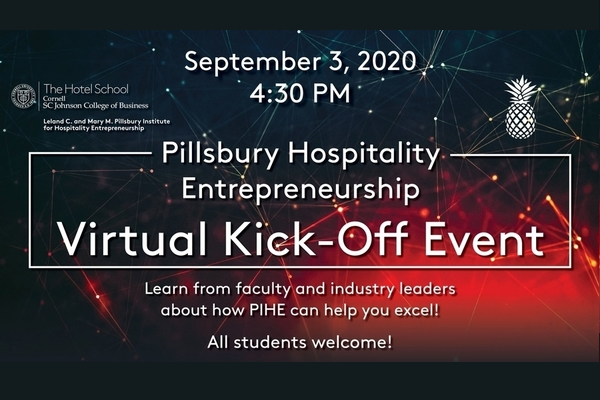 The Pillsbury Institute for Hospitality Entrepreneurship (PIHE) held its annual Kick-Off event online this year, due to the current health pandemic. Hosted by Pillsbury Institute board members and affiliates and faculty from the School of Hotel Administration (SHA) at Cornell's SC Johnson College of Business, the event allowed hosts to introduce PIHE's main programs and opportunities while keeping social distance to protect organizers and participants. Invited guests included Cornell students, faculty members, and staff from across the university who are interested in learning more about advancing their entrepreneurial journey as hospitality entrepreneurs.
I was excited to attend this event. I started a business in high school, and since then have wanted to continue my working as an entrepreneur. This event was a great opportunity to learn more about the professional team supporting students pursuing entrepreneurship at Cornell. The Kick-Off event gave students like me, who are eager to know more about the team members and programs, a great introduction.
Entrepreneurs in Residence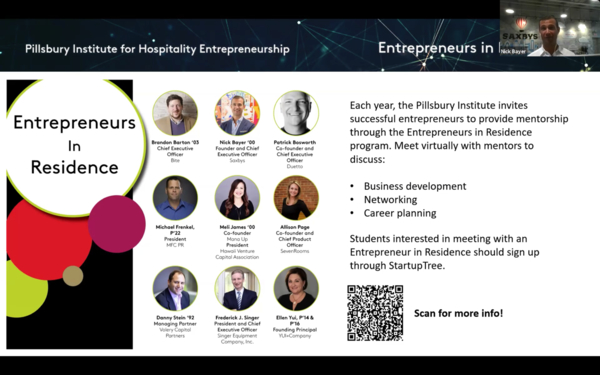 During the event, Pillsbury academic co-directors, Professors Linda Canina and David Sherwyn introduced the main programs and competitions, including Entrepreneurs in Residence (EIR). This is the one I am most interested in. EIR provides Cornell students a chance to meet with an established entrepreneur and receive guidance on how to successfully start a business. I joined this program when I transferred to Cornell University last year and was able to schedule time with several industry leaders. These meet ups taught me so much as it broadened my vision and gave me a peek at what it's like to be an entrepreneur in the world of hospitality. This week's Kick-Off event provided me with an even more comprehensive view of what the EIR program has to offer and I am looking forward to making use of these opportunities.
C&I Internship Program
Another noteworthy opportunity was explained by Jackie Doyle, the Director of Career Management for SHA. She introduced the new C&I Internship Program that is a joint program from Career Management, PIHE, and the rest of the centers and institutes at SHA. This year, there will be new internship opportunities provided by PIHE's Advisory Board Members. Students can apply to work as interns in well-known companies leading the hospitality industry. Internships usually last 8-10 weeks during summer break, and may include 2-6 weeks during winter break. This time in the workforce help students explore positions that they might be interest in pursuing in the future, and helps them build their resume.
The Experiential Networking Program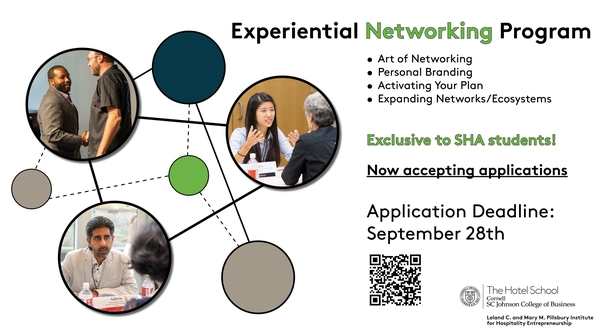 The Experiential Networking Program is yet another helpful way PIHE supports students. This program teaches students how to better their networking skills by introducing them to an industry mentor. What attracted me most about this event were the Four Key Modules introduced at the end: The Art of Networking, Personal Branding, Activating Your Plan, and Expanding Networks/Ecosystem. Together, these modules provide knowledge and training in necessary skills useful in business and social interactions. The programs offered often intersect. For example, a student may find an available internship position in the C&I Internship program. After learning and practicing the four key modules, the students will have a better chance of communicating successfully with the interviewer and hopefully receive an offer from the targeted company. As a junior this semester, it is time for me to search for an internship of my own. Taking advantage of these programs will certainly make my search a bit easier by helping me to find opportunities in my field of interest and to be more confident in my interview.
Finally, PIHE provides students with interactive competitions and hackathons to hone presentation and teamwork skills. The Hospitality Business Plan competition, the Hospitality Pitch Deck competition, and the Hilton Hackathon are specifically designed for Hotelies in mind and Hotelies are welcome to include students from throughout the university's colleges.
See a full recording of the event here. More information on what PIHE has to offer can be found on The Leland C. and Mary M. Pillsbury Institute for Hospitality Entrepreneurship webpage.
Author: Bocheng Zhu '23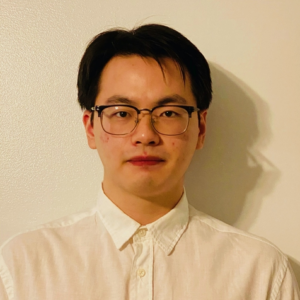 Bocheng Zhu is an international transfer student at the School of Hotel Administration at Cornell, and is originally from China. Prior to transferring to Cornell, he completed his Associate Degree at the Culinary Institute of America, and also worked in hotels and several Michelin Star restaurants. Focusing on improving his general management skills, he transferred to Cornell to study hotel management. He is a member of Hotel Ezra Cornell and SHA Hotelie Entrepreneurs, giving back to the Cornell Hotelie community.