Student perspective: What I learned from my virtual internship
Internships in the time of COVID-19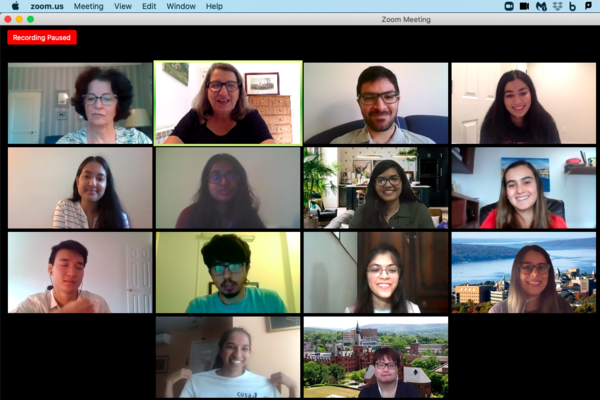 One day in early June, almost three months after I was abruptly sent home from college due to the COVID-19 pandemic, I found myself waiting nervously in front of my laptop screen for the first day of my virtual internship as a research intern for the Emerging Markets Institute (EMI) at the Cornell SC Johnson College of Business. At precisely 10 a.m., I smoothed down my sweater, ran my fingers through my ponytail, and clicked the "join" button with some trepidation. As I was introduced to each member of the EMI team, I was immediately struck by how truly international the EMI team is. Colombia, Brazil, India, China—it truly felt like all the emerging markets were represented. Soon after, I received my first task, and the biggest project of my internship: an exploration of emerging markets milestones.
Emerging markets milestones
Starting with the 2009 recession and ending with the COVID-19 pandemic, the 2010s have been an interesting decade for emerging markets. As I started researching the greatest achievements of emerging markets—a heartening exercise in the midst of all the negativity and hopelessness of the pandemic—I came to the realization that many of the E20, or the top 20 emerging markets as defined by GDP nominal, were victims of the famed curse of Sisyphus. As the story goes, Sisyphus was tasked with moving a boulder to the top of a mountain, only to have it roll back down again, thus keeping him in the cycle for eternity. Emerging markets are plagued by the same fate: They make slow but steady progress for a few years, rolling the "boulder" up the mountain, improving the quality of lives for their citizens, until a fresh crisis sends them back down again, demoralized and demotivated.
Brazil and Turkey, for example, had an extraordinary first half of the decade, with the former making great strides in poverty reduction and the latter in GDP growth. However, Brazil suffered a crippling recession in 2014 and the Turkish lira started plummeting against the dollar. Such is the story of many emerging markets.
But my research filled me with hope, because even for the emerging markets that had performed the worst economically, their scientific, social, technological, and cultural milestones showed progress. Argentina, which has been suffering from bad monetary policy, launched the first geostationary satellite built in Latin America. Nigeria, which has dealt with extreme poverty and insurgency, became home to a booming tech hub and joined the African Trade Agreement, the launch of which was a major step for the continent. And some countries have done so exceptionally well that they might be ready to graduate from the "emerging markets" category altogether—namely South Korea, China, Poland, Chile, and Indonesia.
Along with my research, I contributed to EMI's social media presence by providing information for a milestones series, which featured a different emerging market every week. This provided me with the opportunity to learn more about digital media, marketing, and design, rounding off my internship experience perfectly.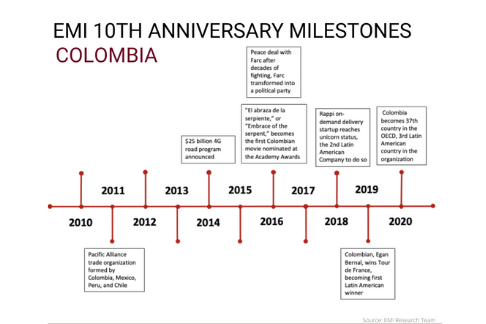 The big—and small—picture
One of the things I most enjoyed about my research was that it led me to meet all sorts of people from around the world, all of whom were eager to help me because of our mutual connection with EMI. My partner Andrew Lim and I tried to speak to as many representatives of the emerging markets as we could. I spoke to students, professors, and businesspeople from Argentina, Colombia, India, Brazil, Nigeria, South Africa, South Korea, China, Mexico, Russia, and more. By the end of all my Zoom interviews, I was proud to declare myself a professional at calculating time zone differences.
Other than these magnificent video conferencing skills, one of the biggest lessons I learned from this experience was to seek out different perspectives. The media, and our Western view of the world, will always come with its own set of biases and assumptions about other countries. And reporting always leans towards the negative, highlighting sensationalist stories and terrible tragedies.
While these stories are important and need to be heard, it is so important to also remember, especially in these times, that there are always good things happening in the world. When I spoke to a Nigerian citizen, he didn't tell me about Boko Haram—he spoke proudly of the Nigerian music industry that has been gaining popularity worldwide. My contact in Mexico spoke of the country's achievements in the arts, producing some of the world's best ballerinas and opera singers, and a student from Colombia proudly described the country's victory at the Tour de France.
Although they may seem trivial when placed next to international trade agreements or peace deals, in my opinion these achievements are just as important. They represent the day-to-day picture of the vibrancy of each individual country and region, giving importance to the people themselves rather than reducing them to a single mass, important only for political reasons. That's not to say that the big picture doesn't matter—but the smaller achievements are also important.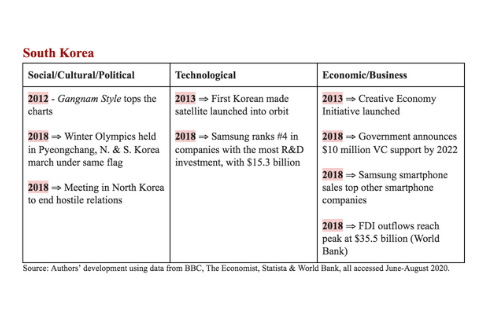 Most interesting milestones
Over the course of my project, I came across many interesting facts about the E20. Below are just a few of the milestones, big and small, that I most enjoyed researching.
2010 ⇒ Russian physicists are awarded the Nobel Prize for their research on graphene, the world's thinnest known material.
2011 ⇒ China becomes the world's second-largest economy.
2012 ⇒ "Gangnam Style," a runaway hit by South Korean artist Psy, tops the charts and gains widespread popularity across the world.
2016 ⇒ Colombia's historic peace agreement with Farc ends decades of violence and gives the group a place in the country's political landscape.
2017 ⇒ Chile's ALMA Telescope Array plays a crucial role in obtaining the first "image" of a black hole.
2018 ⇒ The African Free Trade Agreement is signed by 44 African countries.
2018 ⇒ China pledges to invest $14.7 billion in South Africa, including financing for infrastructure projects.
2019 ⇒ A Rice Tariffication Bill is passed in the Philippines, removing rice importation quotas and adding tariffs to boost the supply of the staple crop.
2020 ⇒ India is ranked the fifth largest economy in the world by GDP nominal, according to World Bank data from 2019.
Other Projects
Along with the milestones project, I was involved with other tasks as well, including ranking the E20 and editing videos. Helping out with a variety of projects allowed me to gain a wide set of skills and work with many different people.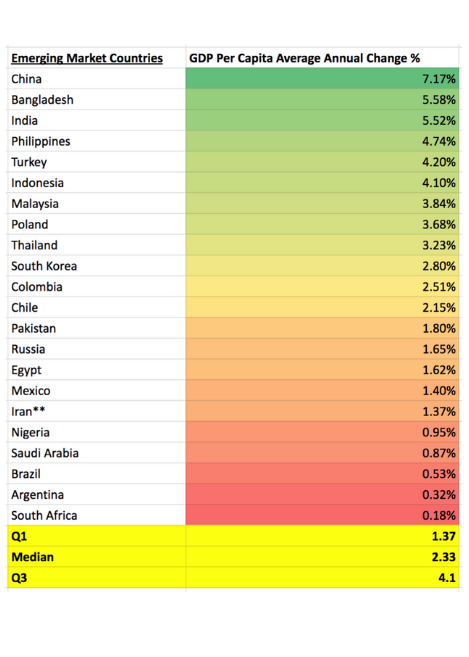 My fellow intern Andrew and I were tasked with finding the most rational formula to rank the E20. In our exploration, we used data manipulation and analysis to choose the factors and weights we would use in our system, ultimately settling for a four-star ranking method calculated from GDP growth and poverty reduction data.
My tech skills are woefully inadequate, so I jumped at the chance to improve my video editing abilities for the EMI 10th Anniversary video series. In the process of listening to experts speak about their fields of study, I was able to absorb even more information about emerging markets to help with my milestones project, as well as network and make invaluable connections.
Looking back and looking forward
"Looking back and looking forward," the EMI 10th Anniversary slogan, perfectly describes my own experience of the virtual internship. I spent much of my research looking back at the histories of the E20 at a time when there is so much uncertainty looking into the future. If the experience taught me anything, it taught me the strength and resilience of the human mind. Even when faced with economic decline or military warfare, the emerging markets I studied continued to innovate, increase access to technology, and even reduce poverty and violent conflict. Similarly, when kept away from friends, family, and work during a global pandemic, we have adapted extraordinarily quickly, using modern technology to stay connected even while we are apart. I've completed an entirely virtual, distanced internship this summer. To think I have never met any of my fellow interns or mentors seems ludicrous, because the relationships I've built and the skills I've gained are lifelong, whether acquired through a computer screen or at a café table.
About Mihika Badjate, Cornell A&S '23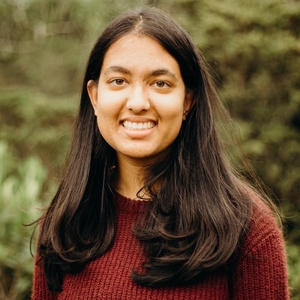 Mihika Badjate is a rising sophomore in Cornell University's College of Arts and Sciences and was an Emerging Markets Institute summer 2020 intern. She plans to major in economics. Mihika also writes for the Cornell Daily Sun and volunteers with Asha Cornell.