Camp Earth Connection optimizes online presence to reach outdoor enthusiasts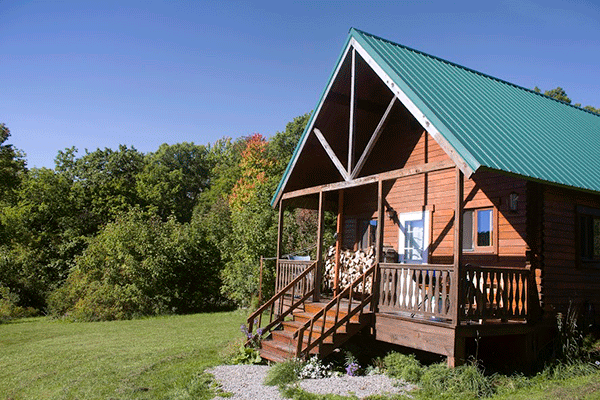 By Brittany Iwata, Two-Year MBA '21 and Lizzie Kaplan, Two-Year MBA '21
Camp Earth Connection, a campground and retreat center based in Freeville, N.Y., just outside of Ithaca, approached Johnson's student-run Big Red Microenterprise (BRM) looking for ways to expand its marketing efforts to enable sustainable long-term growth.
Over the past few years, the camp transitioned from operating as a youth summer camp to offering vacation rentals in the form of cabins and campground facilities to groups and individuals. Susan Rausch, the camp's dedicated owner and director, serves local and international visitors seeking an opportunity to reconnect with nature and enjoy outdoor recreation in an alcohol- and drug-free space. Despite the camp's strong reviews on Airbnb for the more popular cabin rentals, there was an opportunity to drive awareness and increase reservations for other rental offerings such as the primitive tent and camping sites.
Escaping into nature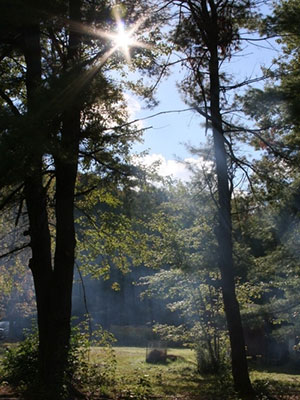 When we started the project, we felt it was important to learn about the camp's history and Susan's future goals. While Camp Earth Connection has run youth camps and women's retreats in the past, Susan wanted to focus our work on increasing awareness of the camp in order to maximize reservations for the upcoming summer season. The more we spoke with her, the more it became obvious that warm hospitality and the stunning landscape needed to be central to the camp's story. From there, we did some market research, diving into Airbnb, Google, and website reviews to understand what guests were saying about their stay. All of these pieces came together in understanding Camp Earth Connection's target audience: outdoor enthusiasts looking to escape into nature. With this in mind, we worked with Susan to craft a position statement that would serve as the backbone of our marketing efforts.
Strengthening online presence
Understanding who the camp served allowed us to advise Susan on how to strengthen her Airbnb listings, website, and social media presence to better reach that target audience. We helped Susan address little details such as making sure the right keywords were being used to drive traffic to her Airbnb listings and selecting the best photos to highlight each rental property. We even conducted a page-by-page audit of her existing website and made suggestions for a more user-friendly experience. Lastly, we helped Susan create a basic social media strategy focused on Instagram, realizing the importance of promoting the campground visually to help entice people to visit.
While Camp Earth Connection did have an Instagram account already, it had not seen much recent activity and was not a business account. After transitioning it to a business account, Susan gained access to analytics about the account's followers, profile visits, website clicks, and much more. In terms of an ongoing social media plan, it was important for us to help Susan become more comfortable navigating the basics of Instagram, so we walked her through the types of photos to post, sample captions and hashtags, and accounts to follow. Since our Instagram tutorial in March, we have been excited to see that Susan is posting consistently.
Reflections
Reflecting on this project last semester, it was truly a fulfilling experience to be able to learn and offer coaching to a local small business owner. Although there's a chance that business may not return to normal until next year, we hope the efforts spent helping Susan optimize her Airbnb listings, website, and Instagram account will help drive more awareness and business in the near term. If you are ever looking for an outdoor escape in upstate New York, check out Camp Earth Connection!