Keynote speaker John Fekete, MBA '99, kicks off Parker Center MBA Stock Pitch Challenge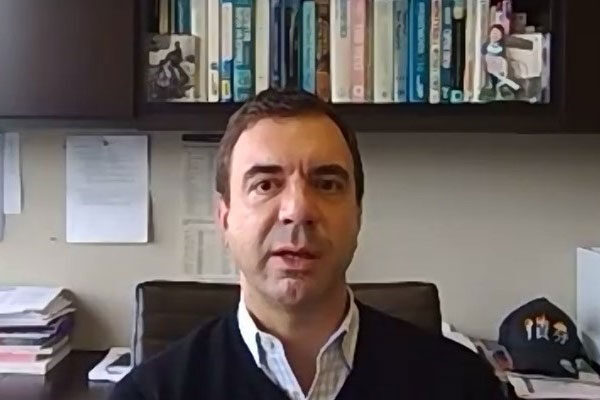 The Parker Center for Investment Research at the Samuel Curtis Johnson Graduate School of Management had the pleasure of hosting John Fekete, MBA '99, as the keynote speaker for its 2020 MBA Stock Pitch Challenge on Nov. 5, 2020. The 19th annual Stock Pitch Challenge, held virtually via Zoom this year, featured 12 teams from 12 business schools across four unique time zones. Fekete, a managing director and head of capital markets at Crescent Capital Group, focuses on managing investments in the high-yield and distressed fixed-income markets.
Having worked as an analyst at a bank before attending Johnson, Fekete went to business school knowing that he wanted to pursue a career in the investment management space. He was attracted to the field by its highly analytical nature and its emphasis on generating disparate insights. Throughout his career, Fekete has learned the importance of being able to sort through the barrage of market information available to determine what truly matters. Moreover, the things that matter frequently change, given that markets are constantly changing.
Investment industry challenges
Fekete has been very happy with his choice to pursue a career in investment management. However, he acknowledges that the investment management space is not all positive all the time. The industry faces significant challenges, such as fee compression and the push for asset managers to cut costs by acquiring a wider pool of assets, thereby spreading out their fixed costs. Furthermore, Fekete notes that while technological advancement is often seen as a positive development for the industry, it is also a negative development insofar as it makes information more widely available and, thus, more difficult for investment managers to outperform the broader market. Given the leveling of the informational playing field, he views having a superior investment decision-making process as essential to being able to generate sustainable alpha.
Develop an active approach to portfolio construction
For Fekete, the investment process begins with identifying the sectors and industries that he finds most attractive; only then does he get into analyzing securities at an individual level. He embraces market dislocations, as they create significant opportunities to generate alpha. Furthermore, he believes in taking a very active approach to portfolio construction, given the importance of staying nimble and being able to adapt to changing market conditions.
This process enables him to stay watchful for opportunities in "fallen angels," which are formerly investment-grade credits that have been downgraded due to market dislocations. These credits can offer attractive investment opportunities when markets overreact to recent market developments, especially if the credits underlying these businesses are only temporarily affected by adverse conditions.
Think deeply about market winners and losers
In closing, Fekete emphasized how important it is for students pursuing investment management careers to find their investment edge, so they can think differently from the crowd. He urged students to go beyond surface-level news headlines and to think deeply about the true winners and losers resulting from market events.