Experts respond to case study challenge with unique brand strategies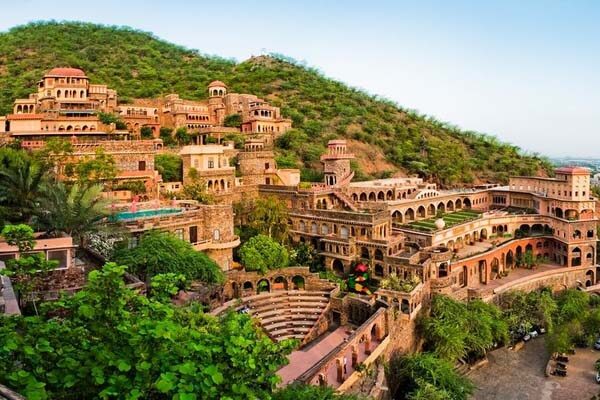 In a new Center for Hospitality Research case study, Chekitan Dev, professor of marketing at the School of Hotel Administration (SHA), and co-author Laure Stroock, research associate, introduce readers to Neemrana Hotels, one of the most successful heritage hospitality brands in India. Co-founders Aman Nath and Francis Wacziarg spent decades meticulously restoring former palaces and forts into heritage hotels designed to provide guests with a balanced blend of history and modern comforts.
Since Neemrana Hotels began operations, the brand has been successful, but the hospitality landscape in India has changed dramatically—notably, the luxury/upper upscale segment has become more crowded with domestic and foreign brands, and there's a growing demand for experiential travel to destinations off the beaten path. How can Aman Nath and Sonavi Kaicker, CEO, position the Neemrana Hotels brand to survive and thrive in this new landscape?
Equipped with this background information, Dev asks readers to create a brand strategy for Neemrana Hotels that capitalizes on the changing market and considers whether or not the strategy should include redefining brand architecture, broadening brand focus, and/or expanding brand position.
Students, alumni, and hospitality experts responded to the challenge
All responses have been edited for clarity.
Bradford Zak, SHA '80, founder and CEO, New Tourism & The Harmony Project, CO
To close the growing occupancy gap between Heritage [properties] and 5-4-star Indian hotels, Neemrana's authenticity should be leveraged. Oberoi's Rajvilas, Udaivilas, and Amarvilas are modern incarnations of restored heritage properties—such products are principally based on majesty and frozen time, with Oberoi relying heavily on modern facilities. Neither are no longer enough. Neemrana can attain 5-star occupancies/rates by branding itself as indigenous knowledge learning centers, leapfrogging ahead of simply experiential destinations—embracing a plethora of resources: wellbeing and enlightenment through healing, Ayurveda, gastronomy and permaculture, visual/performing art, literature, and culture particular to each location. The expanded brand position distribution should reverse the domestic/foreign market-mix."
Anthony Miller, MMH '20, NY
Neemrana Hotels' competitive advantage is its connection to the history, culture, and people of the surrounding communities, something it does better than any of its competitors. In order to capitalize on this competitive advantage, Neemrana Hotels should sub-brand its properties by theme to help guests find properties most relevant to their interests, broaden its brand focus to allow homestay arrangements with carefully vetted individuals and properties, and expand its brand positioning to include a larger variety of experiential tourism activities within its properties. These strategies improve connection to the community and will increase Neemrana Hotels' advantage over the competition.
Joyshree Chatterjee, hotel revenue management professional, India
Neemrana should expand its brand position as, currently, it holds a niche spot, where guests experience the heritage of India without following all the set guidelines of a hotel. They can further improve [guest] activities and experiences to be more unique, so that visiting a Neemrana hotel becomes a dedicated tourist activity and not just a hotel stay. They can introduce classes for patrons to better understand the history of the location, along with cooking classes, food tours, wildlife safaris, etc. They can add a new market segment to appeal to schools and college students who are looking for a more experiential learning environment.
Saurabh Vaish, managing director, Rosewood Hospitality, India
I suggest that Neemrana increase the occupancy at existing hotels and improve services and facilities; expand within India and even globally—Europe can be a great market, but [Neemrana] should stick to the present model of heritage properties, while also considering larger properties such as palaces, forts, castles, etc.; and the entire guest experience can be made more experiential, which can be specific to the legacy of the property and the local area."
What strategies did Neemrana Hotels choose?
Aman Nath, co-founder and co-chairman, Neemrana Hotels
Sonavi Kaicker, CEO, Neemrana Hotels
Should brand architecture be redefined?
Not yet. The world has changed post COVID-19, so we have to plan ahead thoughtfully. Although Neemrana represents a variety of architecture—Rajput, Sikh, Maratha, and a host of colonial buildings—we don't have enough hotels under any head to bifurcate them to advantage. If we had ten under each head, it might have made sense, but there has to be a healthy mix of large hotels/fort-palaces coupled with smaller heritage hotels, which are self-sustainable. Luxury hotels were the first to be badly impacted so this is a segment that will take a few years to recover, so we don't want to overreach into this segment. The success of any size of hotel will largely depend on its location.
Should brand focus be broadened?
No. We don't want to compete with OYO, as we take pride in the fact that every minute detail at Neemrana property is looked into and monitored on a daily basis. Our Noble Home home-sharing concept remained one on paper as few families book places in their entirety. How can all families have 4, 6, or 8-room requirements to book an entire small property? So, individuals book them, like our other hotels. But post-COVID 19, a social MICE market is emerging and guests book a group of rooms in the larger properties. They often require a separate place for recreation and dining.
Should brand position be expanded?
Yes, but we need to double down on the "local" content of our experiences. This segment is certainly ours to expand in. Cuisine lessons are common to all properties and are specific to each location, but excursions are not, so while cycling is suggested for guests at one hotel, a visit to a potter, lacquer bangle maker, or textile dyer is encouraged at another. We are working on this. Because our swimming pools and spas have been closed due to COVID, the Neemrana team has introduced personalized cooking classes and the bartender's classroom with social distancing measures, which have been greatly appreciated by our guests. But our great "wows" come from our amazing restorations and marvelous local team members who provide the Neemrana touch, which comes from investing in people with love and care, that other companies can't easily replicate.
Read the case and come up with your own brand strategy.