Student Voices: Meet Vikas Reddy '23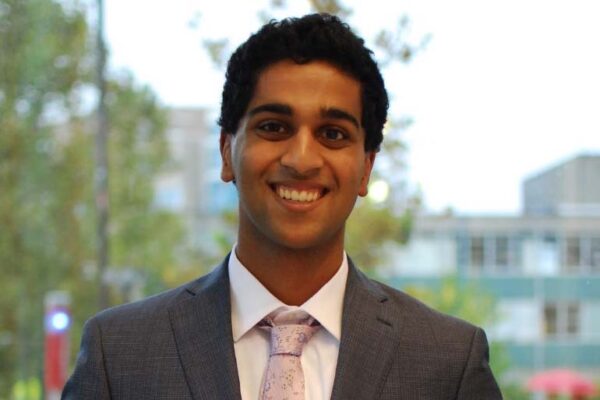 Hotelie ambassador Vikas Reddy '23 keeps busy. In addition to serving as vice president for the National Society of Minorities in Hospitality and on the public relations committee of Cornell Equity Search, Vikas also dedicates time to the Cornell Hotel Society, the Hotelies Serving Society, and the events committee.
Originally from Palatine, IL, Vikas is a Cornell Tradition Fellow who also works at Taverna Banfi at The Statler Hotel. Prior to joining Cornell, Vikas was a National Merit Finalist, AP Scholar with distinction, Illinois State Scholar, Illinois High School Scholastic Bowl Coaches Association All-Sectional Award recipient, Illinois Music Education Association District 7 Honors Choir participant, and Quarter Zero Best Overall Startup Idea recipient.
Learn how these experiences prepared Vikas for his journey at the School of Hotel Administration (SHA) in this Q&A.
Why did you decide to pursue a degree at SHA?
I decided to pursue an undergraduate degree at SHA because I wanted a curriculum that would combine practical experience with academic content. I would be able to not only enhance my professional skills through an experience-focused curriculum, but also explore my non-professional interests by taking advantage of the diverse course offerings in other schools and colleges at Cornell.
What career goals will it help you achieve?
Hospitality is at the center of any career. SHA focuses on leadership development and service-oriented learning, both incredibly important experiences that will prepare me to stand out and bring a new perspective to any workplace I choose. Looking at future careers from a hospitality angle has allowed me to see how I can bring my excitement for service to my profession.
What aspects of SHA's program do you value most?
Everyone at SHA is encouraged to actively engage with the school and the greater Cornell community. Whether it is by working and gaining practical experience at The Statler Hotel or by joining a service club. From day one, Hotelies jump right in and are excited to pursue all their interests.

I really appreciate how encouraging our professors and advisors are for us to pursue these opportunities. They see how important it is for us to develop our skills outside the classroom, in addition to our academics, and make sure that they are helping us balance our busy schedules to get the most out of our college experience.
What surprises you about your virtual classes?
I was surprised to see how interactive my SHA courses remained, after seeing them switch from in-person to a virtual format last semester. Even in a virtual environment, it's clear to me that my professors and peers value building relationships and are not going to let an obstacle prevent our community from growing closer together. Hotelies' energy and excitement to learn is palpable and infectious, no matter where in the world they are calling in from.
Are you connecting with people and making new friends in spite of virtual classes and social distancing?
Yes! I was really worried about this at the start of the semester, but I've actually been able to connect with people really well. A lot of Hotelie courses encourage teamwork or ask us to discuss assignments in breakout rooms. Having this opportunity, though a small enhancement to the normal classroom, makes a world of difference because it lets me make new connections within my classes and allows me get to know people better. In fact, I can confidently say that I've been able to develop real friendships with people I never actually knew prior to virtual classrooms.

Outside of the classroom, I've found that I've been able to develop closer relationships with a lot of people socially. Since I am mainly seeing people in smaller groups, due to the need for social distancing, I've been able to focus more on building closer individual connections, which has been invaluable. Because we can't hang out indoors these days, this semester has forced me out of my comfort zone and encouraged me to explore Ithaca and its beautiful nature with my friends, which has been an incredible experience.
Is there a faculty or staff member that has gone above and beyond to help you?
Nora Bayly, assistant director of Advising & Student Development, is always such an incredible resource. Regardless of what you need, she is always excited to assist you. Whenever I feel stressed about a course or planning out my semesters, she makes sure that I have all the information I need to make an informed decision, while also making sure that I am comfortable in all the actions that I take.
What's one thing you've learned so far from your SHA experience?
One thing that I've learned is the importance of community. Over the last few semesters, the SHA student body was hit hard with canceled hospitality internships, The Statler Hotel closing, Hotel Ezra Cornell being shifted to a virtual format, and more. Yet, our ability to come together as a community is what has kept SHA alive and well throughout the past year.

I have seen how important the SHA community is through our alumni. They are excited to engage with current students and continue to stay involved in the Hotelie community long after graduation. Speaking with alumni and seeing how connected they still feel to Statler Hall is incredible and reinforces how fortunate I am to be a part of a community that remains connected to people for life.
What have you most enjoyed about being a SHA student so far?
My favorite thing about being an SHA student is getting to meet other Hotelies who are some of the most energetic, entertaining, and inspiring people on campus—being around them makes me excited to start my day. They're always willing to help each other out, go on an adventure around Ithaca, or just tell a funny joke, and that makes even the most difficult semesters worth it. I've made some lifelong friends here and I can't wait to see what my peers accomplish.
What words of wisdom do you have for future and current SHA students?
My words of wisdom include the recommendation to meet as many people as possible when you arrive and keep an open mind. Everyone is here for a reason and each has a cool story to share. The best part of SHA is building relationships, so take advantage of that and make an effort to know the people in your classes, clubs, and dorms, because they are going to be the people that will make your college experience great.