Medical group benefits from MBA skills during the pandemic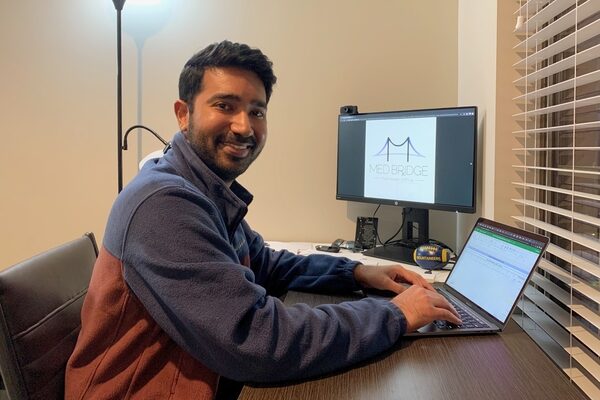 Providing affordable and accessible healthcare, especially in rural America, is a challenge. It is a complex financial proposition for hospitals and medical practices to provide quality care while simultaneously experiencing declining revenues and increasing costs in the current environment. There is an urgent need to implement a robust revenue management strategy through these uncertain times, when the need for accessing health care has never been greater. That is the backdrop for my summer internship at a hospitalist practice in Morgantown, West Virginia. With support from Johnson's Social Impact Internship Fund, I joined their business strategy team to examine how they could remain financially viable and continue to offer high quality service in rural USA.
Financial crisis in healthcare industry
Even before the pandemic hit, the overall trend of reimbursements for medical procedures carried out in hospital settings was on a decline due to stricter insurance metrics. The pandemic exacerbated this problem and increased the financial stress of medical groups.
Under current pandemic conditions, patients are not comfortable visiting hospitals. As a result, major revenue-generating activities such as elective surgeries are being delayed. At the same time, the costs for ensuring patient and provider safety have increased due to the additional personal protective equipment (PPE) requirements and the need to isolate patients in dedicated units. These units also require additional critical-care staff, which has led to unforeseen costs and staffing shortfalls.
This has hit hospitalist groups, like the one where I interned, particularly hard, because their focus is on working in hospitals, helping to manage and improve patients' care during their hospital stay. A big portion of their revenue comes from billing the patients' insurance for the medical advice provided. With fewer people getting medical procedures in hospitals and the declining trend of insurance reimbursements, many hospitalist groups have either shut down or sold out to bigger hospital networks.
Communities feel impact of closures
The impact of these closures is felt by local community members who no longer have access to medical providers in their immediate vicinity and have to travel longer distances to receive care. More importantly, issues that could be treated at a primary-care level are now often ignored and become more complex, requiring inpatient care at a hospital and driving up costs for both the patients and their insurance providers.
The U.S. medical insurance industry is complex; it includes government insurance and a host of private insurance providers. My firm had terminated a third-party contract to file these insurance claims without having an alternative plan in place, resulting in a huge backlog. I had 90 days to liquidate this backlog before the lapse of insurance filing deadlines, which in turn would impact the firm's ability to operate in its small town.
Putting my MBA skills to work
After analyzing the situation, I realized that the firm would need to scale up its team quickly to meet our deadlines. The skills I had learned in my Operations Management and Data Analytics classes came in handy. I modelled different scenarios using What-If analysis in Excel and then created a Gantt chart to demonstrate the current situation to our senior management. This helped me build the case for urgent hiring by clearly stating the work output required to finish our task on time. As a result, I received the go-ahead to interview and hire seven new team members.
Throughout the summer, I streamlined and scaled up the process of billing patient charges to insurance providers by preparing standardized training material for the team. However, to be successful I knew that I also needed them to work collaboratively in this tough situation. Naturally, I relied on the team-building skills that were an inherent part of my MBA experience at Johnson during my Core Team experience and as a Johnson Leadership Fellow.
I consciously created a psychologically safe environment and outlined clear goals to work toward. I provided training along with regular feedback sessions that helped everyone feel comfortable. In addition, I created simplified process flow maps, which laid out the patient bill entry process step by step. Finally, I took inspiration from Johnson Consulting Club meetings and persuaded my firm to sponsor weekly team lunches for us. These in-person, informal interactions enabled us to get to know each other really well and collaborate better.
Results
These actions resulted in a tightly knit team that delivered positive results by liquidating the entire set of backlog of insurance claims, worth $23M in missed revenue, within a two-month time period—ahead of schedule. More importantly, it allowed the hospitalist practice to continue to operate and provide service in rural West Virginia.