Student Voices: Meet Shoko Hiraoka MMH '21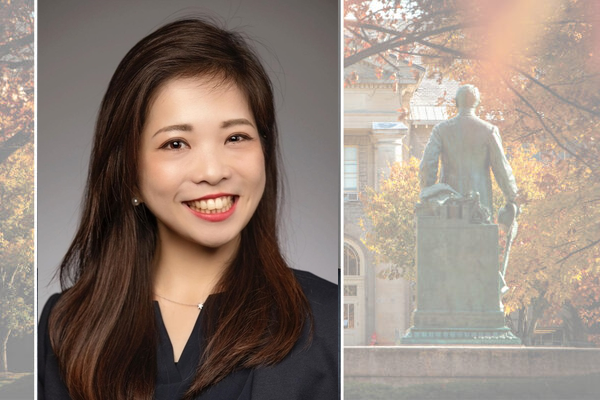 The Master of Management in Hospitality (MMH) program prepares creative thinkers for careers where business, hospitality, and innovation meet. Shoko Hiraoka MMH '21 chose the program because of this exciting intersection. As an assistant manager at the Japanese Brewery Kirin Holdings for six years, she wanted to further her academic knowledge in the food and beverage and hospitality industry to take her career to the next level.
Why did you decide to pursue a MMH degree? 
I wanted to get academic knowledge about BF [food and beverage] and the hospitality industry. I had worked for the Japanese Brewery for 6 years as a salesperson and worked with customers. During my work experience, I promoted the products, consulted with customers: restaurant owners, such as creating menus, how to promote their stores, thinking the proper marketing, training their employees. However, I did all of the things without academic knowledge. I would like to learn and apply what I did before with strategies.
What career goals will it help you achieve?
I want to be a working mother, this is normal now, but in Japan, it is still rare. I want to do both pursuing the career goal and taking care of future kids at the same time.
What aspects of the MMH program do you most value?
The people. Classmates, alumni, professors, and people who I can see in the class. I have gotten a lot of new perspectives, and they have made me motivated. I hope I can make connections as much as I can.
How many of your classes are in-person and how many are virtual?
I have taken five classes right now. One is in-person (management operations), and four of them are online courses.
What, if anything, surprises you about your virtual classes?
Even though we cannot see each other, but we can still interact with classmates, such as group projects and break out rooms. It was a more active interaction than I expected.
Are you connecting with people and making new friends in spite of virtual classes and social distancing?
I have made some great friends here in Ithaca. Social distancing gave us chance to think about how to get close to friends again and how to enjoy outside. We found that hiking and picnics were fun. I hadn't done any outdoor activities for a while, so it was a great discovery for me. However, I wish we could see all of our classmates in-person.
Is there a faculty or staff member that has gone above and beyond to help you? If so, who and how did they help?
Professor [Robert] Kwortnik helped me a lot. I have struggled with catching up with classes, but he took a lot of time for me and gave me advice on how to work on my studies. Moreover, all the professors, staff members, and classmates tried to understand me a lot. I really like the people at Cornell.
Did you have any concerns about participating in the MMH program during the pandemic?
First of all, I was not sure if I could come to Ithaca till just before the class began. Also, I had never had the experience to study in foreign countries and online classes. It made me nervous that if I could make a friend at the school.

The uncertainty of everything was very stressful and anxious. However, I was able to come and got lots of help. Hopefully, I will have some in-person classes in the next semester.
What's one thing you've learned so far from your MMH experience?
Showing the attitude of trying will make people want to understand me. I was really nervous about my English skill and my lack of knowledge. However, when I tried to do something I could, classmates and professors understood me. It helped me a lot and made me motivated.
What have you most enjoyed about being an MMH student so far?
To interact with friends and nature. Visiting the brewery, winery, and going hike were so fun.
What words of wisdom do you have for future/current MMH students?
"Nothing is too late." Before I came here, I was thinking a lot if I should come here or not. It might be too late. However, learning new things is always fun and makes me more motivated.

If you think about whether to take a new degree or not, I strongly recommend to do it and it does not matter how old you are.