Student Voices: Meet Isha Janjikhel, SHA '21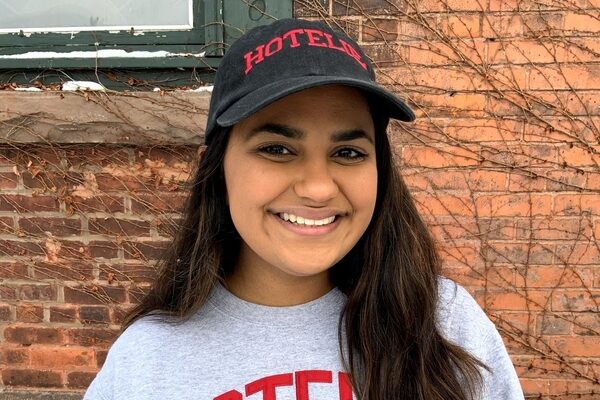 Isha Janjikhel, SHA '21, hailing from Bridgewater, NJ, will be graduating with a B.S. in Hotel Administration, concentrating in marketing and brand management in May. With a future goal to work in luxury operations or consulting within the hospitality industry, Janjikhel reflects on her time and experiences at the School of Hotel Administration.
Why did you decide to pursue a degree at SHA?
The story of why how I decided on the Hotel School: When I was 13, in 8th grade, my English teacher assigned a project to us to choose our dream career. I decided that my dream career was to open my own restaurant. From that dream, she wanted us to work backwards to see what school we should go to and what degree we should pursue. That's how I found the Hotel School. Once I learned more, I was hooked. While my dreams began to change and I found myself more and more enamored with travel and the people aspect of the industry, I convinced my parents to let me go to Summer College. After that three-week Summer College period I knew that more than anything I wanted to attend the Hotel School and I did everything I could to get in.
Why a Hospitality Degree at SHA: I love the people-aspect of the hospitality industry and love working to enhance the guest experience. My goal in everything I do is to make sure I leave people happier than when I first met them. I also wanted to learn new skills and receive a business education that will strengthen and supplement my passion for the hospitality industry.
What career goal(s) will it help you achieve?
My degree will allow me to continue to grow in the hospitality industry and put me in a position where I can make a real difference in the industry that I love so much. I want to enter the luxury operations or consulting industry!
What aspects of SHA's program do you most value?
I value the connections that I have made at SHA. Whether it be with other students, professors, or alumni—I value every single interaction I have had. I learned something new from every conversation I have had with people and my mind has been opened. I consider myself so lucky to have met every person that I have here at the Hotel School and will take those connections with me throughout my life.
Is there a faculty or staff member that has gone above and beyond to help you? If so, who and how did they help?
One faculty member that I had a great experience with was Professor Reneta McCarthy. While she did retire, she was a huge help prior to leaving the Hotel School. Professor McCarthy would talk through so many of my career decisions with me and connected me with people she thought shared my interests. She also introduced me to Professor Dave Roberts, the new Hotel Operations professor and now I have the honor of acting as his Lead TA. I have enjoyed my experience immensely getting to communicate with her and it had been a highlight of my Hotel School experience.
I have also had a great experience with Anitra Garcia [Executive Assistant to the Dean] as I work with her in my position as Dean's Assistant. Anitra has been there for me through everything during the last few months. She is such a caring person and I feel that she has been such a highlight of this position. Anitra constantly checks in to see how I am doing and always makes herself available to talk. I have really appreciated my relationship with her so far!
What's one thing you've learned so far from your SHA experience?
I have learned that hard skills are important, but it is sometimes more important that you can be a leader, a supportive team member, and a confident role model.
What have you most enjoyed about being an SHA student so far?
I have enjoyed all the friends that I have made at the Hotel School. I have never met a better group of people and I know that I have made friends that will last me a lifetime. I am constantly supported by my friends and it is unbelievable how wonderful that is! While we do sometimes apply for the same things, we are always supportive of each other and happy for the person who receives the position or achievement. I could not have asked for better friends or people at SHA.
What words of wisdom do you have for future/current SHA students?
Find something you love and stick with your passion. You will always be most successful if you are working towards something you are passionate about!