Student Voices: Meet Shelby Ragin '22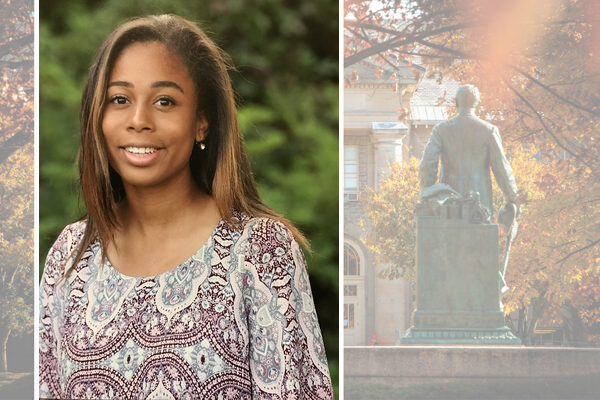 According to Shelby Ragin '22, School of Hotel Administration undergraduate students are united by their efforts to help people—no matter the industry they wish to enter or career they are pursuing. Concentrating her SHA education in finance, accounting, and real estate, with a minor in information science, Ragin hopes to leverage the fundamental skills of business she has learned, as well as the persistence SHA has instilled in her, to pursue her future career goals.
Why did you decide to pursue a degree at SHA?
When I was in high school, I had a general idea of the topics I enjoyed, but I did not know precisely what I wanted to do. I knew I liked real estate, math, and entrepreneurship, however, I had no idea where specifically my path would lead. I visited Cornell in September of my senior year and sat in numerous classes within the different schools. I remember sitting in an SC Johnson Business School information session where there was a panel of students from Dyson and The Hotel School. I loved hearing about all the variety of passions and interests from the Hotel School students. I could sense the SHA students really cared about what they were doing and wanted to leave an impact. That day, I officially decided to 'early decision' to the Hotel School. I started writing my Hotel School supplement the day I got home.
What aspects of SHA's program do you most value?
I value the diverse passions that make up SHA. Every class year, there are a plethora of different industries SHA students go into full-time. There are students interning at hotels, real estate firms, start-ups, and restaurants. Even though we are in different industries, we are united by our efforts to help people. It is extremely rare to have a curriculum where every single course puts an emphasis on hospitality and making sure the customer is happy.
What career goals will it help you achieve?
This summer, I will be interning on the deals side at a private equity firm in Philadelphia. From a very young age, I have been attracted to entrepreneurship and innovation. In fact, I feel this passion was a driving force for why I wanted to start my own business. I genuinely could not be happier with my summer internship because I get to use my technical skills to assist new, impactful companies grow and become even better. The Hotel School teaches their students the fundamental skills of business while also instilling persistence. I credit the SHA curriculum and core values as how I was able to enter the private equity field without having extensive exposure to the industry beforehand. I have no idea where this path will take me, but I am excited to find out and I know I will be fully equipped and ready for whatever comes my way.
What have you most enjoyed about being an SHA student so far?
My favorite part about being an SHA student is how close-knit our school is. The Hotel School students have a connection with each other and the school as a whole. I think I have witnessed this the most when speaking to alumni. I have met numerous alumni at conferences and events in different cities and they are all so enthusiastic to converse with current students. Many will even reach out to me when they are visiting campus to grab breakfast or coffee just to check in. I have received a substantial amount of guidance and opportunities simply because I reached out to an alumnus or they reached out to me. It is rare to have such supportive alumni who genuinely want to help us in any way they can.
What words of wisdom do you have for future/current SHA students?
My advice to future and current SHA students would be to constantly try new and different things. Try something you never would've imagined you'd be interested in. For example, in high school I loathed dealing with data and always thought of myself as someone that was terrible with technology. Yet, here we are just a few years later and I am minoring in information science and am a teaching assistant for Quantitative Analysis. These were two of the most rewarding decisions I've made in my college career thus far. We are so young and have ample time to figure out what exactly we want to do. In eLAB, we have a lot of conversations about pivots or pivotal moments. When we have the realization that we do not like our job or major or a hobby just is not fun anymore, it gives us opportunities. These moments are gold because then we can pivot to trying something new that has the potential to be amazing. This is also applicable to meeting new people and trying new activities. Stepping out of our comfort zones and listening to completely different perspectives makes us versatile and more knowledgeable.

Another piece of advice would be to not get bogged down by what others are doing or saying. Cornell can be extremely competitive at times because all of the students are extremely smart, talented, and passionate about what they do. It's hard to fathom that there are some clubs and organizations here that only take 5% of the people that apply. It's so important to understand that we are all on our own individual paths and that organizations and titles are meaningless if you are not enjoying the work. Just because all of your friends want the same job or club does not mean that you should want the same or that you won't be successful. There are so many different internships, clubs, and opportunities which most of us have not even begun to explore.

Sometimes, getting rejected is the best thing because it means the school/job/person/organization did not see your worth. Getting rejected gives you the opportunity to find people who see your potential, share your beliefs, and recognize just how valuable you are. In such a competitive environment, it's crucial to stay positive and remember to be supportive of others' successes as well.