Student Voices: Meet Hailey Nelson SHA '23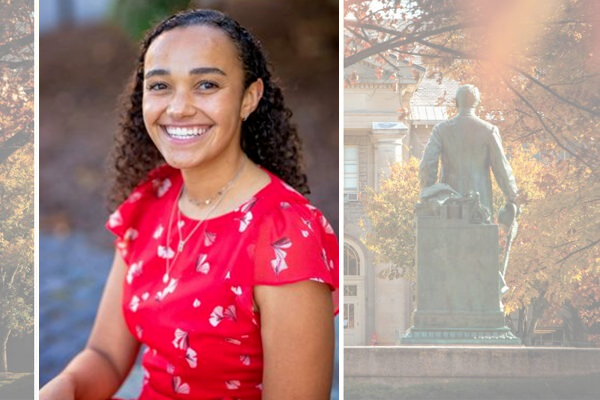 Despite many extracurricular activities being impacted by the COVID pandemic, School of Hotel Administration undergraduate Hailey Nelson '23 is taking full advantage of what SHA and Cornell offers both inside and outside of the classroom. Post-graduation, Nelson would like to pursue a career in food media or product development and, one day, hopes to own her own business and give back by working with food organizations to educate about food insecurity.
Have you joined any student clubs? If so, which ones? ​
This year I am part of Hotel Ezra Cornell on the Culinary Team as a Guest Safety Manager. I am also in The Women's Network and the Female Leadership in Hospitality club. Starting next semester, I have the privilege of establishing the Cornell Food and Beverage Society, an inclusive club looking to give Cornell students access to food and beverage education, community, and careers.
Are you participating in extracurricular activities/athletics while at SHA?​
While at SHA, I am part of the Hotel Leadership Development Program.
Why did you decide to pursue a degree at SHA?​
I have always had a passion for the culinary arts and entrepreneurship, so when I found SHA during my college search, it seemed like the perfect fit. I loved the wide array of classes offered,as well as the other important offerings Cornell has for a well-rounded education. Additionally, I knew working at the Statler Hotel and gaining experience while learning would be extremely beneficial for my career. I am 100% SHA was the right choice for me!
What career goals will it help you achieve?​
I hope to work in the food and beverage industry in the future. In the few work experiences I have had since starting my college career at SHA, I have utilized the knowledge I have gained in almost all of my classes. I hope my degree will help me become an effective leader and part of the hospitality and food and beverage industries.
What aspects of SHA's program do you most value?​
There are so many valuable aspects of SHA's program, from the professors, lecturers, and staff to my many brilliant peers. One of the most valuable aspects I must highlight, however, is the Hotel Leadership Development Program. Prior to becoming an HLDP member, I worked in Statler Hotel's Taverna Banfi kitchen alongside the amazing staff and other student employees. In the year I was there, I learned so much about how to become disciplined in the kitchen and what it takes to work the different areas and roles in the kitchen.
Is there a faculty or staff member that has gone above and beyond to help you? If so, who and how did they help?​
One person who has been so helpful is Professor Miller. Last semester I was given the opportunity to learn more about the Beverage Industry as a TA for HADM 4375: Introduction to Fermented Grains, Hard Cider and Sake, the class he teaches in the Spring. He has been a great thought partner and I am very appreciative of his support and help!
What's one thing you've learned so far from your SHA experience​?
One of the most important things I have learned from SHA so far has been the power of the alumni network and of relationships in general. SHA is the best hospitality school in the nation, if not the world. Due to its prestige and reputation, your peers go on to be some of the most influential people in the business, working for some of the largest companies. When we all eventually leave this campus the main thing that will stay with us is the relationships we've made.
What have you most enjoyed about being an SHA student so far?​
I have most enjoyed being able to take a wide range of classes that will enable me to be successful in my career whether it is in hospitality, finance, real estate, or any other businesses. At SHA we are given all the tools to be successful in any field we want to pursue.

In addition to academics, SHA is a place where so many students with varying perspectives, but similar goals are able to collaborate. One of the best things I've had the pleasure of experiencing is Mac's Café during a busy hour, hearing the buzz of students discussing their dreams, passions, and weekend plans.