Research Recap: Customer engagement is the key to long-term loyalty and impact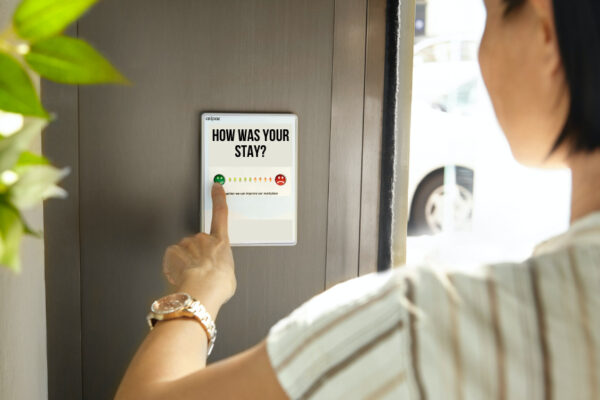 In today's physically separated world of hospitality, engagement and interaction between hoteliers and guests are taking new forms but are still as critical as ever. In a series of studies using data from a well-known hotel chain and a customer feedback software company, Professor Christopher Anderson and co-author, Assistant Professor Saram Han Ph.D. '19, illustrate the long-term impacts of guest engagement upon guest satisfaction, loyalty, and booking channel selection.
In two studies published by the Cornell Hospitality Quarterly, and one soon-to-be-published study, Anderson and Han put forth a compelling argument for hotels to facilitate review collection through a guest satisfaction survey (GSS). A GSS has several features that can give hotels a more accurate picture of overall guest satisfaction. Namely, it provides a representative set of reviews, avoids non-response bias, and enables private post-stay communication between hotel management and guests, a feature that can be used to send personalized apologies to dissatisfied customers, which, according to Anderson's and Han's analysis, leads to increased satisfaction in future stays. Likewise, a simple automated thank-you, executed quickly (following feedback), results in increased likelihood that a satisfied guest will share their satisfaction with others by posting an online review after their next stay.
In the second part of the study, the authors took a deeper look at GSS data, using a longitudinal, three-year sample, composed of customer satisfaction surveys from 515 randomly-selected hotels within a robust portfolio of hotels. The data contain hotel visit information and satisfaction ratings submitted by customers to a hotel's GSS provider and comprise over 500,000 unique customers and 300,000 survey responses.
The major results or implications of the research:
Analysis of the data focused on how a customer's willingness to share feedback, along with hotel management's response, impacted these four critical elements:
Future guest satisfaction. The results show that acknowledgement of service failures with personalized and detailed apologies helps improve guest satisfaction of future stays.
Propensity to share reviews online. A quick and automated thank-you from the hotel increases the likelihood that the guest will share a review online after their next stay, whereas an overly detailed thank-you may deter the guest from sharing future reviews.
Loyalty. Positive or negative feedback provided by guests signals a willingness to engage with the brand and increases the probability of them becoming loyal by almost 50%. If management responds to guests' feedback, there is a further increase in the probability of them becoming loyal.
Booking channel choice. OTA commission savings from direct bookers are further increased by approximately 5% through engagement with guests through a GSS.
These studies indicate, perhaps more so in today's environment, that guest engagement is a critical element of the hotel stay. Hotels need to let consumers know that they want their opinions (i.e. solicit feedback and encourage sharing online), and they are listening (i.e. respond to consumer feedback). This engagement not only leads to improved satisfaction through customers sharing their satisfaction with others (by posting reviews) but also financial gains as customers grow more loyal and book direct.
Read the full research brief published by the Center for Hospitality Research and watch the author and industry panelists discuss the studies in depth during a recent eCornell keynote.
The Center for Hospitality Research was created in 1992 for the purpose of expanding both the quality and volume of research supporting the hospitality industry and its related service industries.
Disciplines represented:
Customer satisfaction and engagement, loyalty, consumer behavior
Co-authors:
Christopher Anderson, professor, School of Hotel Administration, Cornell University
Saram Han, Ph.D. '19, assistant professor, College of Business and Technology, Seoul National University of Science and Technology
Publication information:
"The Effect of Customer-Manager Social Engagement upon Online Booking Behavior" was published in Cornell Hospitality Quarterly, in November 2020.
"Customer Motivation and Response Bias in Online Reviews" was published in Cornell Hospitality Quarterly, Volume 61, Issue 2, in May 2020.
The third study is forthcoming.