Making it count: Emanuele De Biase, Cornell Executive MBA Metro NY class of 2021
How one student is expanding his network and broadening his outlook inside and outside the classroom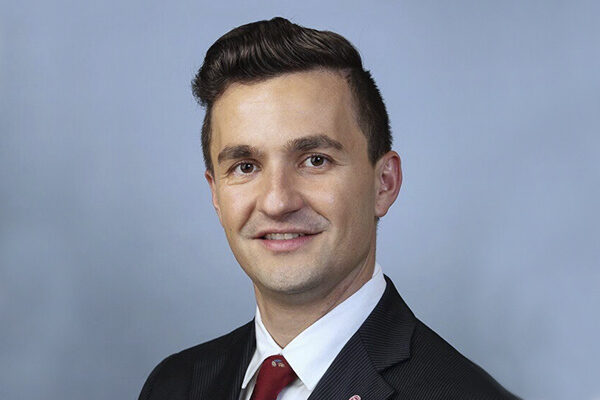 Emanuele De Biase set out to build his network and broaden his outlook when he joined the Cornell Executive MBA Metro NY class of 2021 at the Samuel Curtis Johnson Graduate School of Management.  "I had heard in many places, and from many people, that what made Cornell special among the other Ivy League schools was its sense of community," Emanuele says. He's found that to be true. "Being part of a team-based executive MBA program in New York City is an amazing opportunity in terms of the people you meet," he says.
While Emanuele appreciates the caliber and substance of the program's curriculum and faculty, he also finds engaging with his seasoned and industry-diverse MBA cohorts, both inside and outside of the classroom, to be invaluable. "The level of professionalism in our class is extremely high," he says. He is determined "to engage as much as possible" during his two years in the program.
Emanuele is no stranger to higher education and leadership.  A business consultant at the Taproot Foundation, a nonprofit focused on social change, he holds a BA in classics and philosophy from the University of Oxford, a master's of music from Brooklyn College, and PhDs in classical and ancient studies from Columbia University and from Università degli studi Roma TRE.
As a student in the Executive MBA Metro NY program, Emanuele attends class every other weekend, actively engages with faculty, and meets regularly with his study team and other cohorts, all while working full time.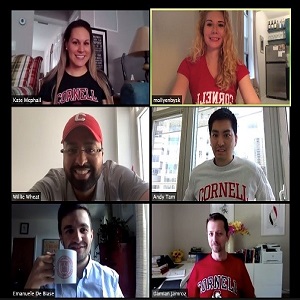 During his first term, Emanuele ran for and was elected student representative for his class—right before the onset of the global pandemic. Like any challenge he has faced, COVID-19 did not stop him from performing his duties to the utmost. He has found that representing experienced adult learners who hail from a full spectrum of industries and functional areas—and who encompass a broad range of personalities—to be incredibly rewarding. He also enjoys partnering with members of the Executive MBA Metro NY program administration, whom he says are "always keen on listening to us."
Expanding networks in a collaborative community
Emanuele and classmates decided they wanted to expand upon the practical concepts they were learning inside the classroom by discussing how to apply them in the real-world in an extracurricular environment. Thanks in part to Emanuele's initiative, they launched three student clubs: the Marketing, Entrepreneurship, and Technology Club; the Consulting Club; and the Pan-Asian Club. In recognition of his background as a business consultant, Emanuele was elected president of the Consulting Club, which boasts 150 members across Johnson and Cornell.
While many clubs at Johnson offer leadership experiences, opportunities for networking, and collaboration on projects, students also engage in a variety of educational and career-building experiences and expand their networks through Johnson's centers and institutes. These include the Smith Family Business Initiative, the Center for Global Sustainable Enterprise, and the Emerging Markets Institute. All offer students opportunities to participate in research, treks, guest speaker events, conferences, and other activities outside of the classroom.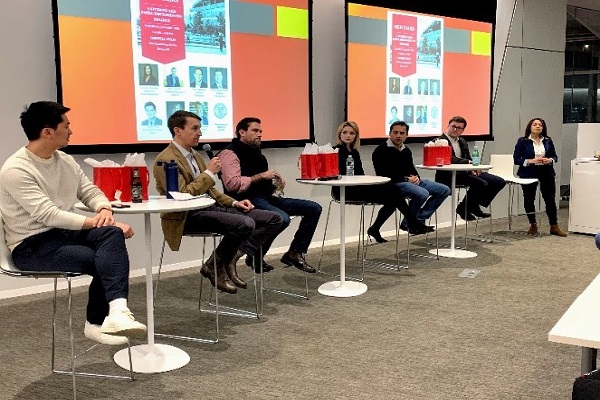 Embracing technology to connect across programs
"The PhD experience taught me the importance of deep competence," says Emanuele. "The Executive MBA Metro NY program has taught me the importance to lead, to step forward, and, if necessary, pave the way for something innovative."
Given today's reality of holding meetings and events virtually, Emanuele capitalizes on technology as an opportunity to collaborate across programs and geographies in his role as president of the Consulting Club. At the suggestion of Mark Nelson, Anne and Elmer Lindseth Dean of Johnson, the executive MBA and the residential MBA Consulting Clubs joined forces, to the benefit of both. According to Emanuele, the "distance between the [Cornell Tech and Ithaca] campuses disappeared; hence, there was no reason for not coordinating some of the activities, having students from different programs and locations join in via Zoom."
In addition to innovating and leading in collaboration with the greater Johnson community through clubs, Emanuele represented his class cohort at Reaching Out MBA, the annual conference for LGBTQ+ MBAs. As a class delegate at the professional conference for the past two years, he has found the opportunity to connect and grow relationships with fellow Cornell students, alumni, and professionals both abundant and fulfilling. "I look forward to attending again in the future as an employer and Cornell alum," Emanuele says.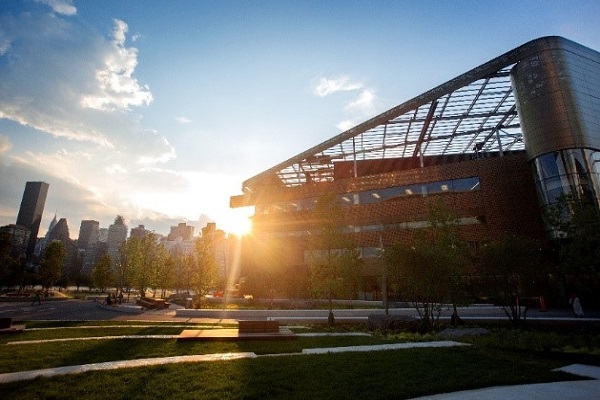 Business and inspiration in the heart of New York City
The Cornell Executive MBA Metro NY program is located on the Cornell Tech campus, in the global business hub of New York City. It is a magnet for diverse, high-caliber students. Its location certainly attracted Emanuele, who also points to the presence of the Jacobs Technion-Cornell Institute and "its mission to blend innovation, science and business," as key factors in what inspired him to join the Executive MBA Metro NY program. On the Cornell Tech campus, students have a chance to learn from world-renowned faculty and experienced, accomplished peers in an atmosphere focused on collaboration rather than competition.
As a student in the Cornell Executive MBA Metro NY program, Emanuele has found the opportunities to engage and develop inside the classroom are rivaled only by the wealth of extracurricular experiences available to students. The point, he says, is to make sure you take advantage of some. "Being in this program," he says, "has been a constant demonstration of the saying, 'You miss 100 percent of the shots that you don't take.'"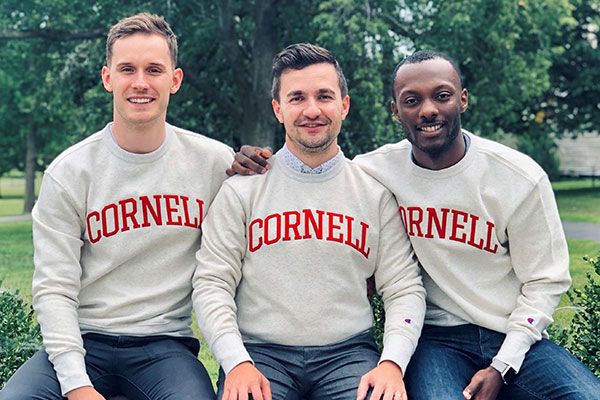 Learn more about the Cornell Executive MBA Metro NY