Students serving students
The SHA Dean's Student Advisory Board strives to advance 'Hotelie' experience.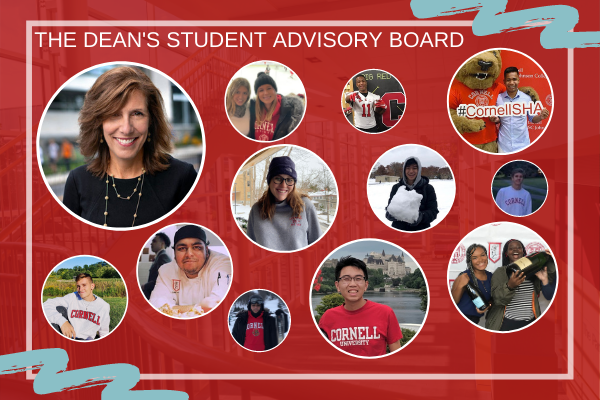 For Hotelies, life is service. This philosophy is nowhere better represented than within the School of Hotel Administration's Dean's Student Advisory Board. Made up of 16 dedicated SHA undergraduates, the board works closely with Dean Kate Walsh to represent current SHA students with one goal in mind—enhancing the Hotelie experience.
Operating under the ethos of 'students serving students,' the main objectives of the board are to enhance student educational experiences by working with the dean; strive to represent all student interests and identities by creating a culture of collaboration in the Hotelie community; and provide resources for professional development, and mentorship.
Bridging students with leadership
According to Caleb Trieu '22, an SAB member, the idea behind 'students serving students' is ingrained in SHA's culture, which is ultimately reflected in the board. The board, he says, is only successful when it listens and responds to what the SHA community are experiencing and feeling, serving as a bridge between the general SHA student body and the school's leadership.
"The 'students serving students' philosophy is vital to the board because it creates a win-win for school administration and the student body," Trieu says. "SHA students can share what matters to them. The board feels passionate about creating a hospitable environment at SHA, a community we love so much, and having this serving attitude allows us to be successful."
SAB member Rafael Bitanga '23 explains that, "through student input and feedback, we are a liaison and 'student ears' for Dean Walsh," and points to The Box suggestion channel as the main tool to gather SHA student feedback and acts as a launch pad for action. "We want to emphasize that SAB is dependent on students voicing their thoughts and that they are essential to our success."
This has never been truer than when COVID-19 pandemic disrupted students' lives and classes. Trieu says that the board needed to act as the eyes and ears for the SHA leadership like never before to help share their own and classmates' experiences during social distance learning.
"For example, we're consistently hearing that SHA students are looking for new ways of connecting with peers and their professors," Trieu says. "So, with that in mind, we have been communicating with Dean Walsh the importance of creating unique virtual ways to cultivate relationships beyond Zoom class and office hours."
Enhancing the Hotelie experience
Beyond being the eyes and ears of the student body, board members focus on identifying and acting on priority projects that improve the student experience through extended outreach initiatives and events.
"We take on projects that create a sustainable solution to help enhance the Hotelie experience," says SAB member Jenniviv Bansah '22. "Such projects include Big Red Threads, a system where you can loan donated professional clothes, the Mentorship Program, to connect Hotelies with each other, and Hotelie Gear, apparel to flex Hotelie pride."
These projects, Bansah says, are beneficial because they showcase how the school is an agent of change and inspire future leaders to strive to better whatever community they find themselves in. This, she says, ultimately contributes to the school's value of service.
For member Kyra Roach '22, "any initiative that improves the Hotelie experience for our peers is what we strive for as a board," she says. "While there are always new projects to explore, we believe our work thus far has done exactly that."
For many SAB members, the student impact initiatives they drive forward are shaped by their own experiences as SHA students. The diverse perspectives of board members and their varied exposures as students has led to current initiatives they hope will benefit their peers, both as undergraduates and postgraduates.
Hamid Waraich '22 chose to join the SAB during the fall of 2018 because of his passion for helping and representing fellow students. "In particular, I felt there should be more career advice and exploration opportunities targeted towards underclassmen who may be overwhelmed navigating the internship recruitment process."
To achieve this, Waraich helped set up several student career advisory panels to educate students and provide diversity of thought related to industry selection and recruitment strategy.
"Going forward, some board members and I are working on setting up a Zoom series with various industry leaders meant to give students an opportunity to learn from some of the greatest alumni and top executives," he says.
Kassie Henderson '22 chose to join SAB because she wanted to give back to the Hotelie community. Arriving as a sophomore transfer, she says the hotel school community was so welcoming and made her feel at home instantly, she wanted everyone to have the same experience.
"During my time on the board, [SAB colleagues] Samay Bansal, Jeffery Liao, Zak Bedrosian and I started the Hotel Student Mentorship Program (HSMP)," Henderson says. "This program is focused on pairing an upperclassman to mentor an incoming freshman or transfer student as they transition into the hotel school."
Henderson plans to help grow the HSMP program and the events it offers when students are back on campus and in the classroom. "My goal is for HSMP to become a defining characteristic of a student's Hotelie experience and help form a closer-knit community for all of us," she says.
As Dean Kate Walsh commented, "I am so impressed by and grateful for these student leaders. With their passion, care and guidance, we are constantly working together to ensure our school offers the best possible experience for our students.
"They are leaders-in-action," Walsh says. "This year, they have been working with me to reach out and ensure that our all of our students, especially our new students' feel a part of our community even virtually."
The SHA SAB encourage all students to provide input, suggestions, and feedback for the board to share with administration. Community members may do so through a submission to The Box online suggestion channel. For the most up to date information on board initiatives, follow @cornell_sab.sha on Instagram.