Ideas with impact: What can hospitality organizations do to support employees and frontline staff?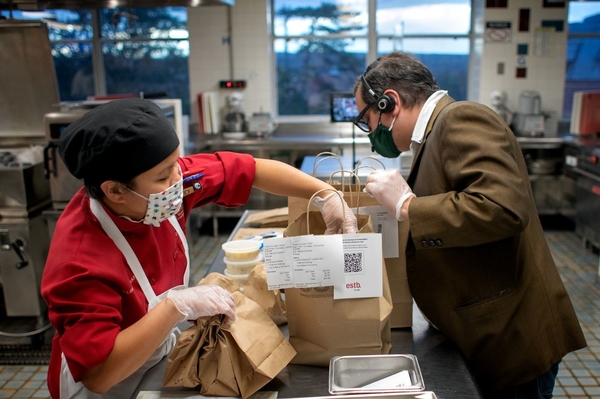 In March 2021, Medallia, in collaboration with the School of Hotel Administration's (SHA) Center for Hospitality Research, launched an online hospitality community to crowdsource ideas with impact. With the COVID-19 pandemic hitting travel and the hospitality industry especially hard, the community was conceived as a place for hospitality thought leaders, from industry professionals to SHA professors and alumni, to support each other with innovative ideas and solutions to the industry's most pressing issues and challenges.
Since its launch, the community grew quickly to 276 members, who, together, came up with 24 original ideas to the three challenges that were posed. In this series of articles, we'll cover each challenge, along with the top-voted ideas and insights for each one.
Challenge 1: What can organizations do to support employees and staff on the front lines during this time?
Community members were asked to think about their businesses ramping back up and hiring to meet new demand—what could they do to provide an excellent experience for frontline staff and guests?
Approach the workplace with empathy. "The personal lives of so many frontline workers within the industry have been impacted by the pandemic, and its effects are likely to linger even after we resume some level of normalcy. An empathic leader who possesses a heightened level of awareness in regards to the impact of COVID on his/her employees will likely be more successful in making employees feel supported, resulting in more positive experiences for guests," posted one community member. Commenters agreed that empathetic leaders can have a powerful and positive ripple effect that goes far beyond direct reports and has the potential to influence the culture of the entire organization.
Guests who are unhappy with certain health mandates can benefit from a little empathy, too. One community member suggested verbal de-escalation training for frontline employees to help them identify an escalated guest, understand triggers, use proper language, be aware of the physical environment, and take appropriate actions when a guest begins recording an encounter. "If a team member understands the basic concepts of verbal de-escalation, it would greatly increase the odds of turning an unpleasant situation into a pleasant encounter [while] increasing safety."
Collect and implement real-time employee feedback. This idea was inspired by how the pandemic has necessitated instant communication within an organization, especially for frontline staff who rely on these communications to stay up to date on frequently changing health guidelines. "We need to enable our teams to provide feedback and give the organization the ability to act on that feedback as quickly as possible. Our employee experiences are evolving in real-time and we need processes that evolve at that same rate."
Instant communication and feedback could be helpful now and post-COVID by keeping employees informed about changing processes, guest preferences and other need-to-know information, and it could help organizations track all of these things over time for the purpose of improving the employee and guest experience, and making more informed business decisions.
And if a company does not have the resources for instant communication technology, it should provide some way for employees to submit feedback. "Give employees access to submit questions/concerns anonymously," said one member. Now is the time for employees to be heard and for employers to listen.
Be flexible and supportive. As a result of the pandemic, many people are juggling increased responsibilities at work and at home—they may be taking on more work as a result of furloughs and decreased staffing, acting as a teacher to their children while schools are closed or as a caretaker for an ill family member. If employers can be flexible and help their employees maintain a saner work life balance by giving someone an extra day off, experimenting with a shorter work week, or allowing for a hybrid or flex schedule—whatever accommodation an individual might need—employees will be in a better all-around position to provide the best guest experience. It's a great real-life example of the airplane adage: "Put your own [oxygen] mask on before you help others," referring to the fact that if you don't take care of yourself first, you won't be able to take care of anyone else. In the context of frontline employees, we can't expect overworked, stressed people to provide an excellent guest experience.
Commenters felt that a shift from "hours worked" to "what needs to be done" is on the horizon for the hospitality industry too, meaning the focus will be on productivity versus hours on the clock. In other words, when the work is done, employees won't have to stick around for the rest of their eight hour shift, and most importantly, their take home pay won't be any less.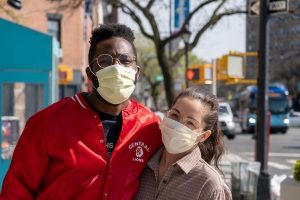 Recognize, appreciate, and empower employees. Let employees know that they are appreciated and valued by "giving them paid time off, gift[s],…snacks, meals, bonus[es]. Meet with them. Take an interest in them." Community members noted that these incentives and personal touches are encouraging and motivating for employees, while also demonstrating to employees that their company cares about their well-being.
Connect employees from across the organization. "Form communities around philanthropic [activity]; productivity; learning; fitness; and diversity, equity, and inclusion," wrote one community member. The idea is to encourage employees to connect over shared interests and hobbies with people of different ages, cultures, locations, and job titles.
Running through all of the community's ideas for supporting frontline employees were themes of connection and communication. Employees are the heart of the hospitality business, and now, more than ever, they need to feel supported, heard, and understood. With everything going on in the world—from a pandemic to social upheaval to widening political divides—today's workplace is in a unique position to be that safe place, where people of all different backgrounds can belong and work together to accomplish shared goals.
Learn more about the Center for Hospitality Research, a hub for students, faculty, hospitality industry leaders, and innovators to connect and drive cutting edge research and thought leadership.