Latin America's role in the global economy following COVID-19 lockdowns

By Diego Calvillo de la Garza, Two-Year MBA '22
On March 22, the Emerging Markets Institute hosted a panel discussion, Latin America in the Global Economy: Prospects after the Lockdown Crisis. The discussion was powered by Peter Hakim, president emeritus and senior fellow of the Inter-American Dialogue, Daniel Titelman, director of the economic development division of the United Nations Economic Commission for Latin America and the Caribbean, and Iris Boeninger, Chile's ambassador to Uruguay. The panelists' diverse backgrounds allowed for a valuable discussion of the complex social and economic issues facing Latin American countries today, and this blog will attempt to highlight some of the most fascinating topics discussed.
COVID-19 has highlighted Latin America's structural problems
Both Hakim and Titelman observed that the current pandemic has highlighted Latin America's structural problems and magnified their adverse effects. Hakim, who has studied Latin America for decades, remarked that many of its largest economies are currently at the same productivity levels they were at 30 years ago. Titelman also shared some striking facts: Latin America currently faces an unemployment rate of more than 10 percent, 33 percent of the total population is living in poverty, and 12.5 percent live in extreme poverty. According to him, it will probably take four to five years for Latin America to recover to post-pandemic GDP levels.
Can Latin America accelerate growth while changing structural issues?
Chile's Boeninger discussed the social inequalities in Latin America countries, suggesting that these countries should not just look for ways to accelerate growth, but also work to remove the barriers faced by less privileged populations—families stuck in the cycle of generational poverty, women, small business owners, and other minorities—who have historically been given fewer leadership opportunities, financing options, and general support. Boeninger also said that Latin America needs to become more efficient, and that the inefficient use of resources is what holds most of the countries in this region back.
Personal impact
As a current MBA student, I believe these types of conversations enrich our experience by providing relevant points of views in a moment in time when it is essential to analyze different perspectives, challenge our own ideas, and eventually reach a deeper understanding of such issues. These multifaceted conversations will result in transformative positive actions in our professional careers.
About Diego Calvillo de la Garza, Two-Year MBA '22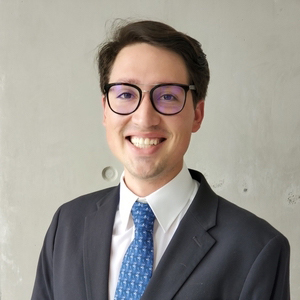 Diego Calvillo de la Garza is a student in Johnson's Two-Year MBA class of 2022. He is originally from Mexico and has experience working in commercial strategy for Latin America's largest steelmaker, Ternium. At Johnson, he is president of both the Latin American Business Association and Johnson Allies for Women. He lives in Ithaca with his wife, Edith.