Meet Ellen Yui: Mentoring the Next Generation of Hospitality Entrepreneurs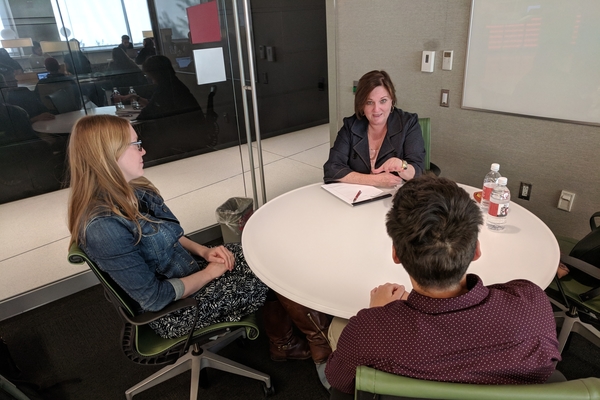 When Ellen Yui began her own entrepreneurship journey, she didn't have any mentors. Over 30 years later, she now acts as the guiding force for a new generation of rising industry leaders through the Pillsbury Institute for Hospitality Entrepreneurship's Entrepreneurs in Residence (EIR) program. This initiative enables undergraduate and graduate students to learn and develop their professional skills through ongoing personal interaction with successful industry leaders like Yui, who have an endless pool of experience and wisdom to share.
Having graduated from Boston College with a degree in political science, Ellen Yui first entered the workforce on Capitol Hill in Washington D.C., a hectic environment rife with challenges. Yui noted that as a female in a male dominated industry, she had to fight for fair treatment and pay in her workplace, despite often outperforming her male colleagues. In 1991, Yui wanted to start a family and continue her communications career, but there were few opportunities for women like her to do both and be compensated equitably.
These firsthand experiences with inequity—combined with her passion for innovation and a restless creative spirit—inspired her to launch her own company, the PR firm Yui+Company, Inc., to ensure a balance of work and life for herself, her family, and her employees.
The genesis of this business, according to Yui, was a lifestyle, and a stubborn adherence to ethics and conscience, which she didn't always see in her field. Understanding her positionality in the "business of changing people's minds," Yui strove to encourage innovators to break the mold and engineer unique pathways through her consulting.
Bringing conscience to commerce
However, Yui was entering uncharted territory. There were few other remote-working PR companies in the United States in the 90s, and her distinct, values-driven approach—along with her identity as a female founder—set her apart in the industry and made it challenging for Yui to follow the traditional path to success; nor did she have the support of a mentor along the way. Nevertheless, she remained committed to bringing conscience to commerce. Anchoring herself in purpose and conveying this mission to investors, clients, partners, and fellow entrepreneurs, she defined both her company's legacy and her own.
"As a communicator, you have to engage any audience—from an investor to a customer—by putting [yourself] in their shoes," Yui said. "You have to be able to share [your vision] in a way where those critical audiences…can see themselves playing a role. They have to be able to intuitively see themselves in the future you are conjuring."
Referring to the wide array of entrepreneurs she has counseled, from C-Suite execs to Cornell students, Yui observed, "I find it very freeing to share my story so that [they] know that they too can 'break the rules.' I like to…help them get to the point where they are giving themselves the permission to listen to their own wisdom [about] where they need to go, so that they can be driven by [their own] passion and purpose. If you do that, and if you work very hard, you will be absolutely unstoppable."
Dispelling the myth around entrepreneurialism
"The EIR program is very valuable because it helps dispel the myth around entrepreneurialism—that it's more glamorous, or necessarily more profitable than going to work for another organization," Yui continued. "Of course, it can be, but in my mind, that's not a reason to do it. I think it's also important [for students] to learn from entrepreneurs, people who have done it and who are comfortable with risk."

Comfort with risk is key, Yui elaborated, and risky business isn't for everyone. In entrepreneurship, some degree of peril and failure is inevitable, so EIR mentors help budding entrepreneurs understand this up front. Knowing that you often only have one shot, particularly when pitching investors, forces you to refine your vision and think thoroughly through important business decisions.
"There aren't really that many risk takers—that's why it's called risk. People really need to question whether they are willing to lose and make these leaps," Yui explained. "That's what I hope gets across through the EIR program—that it gives prospective entrepreneurs a reality check on what they're doing, why they're doing it, and how to communicate it and manifest their visions."
Central to Yui's approach to mentorship is her undeniable sense of empathy, and her willingness to help her clients and her mentees alike overcome fear.
"I ask the same questions of the C-Suite leaders that I coach and strategize with as I do of the young people who have worked so hard to get into Cornell, to get them away from the fear of not succeeding: 'why are you here, and what do you want to do?'" Yui said. "My goal is to help them stop hearing the naysayers, to step out of fear and step into joy."
Yui's insight has proven to be invaluable to many EIR student participants, such as Rafael Bitanga '23, a School of Hotel Administration (SHA) student studying business administration and management. Yui has mentored Bitanga extensively, in his work to introduce filmmaking as a tool for humanizing companies. As the videography director for Hotel Ezra Cornell, Bitanga's films have been used in promotional materials, and he is currently working on a project interviewing students about their academic experiences amidst the COVID-19 pandemic.
"It feels like I've known Ellen forever—she allows me to feel comfortable to share my stories and my struggles," said Rafael, a first-generation college student. "To have stumbled upon Ellen was a life-changing opportunity [that] allows me to envision a different career from the more traditional paths, and I've been very thankful for that."
Shiang-Wan Chin, MENG '19, a Ph.D. candidate in Systems Engineering and entrepreneur whose many accolades include being named a Forbes 30 Under 30 Scholar and leading teams to first place in the Entrepreneurship at Cornell Big Ideas Competition and the BOOM annual engineering showcase, recalled meeting Ellen during EIR office hours in his first year at Cornell as a master's student. "Ellen showed so much care for me and was genuinely interested in helping bring to fruition my company," he said. "Ellen did not stop there. She went above and beyond to introduce me to her personal connections and even helped me find housing when I was in Washington D.C. for a summer!"
With a deep interest in social impact and the intersection of agriculture and technology, Shiang-Wan is now designing and deploying a Software-defined Farm. "When deciding if I should stay at Cornell and accept the invitation to pursue my Ph.D., Ellen was one of the reasons why I did. She is exemplary in what it means to be a true leader and mentor in the Cornell community."
While Yui has been a guiding force in the lives of many budding entrepreneurs, she too finds personal meaning in her connections with students. Her conversations with EIR students give her the opportunity for reflection, and she particularly feels inspired by the principles and values that younger generations adhere so strongly to.
"I'm teaching myself as much as I'm teaching them. In my work, I hold up a mirror then guide people to see themselves, their vast potential, always asking 'what do you want your legacy to be?'" Yui said. "I love the energy of young people. I'm excited for the world with this new generation. It is a privilege to serve these innovative entrepreneurs and have faith that the positive impact they achieve will, in some small way, be part of mine."
To learn more about connecting with a mentor, check out the Entrepreneurs in Residence program webpage or email Michelle Ciaschi.