Hotel Ezra Cornell Sponsors Virtual Conference on "Prioritizing People Over Dollars"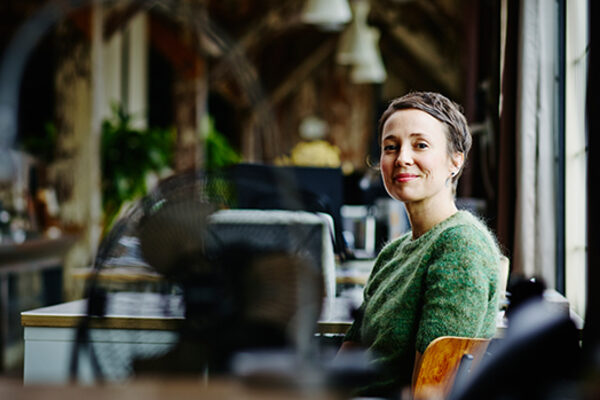 Industry leaders joined academic scholars from the School of Hotel Administration for a webinar titled, People Over Dollars: Prioritizing People-Oriented Solutions in a Business Landscape.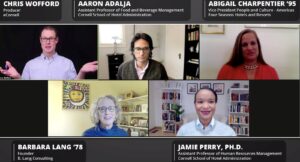 The virtual conference, sponsored by Hotel Ezra Cornell, featured Aaron Adalja, assistant professor of food and beverage management at the School of Hotel Administration, Barbara Lang '78, MPS '04, founder of B. Lang Consulting, Abigail Charpentier '95, vice president of people and culture for the Americas at Four Seasons Hotels and Resorts, Dr. Jamie Perry, assistant professor of human resources management at the School of Hotel Administration, and Christopher Wofford, Digital Media Producer, eCornell. The discussion, rooted in the notion that "people are at the heart of a business," explored how employee-oriented solutions can drive sustainable growth and success in organizations.
Profit, growth and employee satisfaction
Adalja kicked off the webinar by delineating the link between employee quality of life and profit and growth in service firms. "Customer loyalty is linked to customer satisfaction, that satisfaction is linked to the quality of the service that is delivered to them. That service value is linked to employee productivity, and we can continue driving back from there and say that employee productivity is driven by loyalty, and that loyalty is driven by the satisfaction of those employees and ultimately that employee satisfaction is linked to the internal quality of the work life of those employees," he explained.
Adalja observes that these links are direct and consistent in many service firms, and that the most successful companies have been able to navigate these connections by upholding employee satisfaction. Perry drew these linkages back even further by highlighting that employee satisfaction can be derived from a number of human resource activities, from recruitment to job analysis to performance management systems.
Managing employee stress and burnout
Perry referenced a range of tactics that employers can use to engage and support their employees while mitigating workplace stress and burnout. These methods include implementing specific programming that develops employees' personal skills and facilitating "playtime"– i.e. creating space for individual employees to apply their passions and talents to a creative project that promotes organizational productivity.
Underscoring the difficulties of the virtual workspace, Perry also discussed the importance of taking built-in breaks throughout the workday to combat "Zoom fatigue".
Leaning into the Golden Rule during COVID-19
An employee-centered approach has been essential to successful business practices amidst the COVID-19 pandemic. Delving into how Four Seasons implemented the tactics that Perry shared, Charpentier attested to the importance of prioritizing employee mental health and well-being during a global crisis. "What's really shined through is that that's an important value for us from a culture, and those connections and those relationships matter, and they matter not just to our team but they matter to the experiences that we create for our guests as well," Charpentier summarized.
Charpentier also underscored the importance of investing in employees with flexible parental leave and return-to-work policies, in order to support goals of retention and inclusion. "As business ramps up and business level recovers, we've been allowing a tremendous amount of flexibility and employees' choice to return to work, knowing that they've been balancing a lot of things, whether that's health concerns for themselves or others or caregiving concerns."
The webinar also drew attention to how these transformative policies can support diversity and inclusion efforts, in navigating COVID-19's impact on employees who are members of underrepresented communities already disproportionately affected by the pandemic. Lang, who runs a consulting business that works with nonprofits providing hospitality training and job placement to historically underrepresented groups, highlighted that companies who prioritize their employee satisfaction are more equipped to foster equitable and inclusive work environments for these communities.
Opportunities for growth
Perry emphasized that the pandemic creates a fruitful opportunity for managers to "dive in deep" and learn more about their employees, on both a personal and professional development-based level. She discussed how cross-training can be an effective way to capitalize on this opportunity, explaining that programming that centers around employee growth and retention– by focusing on skills like leadership– can maximize potential and promote satisfaction. Adalja added that cross-training can support greater job latitude for employees and prove to be an effective long-term strategy with great payoff for when the pandemic ends.
Lang also articulated that flexibility is an integral part of any training program, as employees can benefit from learning how to fulfill a variety of roles as needed, particularly amidst the ever-adapting business landscape of COVID-19.
Meeting the needs of underrepresented employees
Businesses can employ a number of tactics to foster diversity and inclusion on an organizational level. Perry drew attention to one of these methods in particular, emphasizing the importance of mentorship in the professional development of employees who may come from underrepresented backgrounds. "Historically, underrepresented minorities did not have access to these positions. So to break past this ceiling of networking, one thing [organizations] can think of is training programs." Lang also affirmed the value of mentorship in building these networking skills, having observed the success of such practices throughout her career as an industry leader.
The takeaway
The COVID-19 pandemic continues to shed light on the importance of prioritizing employee well-being to produce successful outcomes and drive sustainable growth in service firms. The methods and company policies discussed during this panel are more critical now than ever and organizations that flourish are able to leverage these practices and maintain employee satisfaction. Watch the full recording of this webinar to learn more.
The Cornell SC Johnson College of Business and its various schools and departments are at the forefront of impactful research. Hotel Ezra Cornell (HEC), which sponsored this webinar, inspires collaboration between thought leaders and industry leaders to create paths to innovation, opportunity, and intellectual growth. The School of Hotel Administration's Centers & Institutes provides a hub for students, faculty, hospitality industry leaders, and innovators to connect.
This year's HEC conference, held on March 11 and 12, celebrates the human connection within hospitality and the power to overcome difficulty together.